Pro wrestling has never been more popular than it was during the late 90s and early 2000s. The rivalry between the then-WWF (now WWE) and WCW catapulted the industry into the mainstream, as the 'Monday Night Wars' attracted huge audiences around the globe.
For wrestling fans in Ireland at the time, Sky TV made WWE the more accessible of the two and Monday Night Raw was unmissable television for a few years. If you were there, you know.
WWE attracted a huge following among teenagers with a chaotic, violent, raunchy and edgier product than the more PG, kid-friendly show it produces nowadays. It was known as the 'Attitude Era' and if you were one of those teenage fans at the time, or if you lived in a house with one, you might recognise some of these signs that wrestling's influence was seeping into your life at home.
1. Damaged Furniture
Was there ever a very noticeable dip in your couch, or maybe a patch of broken springs inside your mattress? Most furniture items were built for comfort - not to withstand the impact of countless chokeslams or 'Dudley Death Drops'.
2. Severely Dented Biscuit-Tins
Thankfully, in the years since the Attitude Era, concussion studies have led to new protocols in many sports regarding head trauma, so an un-protected chair shot to the head is not something you will see in modern WWE. We're still waiting on Sport Ireland to conduct a report that looks into the damage caused to Irish teenagers who repeatedly smacked each other in the head with the lids off a tin of Roses or Quality Street back in the day. In fairness, the pain of biscuit-tin shots was minimal but the sound was epic, especially if someone nearby was yelling "GOOD GOD ALMIGHTY!" in a Jim Ross voice.
3. Your Dad's Stepladder Was Permanently Erected In The Back Garden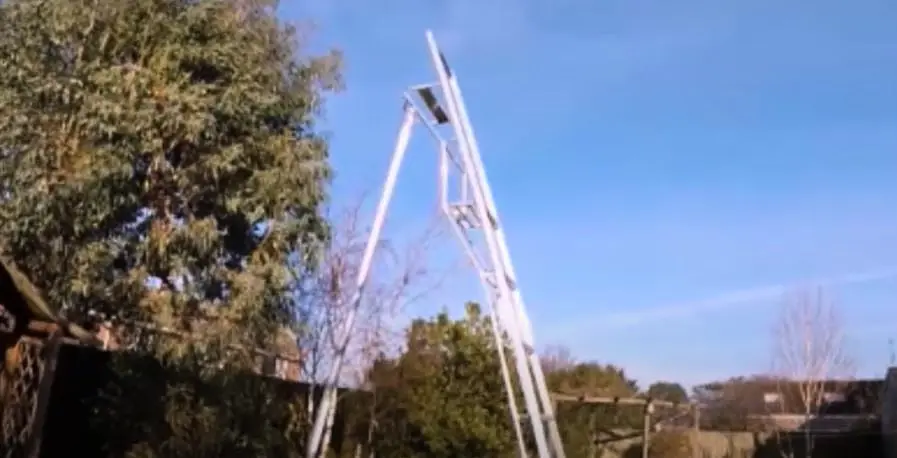 Wrestling put a whole new spin on something as mundane as a ladder. If you thought you could fly like Jeff Hardy, hopefully you used some padding for a soft landing at least.
4. Drinking Soft-Drinks Like They Were Steve-Weisers
Whether it was a few cans of Dutch Gold or a couple of cans of Club Rock Shandy, them sum-bitches were getting smashed together and poured all over your face every single time.
5. Sitting Up Like The Undertaker When The Alarm Goes Off
There was no worse feeling on earth than hearing the alarm go off for school in the morning. It would almost make you wish you were dead (like The Undertaker).
6. All Your Socks Had Faces Drawn On Them
Did your mother ever give out to you for de-facing your previously clean white socks with a permanent marker? If so, then Mick Foley and Mr.Socko have a lot to answer for.
7. There Was A Dent In The Back Of Your Guitar
If there was a guitar lying around the house, you may have made the mistake of trying to do 'a Jeff Jarrett' on one of your siblings or mates. Many of us quickly learned that the guitars Jeff used in WWE were actually gimmicked. So if you managed to make anything more than a small dent in the back of a real guitar, you probably committed manslaughter.
8. Water Spray All Over Your Mirrors And Walls
Show me someone who claims they watched wrestling during the Attitude Era but didn't practice Triple H poses in front of the mirror, and you'll be showing me a liar.
9. Walking To The Dinner Table Like Vince McMahon
Long before Conor McGregor stole it, the Vince McMahon power-walk was a WWE trademark. Getting strange looks from your mother as you bound into the kitchen at dinner-time was almost a daily ritual.
10. Creed Got A Lot Of Air Play In Your House
In 2013, when Rolling Stone magazine published a readers' poll listing the ten worst bands of the 90s, American rock-band Creed were number 1. To put that into context - Nickelback were second.
Despite their reputation as one of the lamest, most cringeworthy bands of their era, Creed hold a special place in many WWE fans' hearts for their track 'My Sacrifice' which was used in one of the best video packages that WWE has ever produced. In the years since, we've probably all come to terms with the shame of having listened to Creed during our youth, but in fairness, this video is still an absolute banger.