In the end, Cork's babel of squeaks, shrieks, shouts, and squeals was gradually subsumed by the remorseless clack, clack, clack of a committee recommendation.
The fervour was rehoused in Tallaght, leaving to Cork's Neptune Stadium a few too many echoes, shot through with a kind of low, thrumming lament.
If sport is defined by its devolved, internecine rivalries, Irish basketball came to be utterly changed by one larger than it: that of the plucky, independent second city against the established capital. Ireland's was Cork against Dublin, and it came to affect Irish basketball forever.
*****
As the renowned sociologist Harry Edwards has been fain to point out, an American student-athlete is less likely to make it as a pro in the NBA than they are to get hit with an asteroid within the next ten years.
Of the 550,000 college students who make graduating into the NBA their top priority each year, only about 40 actually make it.
That leaves a heck of a lot of talent loitering on the fringes. Having been told their talent was just short of transcendent, many went transatlantic. As American players began to populate the English league, Killarney's Paudie O'Connor persuaded Greg Huguley and Cornel Benford to play ball in Kerry in 1978.
Within a few years, the same path was followed by some more recognisable names, and the likes of Jasper McElroy, Ray Smith, Kelvin Troy, Mario Elie and Deora Marsh and Terry Strickland went on to achieve something almost as statistically unlikely as an NBA career.
They made the parish halls of Ireland sexy.
Strickland had a couple of his initial difficulties with the weather and the accent - "Sometimes, I wasn't sure what certain words meant, so I had to ask. I'd hate to be walking around calling someone a bollocks not knowing what it meant!" - but he soon acclimatised to life in Cork. The basketball certainly helped: for a couple of hours every weekend, the town whose culture he was adapting to bent to his.
Until then, the only prelude to sport in Ireland had been wizened, determined-looking men grimacing and muttering through all but the last line of the national anthem. Suddenly, parish halls across the country had chart music clashing off the walls, with tall, black American athletes daubing towns in hitherto unimaginable glamour; dunking, dancing, and hi-fiving in a country which had seen Mickey Ned O'Sullivan hospitalised for having the temerity to simply run in a straight line.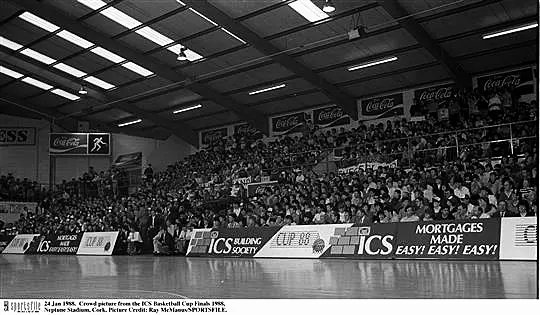 They drew crowds, and the crowds drew sponsors, with Cork the beating heart of this electric shock for Irish sport. A truly great rivalry sprung up: Neptune and Demons - or Burgerland and Britvic, to give them their proper, salary-paying names. Neptune had Terry Strickland, Ray Smith and arguably the finest crop of Irish basketballers ever produced; Demons had some very fine Irish players but above all the utterly wonderful Jasper McElroy, whose only rival as Ireland's greatest import is Mario Elie, who went home to win three NBA rings with the Houston Rockets and the San Antonio Spurs.
The two clubs shared every league title from 1984 to 1991, and even in the capricious National Cup, they won four of the eight contested in that time.
Terry Strickland dusts off a few memories over a phone line from his home in North Carolina.
Oh man, just a different game. Cork was the Mecca for basketball in the 1980s. Having Neptune there…there were times you had an 8 o'clock game, and the place was packed from 6 o'clock. It was unreal. It was a great time to be involved in basketball, I was glad I got there at that time.
Neptune/Demons reached infamy in the National Cup final of 1985. Demons led the final 26 minutes for all but one second of the final, but unfortunately for them, Neptune made their second count: Terry Strickland beating the buzzer to seal an amazing 92-91 victory that soon became steeped in controversy.
As it transpired, the score had been incorrectly kept, with Ray Smith erroneously awarded a three-pointer for a shot that should have yielded two.
Timmy McCarthy told Kieran Shannon in Hanging From The Rafters that "we were cheated, pure and simple. That's not being sore about it".
But soon, Demons and Neptune would find themselves on the same side of a wider rivalry.
*****
Kieran Shannon writes brilliantly of how the Dublin/Cork rivalry was seen among basketball people in Cork.
Maybe it was a Cork thing, a Munster thing. Ever since basketball had come to Ireland there had been a rivalry and tension between the two cities. One of the sport's founding fathers, Father Joseph Horan, would reveal in an interview published on the association's fiftieth anniversary that the national executive were pushing for a national stadium as far back as the '60s but that it failed, largely because of Cork's fear that all major games would be played in Dublin....

...In Cork they played a different game, and by the '80s they felt that difference was why they were winning leagues and press attention. They even had a term for it. Dive On Glass basketball. In Dublin if the ball broke loose on the ground a kid would go over and try to pick it up.

In Cork, a kid would run over and dive on glass to get to it first.

Hunger, second-city paranoia, scrappy-knees syndrome, Norrie Fire, call it what you like.
Although the late eighties would prove to be the golden age for Irish basketball, the governing body decided to take stock. They commissioned an independent panel to review and report on the state of the game in Ireland, and among their recommendations were the hundred-odd typed words that would change Irish basketball forever.
It is the Commission's recommendation that for the 1988-89 season there should be one Category B player per team in all divisions. The Commission has taken two main factors into account in making this recommendation:

i) the genuine lack of finance in the game.

ii) Fears which have been expressed for the future development of the Irish game should Category B players continue to play their present role.
Category B players were foreign imports. Americans, basically. The recommendation went for a vote among the ten clubs of the time, and it was passed 6-4. The three Cork sides all voted against it. Their lone supporter remains a mystery. Cork cried foul.
Sean O'Sullivan of Demons claimed that the "committee was handpicked to take the view it did. The decision was already taken before it sat".
All but one member of the commission lived in Dublin, with none of the clubs visited to gauge their reaction.
The commission reasoned that some clubs could not afford to pay the salaries of two American players, and that they were hindering the development of Irish talent. The halving of American players, however, would ultimately give O'Sullivan's complaints at the time some unwanted prescience.
Sport in general needs characters and personalities. I always draw a parallel between the rise of Cork Hibernians and Celtic with the presence of Carl Davenport and Dave Wiggington to the rise of basketball like Jasper McElroy and Terry Strickland. There is a direct commercial and marketing parallel between the two experiences. I would forecast a significant decline in attendance at basketball games because of this decision and as a result part of our incomes is going to go.
Strickland calls it "a bold move that failed". An absence of stars hurt attendances immediately and the longer-term was hit by a paucity of heroes: the fewer stars there are to emulate, the fewer stars there will be in the future.
Perhaps the decline would have happened anyway - the GAA became more commercially-aware in the nineties in response to the Jack Charlton boom - but crowds dwindled within years. The sidelining of Cork proved hugely detrimental, with Shannon describing Cork's relationship with basketball as akin to Limerick's with rugby.
Paul Meany was a member of the commission, and he accepted that ignoring Cork was an error. As he told Shannon in Hanging From The Rafters:
That was a mistake. The Liam McGinns and Sean O'Sullivans were the leading thinkers of the sport at the time and Cork was obviously the sport's stronghold. If you're going to make decisions affecting people you maybe need to consult people with a different view.

There was a perception out there from a Cork perspective that the whole commission was a stitch-up. From having worked on the commission, I don't believe it was. But perception is often as important as reality.
Timmy McCarthy, from the same book:
I think it all stemmed from the fact that people in Dublin were tired of Cork's dominatio. With the exception of 1974, every league in the '70s was won by a Dublin club. In the '80s every league was won by a team from the south and they believed that was because Killarney and the Cork teams had the better Americans.

The two-to-one decision ruined Irish basketball. In one swoop it undid all the great work and ground the sport had made up in the '80s.
It would be hyperbole to stay the decision killed basketball in Cork - Neptune's superior crop of Irish talent turned the league of a procession in the 1990s - but it did undoubtedly shift the balance of power from the second city to the capital, and things would never be quite the same again.
*****
This weekend offers a useful microcosm. The men's final takes place in a Dublin venue between two Dublin teams; the women's between a Dublin team and a Cork team. The venue is particularly symbolic. Cup Final weekend is erstwhile of Neptune Stadium, but moved to the National Basketball Arena in Tallaght twenty-five years ago.
One of the finest achievements in the history of Irish basketball was Neptune's building of their own stadium.
While all other clubs shared municipal facilities, Neptune built a cathedral all of their own. "Probably the first Irish sports venue that
you could bring your girlfriend or your wife on a date", remarked McCarthy to Shannon. It was a huge factor in Neptune's success: they could train as often as they liked, and could also rely on a raucous atmosphere.
"By the time you got dressed, man the crowd were ready", recalls Strickland.
Especially if you had Neptune playing Blue Demons. But we had those tournaments where teams came from Russia, England, Scotland…Neptune was always packed. People sitting in the stands and right up at the floor, you really enjoyed playing in Neptune. Anyone who played basketball wanted to play in Neptune.
Fans didn't just sit - they were content to queue for ninety minutes to quite literally hang from the rafters, an image that provides the title for Shannon's seminal book.
As it happens, Strickland played in the first Cup game played in Neptune and Tallaght, the latter during his spell with St Vincent's. There's only one winner.
When I first got there [Tallaght], I thought 'wow, this is really nice', but again you're thinking just how far it is out [from Dublin city centre]. The atmosphere was ok, I'm a bit biased but I don't think the atmosphere was as good as Neptune, but I don't think the support for basketball in Dublin was as good as it was in Cork.

There were lots of people who loved basketball in Dublin, but again because it was so far out.

It is a nice facility to go and play in, and as a spectator it was a nice facility. After a game, everyone had to get out of Tallaght, whereas in Neptune they would hang around as most people lived in walking distance.

I'm a bit biased, but I loved Neptune.
Intriguingly, when asked about the Dublin/Cork rivalry, Strickland plucks a couple of threads mentioned earlier: a stadium, and press attention.
When Neptune was built, and people could see how it was growing and growing. Because it was getting so much publicity, I think there may have been some teams who were envious of Neptune because of the success the team and the stadium was having. It was on TV, RTE were coming down all the time.
In truth, a national stadium was an inevitability, that it ended up in Dublin merely followed a well-worn path. It's unfair to paint Tallaght as a kind of soulless, modern globo-gym. As Mike Quirke points out, it has attracted a reputation of its own:
It's different to any other stadium. It's notorious: you go in there and everyone tells you how the rings are tight; it's hard to score in there because of where the backboards are and because there are people sitting behind the clear glass. There are loads of little myths about the place.
That Strickland prefers Neptune is wholly unsurprising. Neptune stadium was less a different stadium than a different time; it offered an exciting vision of a future that it ultimately wasn't part of.
But whatever the people of Neptune saw coming, their stadium became it, and in the latter half of a decade defined by the drudgery of the few who stuck around, it seized and swelled every weekend as a paragon of the possible.
Irish basketball is in a much better place today than it has been in decades. The League of Ireland would do well to note its breadth across the country, and the sport is supported by a canny social media policy which appeals to young, potential players who have never been so close to the stars of the NBA.
And in a further encouraging sign, the cup semi-finals are being staged in Cork. The finals weekend, however, very much belong to Tallaght, in what is rapidly becoming a tradition.
Irish basketball is on the way back up, but it is unlikely that it will ever sieze hearts and minds as it did in the halcyon days of the 1980s.
As he did in 1985, Terry Strickland gets the final word.
There was so much talent in Cork. But you still need people willing to stay in there to keep it going, and you need the money to do it, too.

The people I know in Cork, they don't even talk basketball when I call them now.

I'll ask how Neptune are doing... and they say that they don't really go to games any more.