In the old days, if two sportswriters had beef, they'd settle it mano-y-mano in the press box, the queue for the jacks, the queue at the burger joint or the queue at the Bourbon still. Nowadays, sportwriters go toe-to-toe online.
Yesterday, the simmering hatred between ESPN's Bill Simmons, aka The Sports Guy, and the Boston Globe's Charlie Pierce, aka the guy responsible for Tiger Woods' media chastity, went nuclear.
The backstory: Last year, Simmons wrote a book about basketball and mention Pierce (CPP) in the bibliography. Pierce went on to destroy Simmons, book and brand, in an unholy, bitter review on Deadspin. The paperback version of Simmons's b-ball book is out now, and the Sports Guy decided to say F-you to Pierce and deleted all references to him.
As for the fight itself, Simmons got in the first blow on Twitter: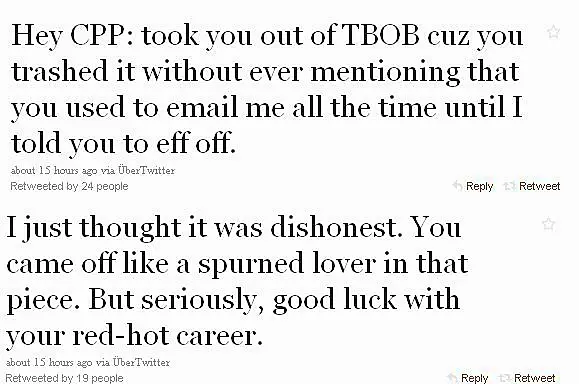 Harsh. Pierce is a talented sportswriter in the old school, Tom Humphries mold, who unlike Simmons, is not concerned with media ubiquity. To his credit, Pierce did give Simmons something to chew on.
"And right back at you, you mendacious, whiny little thin-skinned bag of breeze, you. I've been thrown out of better joints than your bibliography. And, really, such language."
We score the round to 10-9 Pierce.