If possible, the story of Notre Dame linebacker and NFL prospect Manti Te'o and his fake dead girlfriend has gotten a little bit weirder.
Milton Grimes, lawyer for the perpetrator of the hoax, Ronaiah Tuiasosopo, revealed to the New York Daily News that it was in fact Tuiasosopo who was on the other end of the phone line during the long late night calls that Te'o believed he was having with his girlfriend Lennay Kekua.
Grimes said that Te'o "thought it was a female he was talking with. It was Ronaiah as Lennay"
Te'o apparently never realised that it was a male on the other end of the line impersonating a female voice. Tuiasosopo had vocal and dramatic training which could have assisted in executing the hoax.
According to information obtained by ESPN, Te'o had made and received more than 1,000 calls totaling more than 500 hours to and from the number he believed to be that of Lennay Kekua.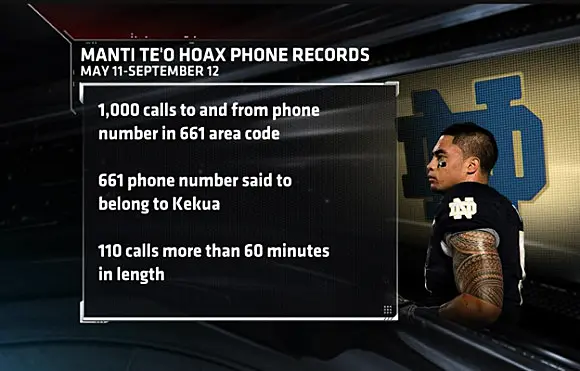 A Te'o interview with Katie Couric is set to air tonight where he reveals that he lied about his fake dead girlfriend even after knew about the hoax.