Donncha O'Callaghan Tells Amazing Story About Bringing A Few Unexpected Guests To Worcester Team Meeting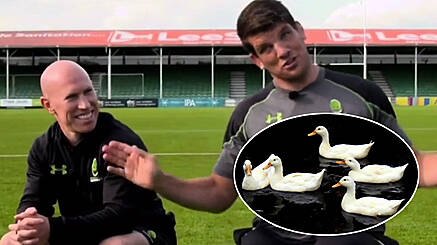 The fact that Donncha O'Callaghan and Peter Stringer are still going strong at Worcester Warriors in the Aviva Premiership makes it extremely difficult for us to remain impartial when discussing the top tier in English club rugby, such is their legendary status on these shores.
Both men are a shining example of what can be achieved when you take great care of your physical condition, and the fact that they are still enjoying their rugby careers in a sport that is widely considered to be a young man's game never fails to raise a smile for us.
The pair recently conducted an interview for BT Sport which will air on Friday, but on last night's episode of Rugby Tonight on BT Sport, we got a little glimpse as to what we can expect and, as we expected, it's going to be a good laugh.
In the clip Donncha O'Callaghan is asked to elaborate on a story involving him and ducks, and he it sums up in a typically entertaining way as Stringer chuckles along beside him.
Advertisement
What a man.
One of the funniest sportsmen around, anytime O'Callaghan is on TV he ends up leaving whoever is watching with a smile on their face. He sounds like a tremendous personality to have around a rugby club as well, which is just another reason why he was named club captain ahead of the start of the campaign.
Looking forward to the full interview now.
And before anyone asks, 'paddling' is a perfectly acceptable term for a group of ducks on water, which is where big Donncha found them.