Five-time Paralympic gold medallist Jason Smyth is feeling buoyant about his chances of more success in Tokyo this summer, thought the road ahead is certainly not smooth. The challenges of preparing to defend your crown is tough at the best of times, but doing so in the uncertainty and restrictions of a Covid world make them so much greater.
Speaking at an event for Toyota, official partner to Paralympics Ireland and worldwide mobility partner to the Olympic and Paralympic Games, Smyth spoke about his hopes for this summer's Paralympic Games in the Japanese capital. Asked by Balls whether he had his sights set on another gold medal or whether he saw new world or Olympic records on the horizon, Smyth said:
I think a bit of all of them would be nice, wouldn't it?! The reality is that if you run fast, the more likely you are to win gold and the more likely you are to run records, so – I mean, I always try to win gold, that's where I set my target, but that happens by running fast. So, again, back what I was saying, it's about making sure I'm running and getting things right that allows me to be running as fast as I possibly can in around August
Smyth participates in the T-13 classification in the Paralympics on account of his Stargardt Disease, which limits his sight to blurred peripheral vision. He holds the world record in both the 100m and 200m in his classification – both times are also the fastest ever run by a Paralympian.
Smyth has five Paralympic gold medals, alongside eight World Championship gold medals and six from the European Championships. He is, by all records, one of Ireland's most decorated sportspeople – and he believes he is only getting faster.
In 2019 I was running faster than I had in 2017, 2018, so things are moving along. So, obviously take out last year, but I knew I was in a good place and a good place to build going into this year, so – [the goal is to] run faster than I have in the last number of years and obviously to try and win gold and hopefully that one leads to the other.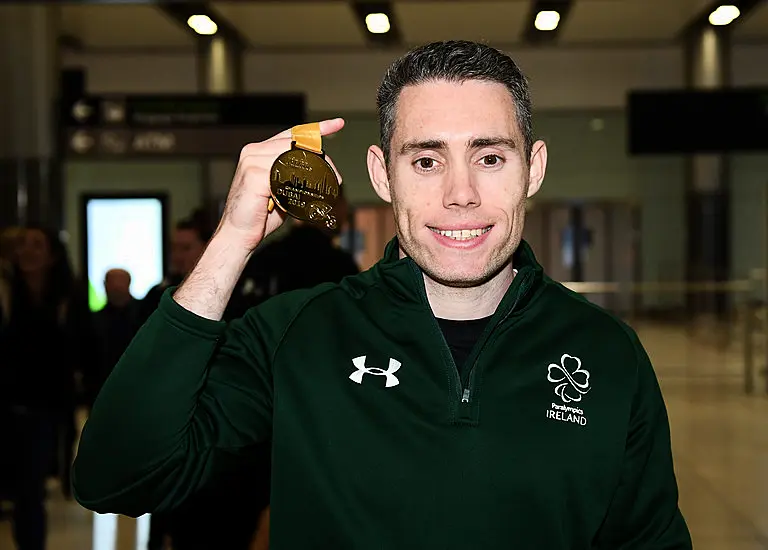 The Tokyo Paralympics were initially scheduled to take place last summer but, like most major sporting events, was forced back a year by the COVID-19 pandemic. The uncertainty around the fate of the Paralympics, as well as the general chaos of the last year, has been a challenging time in all walks of life, but Smyth has taken it admirably in his stride.
It's been quite difficult.

The challenges for me, anyway, as a sprinter…unfortunately, being based in Ireland does not work to be operating at that level. Just the environment you need to be in, unfortunately, the conditions just don't allow it at home. You know, there's huge challenges around travelling at the minute and restrictions and…when you come back, isolating, things like that.

So, yeah, huge challenges but it's again down to 'you can really only control what you control', so it's just trying to get those things right or as close to right or perfect as possible."
There have been more personal setbacks for Smyth in the last year – he picked up a small injury towards the end of 2020 that "took a little bit longer to get on top of that than I would have liked" – but he says he is taking one day at a time to build for the Games in Tokyo.
As much as we're always looking where we want to be in August, you know, really it's about 'where am I now?' and 'where am I now?' – that leads to where I need to be in March, which leads to where I need to be in April.

You know, as much as you're looking at where you need to be down the track in August, you need to know where you want to be now. That sets you up to where you need to be so, for me, that's very much my focus – if I know where I need to be now, then I'm in the right place to hopefully get things right in the summer.
Smyth certainly hasn't been phased by the postponement of the Paralympics and, if his confidence is reflected in on-track results, Irish fans have a lot to be excited about this summer.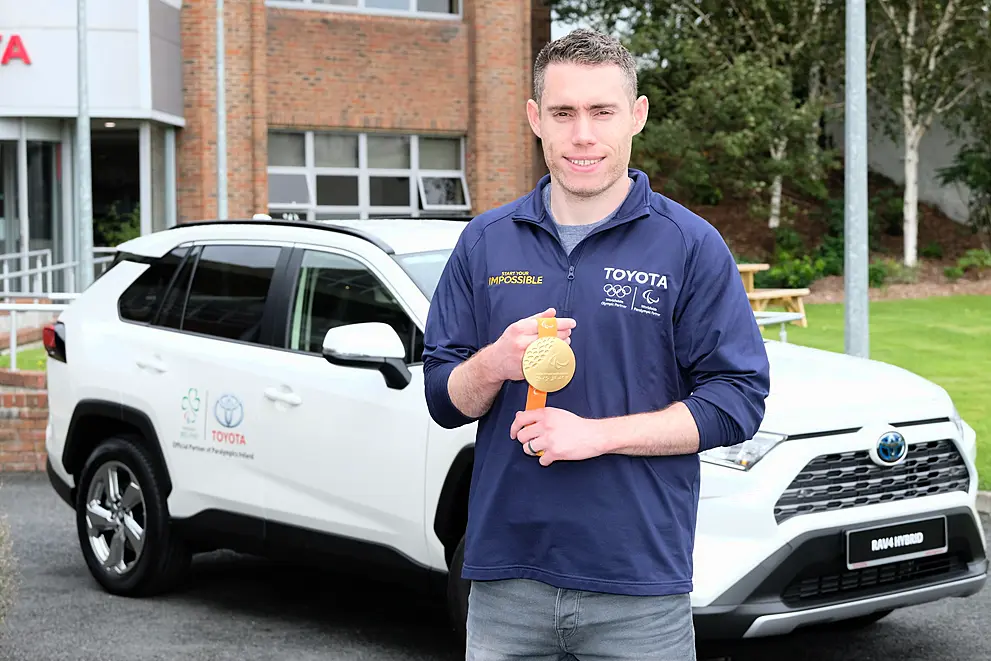 Jason Smyth, Toyota ambassador and world's fastest Paralympian, is pictured as Toyota Ireland looks forward to the Paralympic Games in Tokyo. Toyota is an official partner to Paralympics Ireland and worldwide mobility partner to the Olympic and Paralympic Games. Toyota's Start Your Impossible campaign celebrates the best of human performance and can be viewed on www.toyota.ie