Ireland's greatest sporting achievement in Japan since Robbie Keane's equaliser in Ibaraki: Portlaoise's TJ Doheny has been crowned IBF World Super-Bantamweight champion after a unanimous decision victory over champion Ryosuke Iwasa in Tokyo this afternoon.
In spite of taking cuts around both eyes in the opening two rounds, Doheny battled his way back into the fight and forced it to a decision. Throughout the fight, noted boxing commentator Teddy Atlas on ESPN had Iwasa winning comfortably on 116-113.
The official scorecards, however, told a very different story: reading 115-113, 116-112, 117-112 in Doheny's favour.
Atlas, however, disagreed with the decision strongly. Speaking on ESPN after the decision, Atlas dismissed the judges scorecards.
As beautiful as this sport can be, unfortunately sometimes it can be pretty damn ugly with the judging. I thought the judging was ugly. Again, you can see why there [over footage of Doheny sustaining a cut beneath his eye]. Also because of the accuracy of the champion, where he was able to use the jab and to set up the power punch with the left. He could even go tot he body, where you expect Doheny to be better.

There is no doubt about it, Doheny came forward and did what he had to do, but in the later rounds, I thought it was that man [Iwasa] who had the edge.
The stats, however, showed Doheny threw more punches than his opponent....to which Atlas responded by questioning the validity of the numbers.
Human beings are counting these numbers, I don't think I could count all those punches over a fight. Could you? It's pretty hard to do accurately voer the course of a fight.

They dod a good job and give us something to look at afterward, but at the end of the day, do you know what I look at? I judge it by looking at who won the fight. I looked at that fight, and Iwasa won the fight.
Here are the stats in question: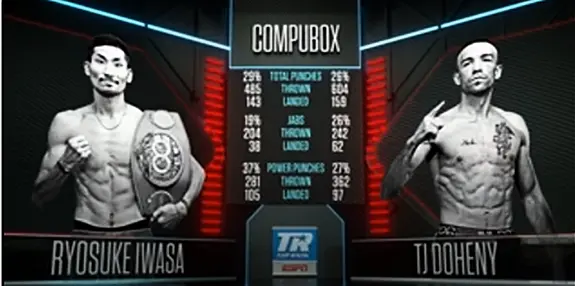 Fellow ESPN writer Dan Rafael agreed with Atlas' assertion that Iwasa deserved to win.
Don't know Japanese so don't know scores but Doheny got the decision. Shocking. Iwasa won that fight. #IwasaDoheny #boxing

— Dan Rafael (@DanRafael1) August 16, 2018