If a dog is born in a stable, does that make it a horse? This and any number of its derivatives have been trotted out (pun intended) over the past week and it's getting bloody repetitive. That argument quite obviously has its place but the fact that it actually has to be stated is what is is particularly galling.
Gordon McQueen's mindless nonsense concerning Aiden McGeady and James McCarthy was a product of a bygone era that has absolutely no place in modern sport. Nationality is becoming increasingly transient, and sport is a bellwether of this for many of us. Guess what Gordon, if Diego Costa says he's Spanish and international law allows it, then he's Spanish.
The choice of Costa to demonstrate this is not random. The Chelsea striker is often cited as the 'worst' example of this transient nationhood in football. The argument goes that he has no real emotional connection to his adopted homeland and only takes his place at the head of Spain's attack because he was pissed off with waiting for the call from Brazil. Like it or not, that's the only definition of nationality that football cares about.
Ireland's supposed courtship of Curtis Davis over the past couple of years proved that. The West Brom defender seemed a bit embarrassed that he was wanted by the FAI. He didn't want to be Irish in any sense and that's his choice, the same way it's Costa's choice to be Spanish.
So after all that, the fact that McGeady and McCarthy say they're Irish, makes them Irish. Similarly, unpleasant as it may seem, if McCarthy turns around tomorrow and says he wants to be Scottish again (and gets the necessary paperwork), then he is. He just can't play for the national team.
It was from this that Sky Sports News today decided to put together a nice little graphic about where the current crop of Irish players were born. As plenty pointed out, it is, much like McQueen's argument, absolute nonsense.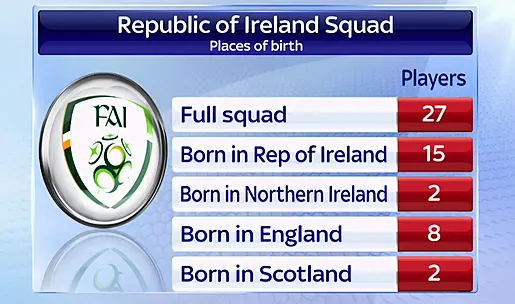 However, just because it is perfectly acceptable for players born away from the green green grass to play for Ireland, that doesn't mean that everything is hunky dory. The problem is that, over the past 30 years, as much energy has been spent wooing players like Jack Grealish as it has been actually developing players in an Irish system.
Herein lies the problem, it is development and not nationality that we should be worried about. For talented footballers who spend their formative years in Ireland, the go-to path (particularly in the greater Dublin area) is play for a local club - move to well regarded junior team such as Belvedere or St. Kevins - get noticed by an English team and move over at the age of 15.
From there, talented Irish youngsters are at the mercy of the English club system. They are just kids but not only do they have to contend with trying to 'make it', they also have to contend with being away from home earlier than they should be.
Take Keith Fahey for example. Cherry Orchard to Arsenal at 15 and despite his obvious talent, the early move took its toll.
When I was younger I didn't see the bigger picture and I didn't enjoy being away from home. But this time around I'm more determined to keep going. I'd also say that over the last year I've got a lot stronger, mentally.'
That was in 2010, after his move to Birmingham. There's no guarantee but you have to imagine that if Fahey had time to develop as a person before leaving home he wouldn't have been on the cusp of quitting football after his first spell in England didn't work out.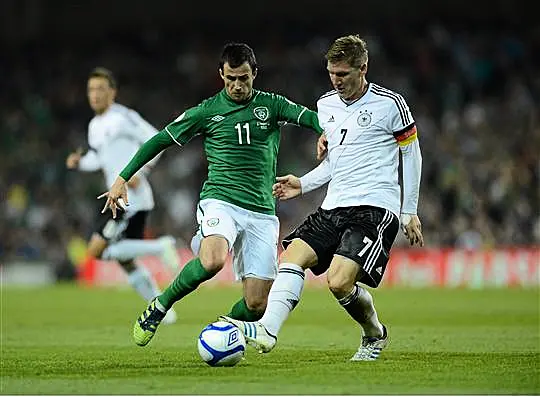 We can't rely on England, Scotland or even Northern Ireland to develop our players. As much as Gordon McQueen's argument over nationality is outdated, he, as a proud Scotsman, does have a right to be annoyed that the Scottish system develops these players only to see them come back in a couple of years to (possibly) prevent Scotland from qualifying for major tournaments.
The argument to this will be that McCarthy joined the Irish international system as a 16 year old. However, unfortunately, that did not make him the footballer he is today. He had been in the Hamilton first team a year earlier than that. It is Hamilton and their SFA trained coaches who played perhaps the most important part in the now Everton midfielder's development.
The developmental make-up of every Irish player since 1986:
We've gathered together the numbers that Sky should have been looking at and they make for interesting reading. Since Jack Charlton's first game in charge in 1986, 174 players have lined out for Ireland. So, assuming that playing for your country is an indication of a successful career, where have Ireland's successful footballers been produced? We've looked at every one of these players and noted where they were brought up (in footballing as well as personal terms) and where they made there senior debut.
This is about formative years and not place of birth. For example, David O'Leary was born in London but raised in Ireland. Conversely, Steve Finnan was born in Limerick but raised in England.
With that said, we wanted to find out what is the most successful formula for Irish internationals. In other words, where they had their formative years in relation to where they were playing when they made their debut.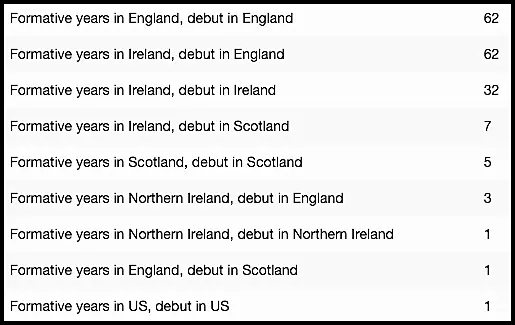 The most apparent statistic is the England/England prevalence but, as we've already said, there's nothing wrong with that in itself. The primary problem with these stats is that the 'formative years in Ireland, debut in England' should be much higher than it is.
This is the go-to path to success for Irish footballers but the numbers going to England at the age of 14/15 aren't translating into international caps down the road. Theoretically, the 32 players in the Ireland/Ireland bracket would probably have been judged inferior to their counterparts in the Ireland/England bracket at the age of 15. Yet, as the likes of Seamus Coleman show, staying in Ireland (if the talent is there) can lead to a much more assured progression to first team football and subsequently to the international scene.
The debate has once again been rolled out thanks to Jack Grealish but it is by no means the last we'll hear of it. Give it a year or so and Arsenal's Dan Crowley will have to deal with the same to-ing and fro-ing that Grealish is at the moment.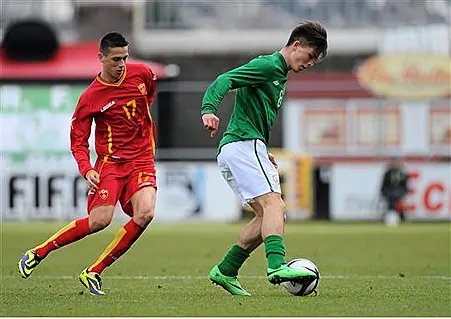 The FAI have a decision to make and they need to make it now. Do we continue along the granny-ruling path as a necessity or do we primarily develop players in an Irish system and be accommodating should anyone from outside that system choose to play for us?
The English system of clubs taking the sole responsibility for developing players is obviously broken but there are aspects of it which we can learn from. The best underage clubs in this country have no discernible senior teams and, as such, they have no desire to keep players in the country. We need to transform the underage set-ups of League of Ireland clubs so that talented players want to play there and subsequently stay there.
The FAI will point to a lack of funds but ideally there would be an FAI controlled development officer with each League of Ireland club whose sole responsibility is to entice players to stay within an Irish system. Many might say that this is unrealistic but a start has to be made somewhere.
At the moment the clubs are working independently and they simply don't have anything like the resources needed to entice players away from choosing England. The FAI may say that they don't have the money but if this issue isn't at the very top of the Association's list of priorities then there is something seriously wrong.
We put a lot of effort into wooing the likes of Grealish and Crowley because it is the easiest way to get quality players with the least amount of work. The question we have to ask is, at what point does the tug of the historically Irish heartstrings begin to grow too weak? Since 1988 we have had an exceptional level of success for a nation our size but when you take the diaspora into account, perhaps a nation our size isn't actually that small.
However, as history goes further into the past, the remnants of Irish identity that we've been relying on will start to fade and we need a better plan to develop our players as opposed to outsourcing that job to England and Scotland.
Research conducted via FAI and SoccerScene