In his new Euro 2016 column with Paddy Power, Barnsley's finest Irishman recalled how pissed off he became when he learned that the Dutch had already booked their hotels for the playoffs and World Cup ahead of the Lansdowne Road qualifier in September 2001.
[soundcloud url="https://api.soundcloud.com/tracks/265889805" params="auto_play=false&hide_related=false&show_comments=true&show_user=true&show_reposts=false&visual=true" width="100%" height="450" iframe="true" /]
You could, of course, choose to regard this as diligent planning rather than monumental arrogance but, even with the hindsight of the Irish debacle the following summer, Mick is not inclined to give the Dutch the benefit of the doubt.
(Read Simon Kuper's remembrance of the Dutch 'hubris' ahead of the Ireland-Holland game here.)
We've decided to regale with a few of our favourite examples of hubris being punished.
*Conor McGregor not included.
Nike and England team up
This video had been in the can as soon as England's rugby 'partners' had sniffed the possibility of a Grand Slam in the air. The English rugby public has traditionally never been slow to sniff out that possibility, usually needing at most two wins. Even in 2010, the word was being uttered after wins over Wales and Italy before their season petered away to nothingness.
This beauty was no doubt meant to premiere in the first Sky ad break after England completed the Slam in Lansdowne. We appreciate that these things are often filmed in advance. However, it was a very risky move, considering England's long predilection for ballsing up Grand Slams on the final day (1990, 1999, 2000, 2001, and we can add 2011 and 2013 to that list since).
Naturally, after England were utterly spanked by Ireland at Lansdowne Road, the video was leaked as a matter of public service to ensure maximum humiliation.
Steve Ovett
The gold standard in the cocky lads getting their comeuppance genre. At a Crystal Palace meet in 1980, Steve Ovett was determined to flaunt his arrogance before the race was over. He didn't even let an initial early scare deter him.
John Treacy appeared suitably enraged by the sight of Ovett throwing his hands up in the air, and proceeded to spring the final 100 metre like a man trying to escape a gunman.
All told, one of the sweetest Irish victories.
Dublin - 1992 All-Ireland Final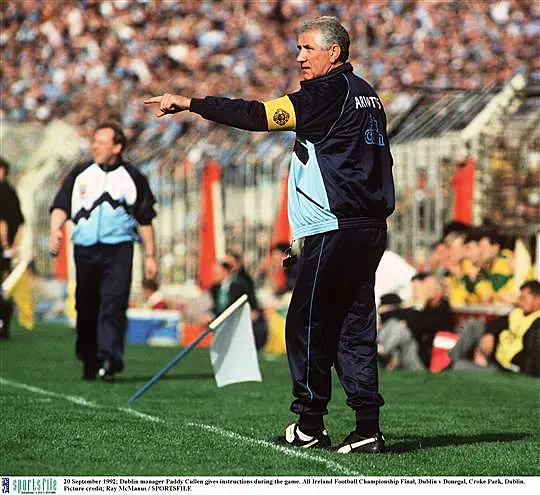 As Kieran Cunningham has written, '1992 is always put forward as Exhibit A in the impact of hype on Dublin teams'.
The 1992 All-Ireland semi-final between Donegal and Mayo enjoys the reputation of being one of the worst games ever played in Croke Park.
At least one of those Dublin players in attendance that day concurred with that view. In an interview with John Fogarty a few years back, captain Tommy Carr recalled an unnamed Dublin player letting go with a cocky remark as he departed the game early.
I remember sitting behind a group of Dublin footballers and about three of them left with 10 minutes to go and one of them remarked 'We'd beat the pick of the two of them'.

At that moment I felt that was not a good sentiment to leave Croke Park with. That was the beginning of the end because it is very hard to get rid of that view of the opposition.
It was nine long years since the 12 apostles clung on against Galway in 1983 and everyone decided that the Dubs were overdue an All-Ireland.
Several Dublin players spent the week of the 1992 All-Ireland final doing fashion shoots and radio promotions. Their charismatic but placid manager Paddy Cullen spent some of the lead-in advertising washing machines.
Most damningly of all, an open top bus tour was booked for the city centre for the day after the match.
We know what happened in the game. What happened the day after was nearly worse.
The following day, someone went ahead and decreed that the conquerors of Clare in an All-Ireland semi-final should proceed with the open-top bus tour of the city, so the citizens of Dublin could show their appreciation.
The citizens of Dublin were uninterested in showing their appreciation.
Paul Curran felt toe-curling embarrassment.
I remember absolutely nobody turning up; we could have been on the 77A to Tallaght. It was surreal to be honest, there wasn't a sinner. I don't know who was involved or who said 'yeah', but it was a crazy decision really... But the reception at the Mansion House was fine; there were the usual die-hard Dublin supporters there to greet us.
Dessie Farrell was similarly mortified.
The whole thing was a disaster. We went down O'Connell Street and, sure, there were people coming back from work and they were looking about as if to say: 'What are these crowd at?'
Tommy Carr wisely refused to attend in protest.
"I can't believe we've won five in a row"
Killarney folk band Galleon thought it wise to release a song entitled 'Five in a Row' before September 1982. The most gratuitous display of karmic suicide in the history of Gaelic Football.
The song is near impossible to find these days but there's broad agreement that the chorus goes along these lines.
Five in a row,
Five in a row,
Can you believe we've won five in a row
Naturally, it became significantly harder to believe they'd won five in a row after Seamus Darby's intervention.
France - 'QUALIFIED' - 1994 World Cup
Their complacency is perhaps understandable considering that this was the most astonishing collapse in the history of World Cup qualifying. There can be no question about this.
France only lost four competitive matches in the whole of the 1990s and yet their only World Cup qualification campaign that decade was a failure.
Their campaign to reach 1994 World Cup was going very well. An early loss away in Bulgaria aside, their progress had been relatively serene.
Eric Cantona, whose international career has been unfairly derided in retrospect, was in smashing form. Coming to the last two games in October and November, qualification had effectively been achieved.
They needed one point from their remaining two home games against Israel and Bulgaria. In 1993, this was the very definition of a formality. Bear in mind that the Israel of the 1990s weren't the impish little hurdle they present today. For Israel in 1993, read someone like Georgia these days. France demolished them 4-0 in Tel Aviv that February without worrying overly much about it.
The players agreed that it was a formality.
According to Cantona biographer Phillipe Auclair, several French superstars (not including Eric) decided to prepare for the little Israelis by heading off the razz the night before and taking home some women.
So relaxed were the French newspapers that one boldly decided to print the following days headline - 'QUALIFIED'.
The following day, France lost 3-2 to Israel in the Parc des Princes. It was a shocking result. With time running out, the score was still 2-2, a dreadfully underwhelming result itself but still good enough to qualify. On the stroke of full-time, little Rueven Atar stole the winner.
It was a disturbing result but even so, a single point at home to Bulgaria, a troublesome team but hardly a world power, would complete the job.
The world is fully aware of what happened on 17 November 1993. Emil Kostadinov firing the ball into the roof of the net, Gerard Houillier scuttling down the tunnel like a disgraced cabinet minister dodging dictaphones, Platini turning his face away from the pitch in disgust, Jacquet cupping his hands to his mouth in shock.
Houillier and Ginola have been at daggers drawn since.
Ger Loughnane v Tipp
Drama-loving yarn spinner Ger Loughnane devoted the best part of his managerial career to punishing Tipperary for various perceived arrogant slights, real or imagined.
The most famous of these arrived in the 1993 Munster Final bloodbath. With Tipp beating Clare out the gate and the match dribbling to a conclusion, Nicky English stroked over a very handy point, after which he turned around a flashed a knowing smile at one of his teammates. The RTE cameras had zoomed in on Nicky at the precise moment he turned around.
In subsequent years, Loughnane built this innocuous incident up to such an extent that one might be forgiven for thinking that English had spat on the Clare jersey, labelled Marty Morrisey a yank, and gone on radio to announce that Lisdoonvarna was no craic.
The following year, Clare drew Tipp in the first round.
As a selector in 1994, Ger was part of the Clare management team which brought Clare to the University of Limerick for some hi-tech training session. On leaving, they learned that Tipperary had booked into the UL for the same treatment.
Tipp had booked in for their session after the Clare match. As detailed by Denis Walsh in 'The Revolution Years.' Motivated by Tipp's 'casual arrogance', Clare stunned them in the Munster semi-final in Limerick.
Five years later, following a late Davy Fitzgerald equaliser in the Munster semi-final, Tipp entered the replay coursing with self-belief.
The two dressing rooms were right beside each other in Pairc Ui Choaimh. Nicky rallied his troops with roar 'What do you do with a wounded animal? Kill! Kill!'
The scream was fully audible to those in the Clare dressing room.
As revealed in the Revolution Years, Ger Loughnane ripped up his pre-match team talk, simply saying 'Go out and give them their answer.'