Hindsight is a wonderful thing of course and, in the not too distant future, we look forward to some as yet unfounded publication digging through our back catalogue and picking out some of the absolute dogshite that we've written over the years.
So accepting that this is going to happen we feel entirely justified in pointing and laughing at the Mirror and their rather splendid back page from September 2009.
If you haven't seen the news already, we'll condense it as much as possible. Paul Pogba looks all set to become the first ever £100 million footballer. Pogba may prefer Madrid but United have the cash to spend, they've agreed a contract and Mino Raiola, Pogba's agent, will be presenting Juventus with United's £103 million offer at the end of Euro 2016.
As impressive as he may be, that's an outrageous amount of money, particularly when you consider that they've already bought him once before. And the given wisdom from back then would appear to have been that they overpaid the first time around.
The Manchester Evening News dug this out of the archive and we're extremely glad they did.
United snapped up the then 16 year old from Le Havre in a controversial deal which saw the French club complain about poaching and a lack of respect from their English counterparts. The allegation was that their had been payments to his mother and his father totalling £175,000 as well as a house thrown in for good measure.
If they had been able to hold on to him, it would have been the bargain of a century when you consider what they're about to pay for him this time around.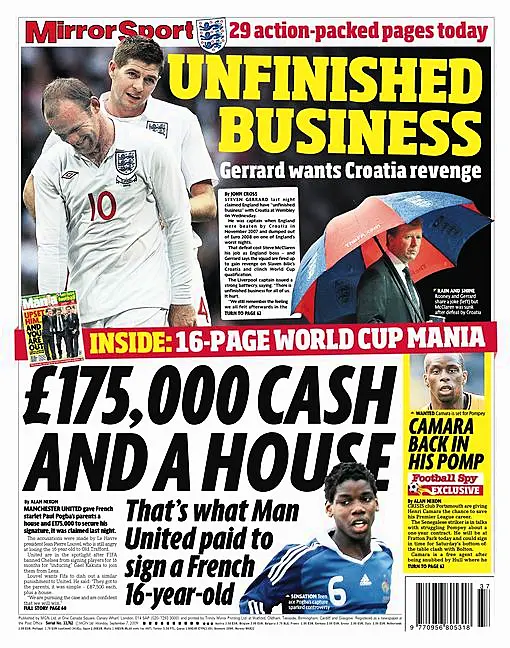 And while, we're delighted to be able to look back on that, the question has to be asked, was that really the biggest news in the world of British sport that day.
Slow news days certainly occur from time to time but how slow must that day have been for a then anonymous 16 year old to make the back page? £175,000 and a house doesn't even seem like that much money considering some of the sums that have been paid for teenagers over the past ten years.
Nonetheless, we're glad it's there and thankfully, the accompanying article is still available online.
Manchester United have been accused of offering French starlet Paul Pogba's parents £175,000 and a house to sign. And the national youth team skipper's Old Trafford contract will be worth more than £4,000-a-week when he turns 17 next year.

Livid Le Havre made the extraordinary claims yesterday as they stepped up the war of words aimed at United who snapped up their best youngster. President Jean-Pierre Louvel says United got the player by offering his mother and father the six-figure sweeteners and a place to live in Manchester.
At least they won't have to throw in a house this time around.