June 20, 2010. Hundreds of fans gathered at the Knysna training ground and were greeted by a full French squad who posed for pictures, signed autographs, shook hands, refused to train, climbed back abroad their bus and pulled the curtains. The World Cup is prime-time for a meltdown. It is a tournament tradition. In 2010 it was the French player rebellion that captured the public's attention.
"There was one insulting word. But no one knows whether that was directed at Domenench or at the game plan. And no one ever will. Ça va." Nicholas Anelka.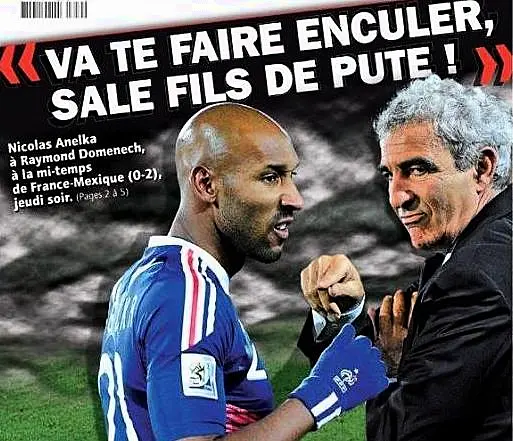 France's struggles began long before they even arrived at the World Cup. Thierry Henry's notorious handball in the play-off versus Ireland was a required measure because of a weak qualification campaign that saw Raymond Domenech's side lose to Austria, draw with Serbia and Romania and limp past Faroe Islands 1-0.
In the build-up to the tournament, William Gallas crashed a dune buggy, grew irritated with the press and refused to speak to them. Lassana Diarra pulled out of the squad due to a mysterious medical condition. Franck Ribery became embroiled in a prostitution investigation.
Henry's act was not rewarded by Domenech, who dropped him for their opening World Cup game against Uruguay in favour of the explosive Nicolas Anelka. It was his inclusion that would ultimately ignite the rebellion.
The primary lingering concern for France was the unsatisfactory conclusion to the 2006 World Cup. Zinedine Zidane's head-butt sending off was a contentious end that simultaneously provided lofty expectations of a World Cup final appearance whilst also ensuring any subsequent controversy would be intensely scrutinised.
Prior to the World Cup, midfielder Yoann Gourcuff was hailed as "le Successeur" in the French press. However, an internal feud in the squad saw senior players approach Domenech and encourage him to start Diaby instead. Even they were unsure what their outlandish manager would do, given he was known to sometimes choose players based on their star signs.
This was a time pre-Arsenal Fan TV when fan rants still had some resonance. Following a tedious opening draw, a 2-0 loss against Mexico in France's second game resulted in furious tirades on French TV outside the Peter Mokaba Stadium. Fans bemoaned the lengthy travel they had undertaken for the uninspiring mess that was delivered. Inside the ground, Nicholas Ankela undertook similar practice, allegedly confronting his manager over his half-time substitution: "Go fuck yourself, you dirty son of a whore."
The French media carried reports of the altercation that morning. Within a day President Nicolas Sarkozy made the issue political and addressed it in front of the global media, calling the reports 'unacceptable.' Anelka was suspended by the French Football Federation and told to pack his bags.
In the absence of a starting role for Henry, newly appointed team captain Patrice Evra led the players as they refused to train in protest at the striker's dismissal. He was confronted at training by an irate Robert Duverne, the French fitness coach. Evra demonstrated remarkable restraint for a man who would later in his career deliver a karate-style kick across advertising hoardings and onto a fans temple. He simply relayed the players' message and left. The entire debacle was captured by television cameras and broadcast worldwide.
In this battle between players and manager, it was only ever going to be the man charged with coordinating events who would face the French media's wrath.
Raymond Domenech... with his incoherent selections, inability to mould a group and publicity skills that make him one of the most unpopular men in the country... Laurent Blanc will arrive in a few days on to a field of ruins. What a waste.
Le Parisien. 2010
We thought they had reached the very depths, but we were wrong. Swept away by Bafana, Bafana, the Blues didn't even have the spurt of pride hoped for... They are out. Quick. Go away.
Le France Soir. 2010
Following a failed bid for inclusion as a 33rd team, the Irish smugly observed from a distance as the snowball continued to cascade down the hill, rapidly growing with every new by-line. George Hamilton's immediate reaction to Mexico's 2-0 was to declare it 'a result that will please Ireland.'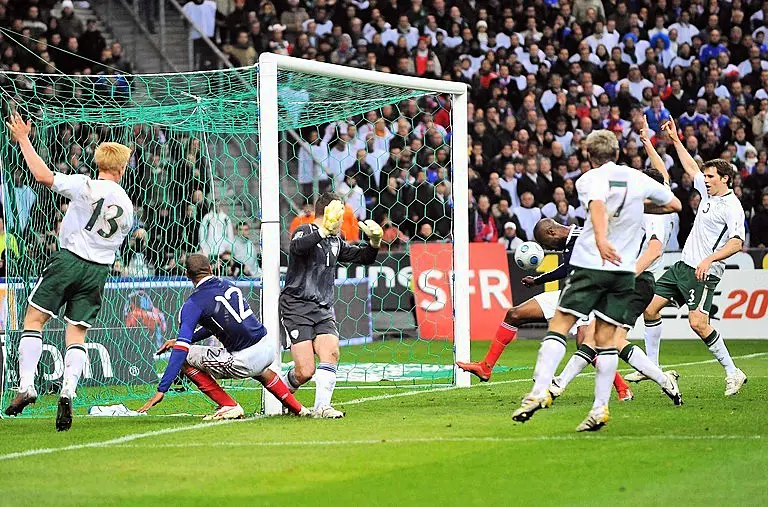 It was not only bitter Irish fans who revelled in the scandal, it was football fans across the world. There is something distinctly profound about a World Cup meltdown that makes it innately enjoyable for all bar the effected.
Primarily it is the drama. Some storyline soap operas themselves struggle to develop with any sort of authenticity. This wholesale reaction should not be misinterpreted as some mass schadenfreude outbreak. There is a simple explanation, a subconscious reassurance in these developments.
It lies in the suicide paradox. This is a behavioural phenomenon explored by Malcolm Gladwell in his book, David vs Goliath. Gladwell compares the suicide rates in countries where citizens declare themselves to be very happy, such as Switzerland, Denmark, Iceland, Canada to countries like Greece, Italy and Portugal whose citizens describe themselves as extremely unhappy. It turns out there is a substantially higher rate in happy countries that unhappy ones.
The reason for this is straightforward. To be depressed in a place where most people are unhappy ensures you do not feel out of place. It is reassuring, the inevitable comparisons to ones' fellow man are easy to take. Yet to be sad and surrounded by happiness, comparing yourself to a wealthy neighbour driving a sports car and living the high life, only compounds ones' unhappiness.
The World Cup is the biggest stage of them all. It is jam-packed with iconic figures who routinely confound, dumbfound and spellbound onlookers. Therefore, there is a curious comfort in any obvious signs of collective weakness. These astonishing performers are privy to the same petty contests, outbursts and embarrassments as the rest of us. Suddenly we don't feel so inferior. That is a good thing.
A man well capable of summarising inferiority is Eamon Dunphy. This was his task in the immediate aftermath of France's collapse and he dutifully delivered.
"I don't care about the Paris stuff, I really don't. I think they'll go home to a very hostile reception from their own supporters and I think they should as professionals by ashamed of themselves. They didn't play with any spirit tonight, no unity of purpose."
The remedy, according to Dunphy, was attainable. The French just needed to be more Irish and they could have avoided the embarrassing exit. Not just like the wonderful Irish players, but like the wonderful Irish pundits, like Dunphy himself.
The attitude of the Irish players every time they play for Ireland. They are brilliant, their attitude is great. They want to play regardless of the managers, regardless of the handicaps. They take pride in playing for their country…

This comes down to the players. Even what we are doing here tonight, and all the people with us. Whatever job you do, Bill, you have to take pride in it. The best people do take pride in their work.