Football is a team game. No matter how good an individual player is, there's only so much you can do if the rest of your teammates aren't up to scratch.
Some of the players below certainly prove that point.
Remarkably, there 134 members of FIFA that have never qualified for the World Cup, meaning there have been many fantastic talents from over the years who have never graced that stage.
We have tried to make a team out of those players and we want you to do the same.
Here are the rules:
Both current and retired players can be selected.
In order to be considered, a player must have played for a nation that has never qualified for a World Cup. If their team qualified before or after their career, they cannot be selected.
You can only choose one player from any given nation.
Make sure to send us on your efforts. Here's the team we came up with.
Our Minnows XI
GK: Bruce Grobelaar (Zimbabwe)
Born in South Africa, Grobbelaar made the move across the border to Zimbabwe when he was only two months old. He had a storied career with Liverpool, making over 600 appearances for the club and winning six league titles and a European Cup.
However, he only ever made 30 appearances for Zimbabwe over a span of 18 years. He elected against playing for his country for a number of years but was part of the team that came within one win of qualifying for the 1994 World Cup.
RB: Elseid Hysaj (Albania)
Albania played in their first major tournament at Euro 2016, winning one of their three group games. However, they have not really come close to qualifying for the World Cup.
Hysaj will be key to their hopes of ending that run in 2022. At 26-years old, he has established himself as an important player for Napoli in recent seasons. He has 53 caps for his country.
CB: Stefan Savić (Montenegro)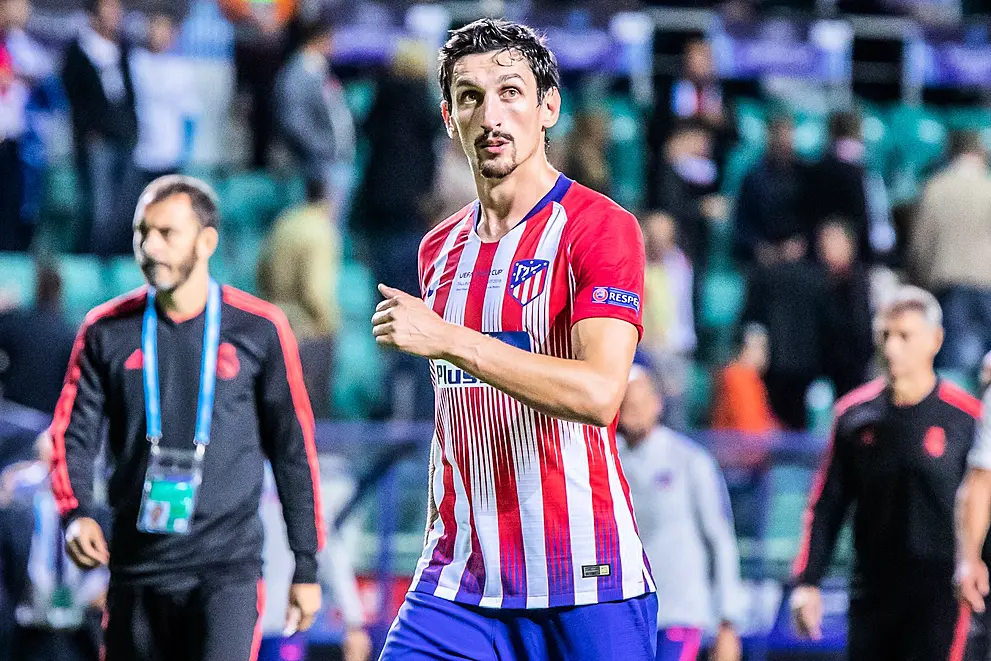 Now, Montenegro have taken part in Worlds Cups both as part of Yugoslavia and Serbia & Montenegro, but they have yet to qualify on their own. For that reason, and considering the general lack of defenders that were available for this team, we have included Savić.
The 29-year old has been a fixture at Atletico Madrid since 2015, having established himself at Fiorentina before that. He is a decent defender and has been named Montenegrin footballer of the year on three occasions.
CB: Christopher Samba (Congo)
Samba was a quality defender for a while in the Premier League, and as proved by Sam Allardyce, can also do an emergency job up top if required. Born in France, he won 26 caps for Congo from 2004 to 2013. He certainly peaked at Blackburn, convincing Anzhi Makhachkala to fork out £12million for him back in 2012.
Not to be confused with DR Congo (who competed in one World Cup as Zaire back in 1974), Congo have yet to play in FIFA's flagship event.
LB: Tomás Rincón (Venezuela)
While naturally a defensive midfielder, Rincón has also filled in at fullback on a few occasions during his career. The 32-year old has been in European football since 2009, with five years at Hamburg followed up by spells at Genoa and Juventus, before landing in Torino in 2017.
He has won over 100 caps for Venezuela, who are the only team in the South American confederation (CONMEBOL) to have never qualified for a World Cup.
CDM: Victor Wanyama (Kenya)
While Victor Wanyama's career has dropped off over the past couple of seasons, there was a time when he was amongst the best defensive midfielders in the Premier League.
Still only 28-years old, he has been captain of Kenya since 2013. Remarkably, he made his senior debut for the country in a friendly against Nigeria at the age of 15.
CM: Naby Keita (Guinea)
While Naby Keita has yet to produce his best form on a consistent basis for Liverpool, mainly down to injuries, there is no doubting that he is a supremely talented player. He was a star during his time in the Bundesliga with RB Leipzig and is deserving of a place in this team for his potential moving forward.
Keita made his Guinea debut in 2013, and while they have yet to reach a World Cup, he has played in the African Cup of Nations on two occasions.
CM: Seydou Keita (Mali)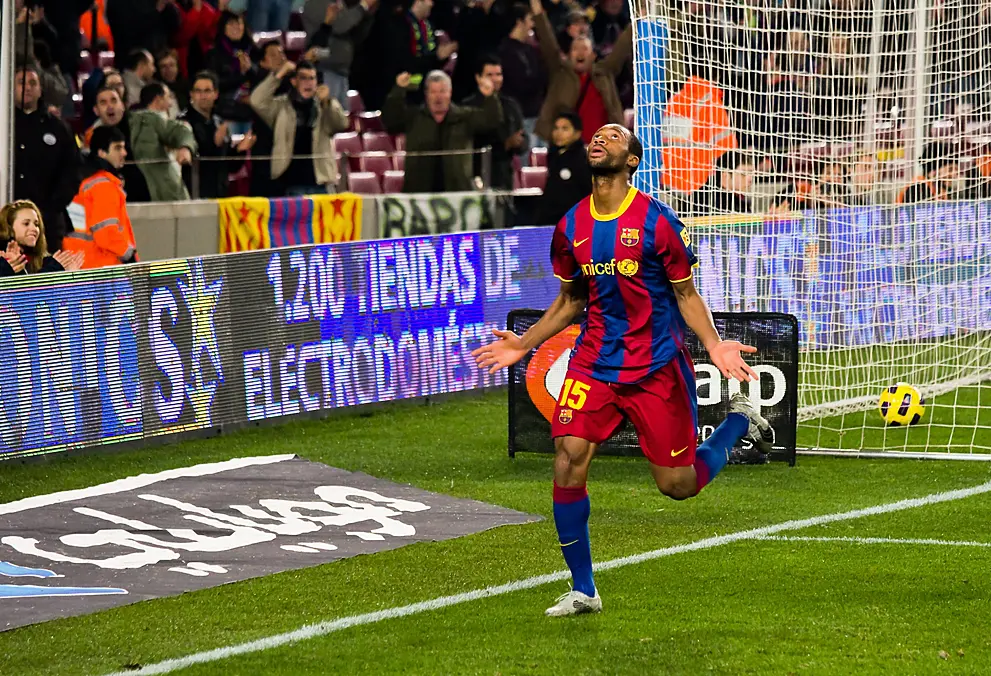 Both the most capped and highest scoring player in Mali's history, Keita was a nailed on selection for this side. He had an excellent career, beginning in France before going on to feature for Sevilla, Valenica, Barcelona, and Roma. His 14 trophies at Barcelona is a CV that won't be topped by many players.
Despite finishing third in both the 2012 and 2013 editions of the African Cup of Nations, Mali have yet to qualify for a World Cup. To be fair, they have only been trying to so since the turn of the century.
CAM: Jari Litmanen (Finland)
Litmanen was a superstar at Ajax in the 1990s, winning an incredible amount of trophies, including the Champions League in 1995. While his stints at Barcelona and Liverpool were not quite as successful, he continued to star for his country.
He won 137 caps for Finland. They never qualified for a major tournament during his career, although they will partake in the Euros for the first time in the summer 0f 2021.
ST: George Weah (Liberia)
The only African player to win the Ballon d'Or, George Weah was undoubtedly one of the most memorable footballers from the 1990s. He began to hit his peak during his time with PSG (winning the Ballon d'Or in 1995) and would continue to star with AC Milan, winning two Serie A titles in the process.
Despite this, he was unable to lead Liberia to a World Cup. He is widely regarded as one of the greatest players to never feature in the tournament.
ST: Pierre-Emerick Aubameyang (Gabon)
The final member of this team, Pierre-Emerick Aubameyang had his pick of countries to play for. He was born in France, while also being eligible to play for Italy and Spain. However, he chose to represent the team that his father had won 80 caps for in the 80s and 90s.
The Arsenal striker has won 63 caps for his country, while his 25 goals makes him their most prolific goalscorer of all time. Aubameyang has represented Gabon at both the African Cup of Nations and the Olympics, but they have yet to qualify for the World Cup in eight attempts.
The Team In Full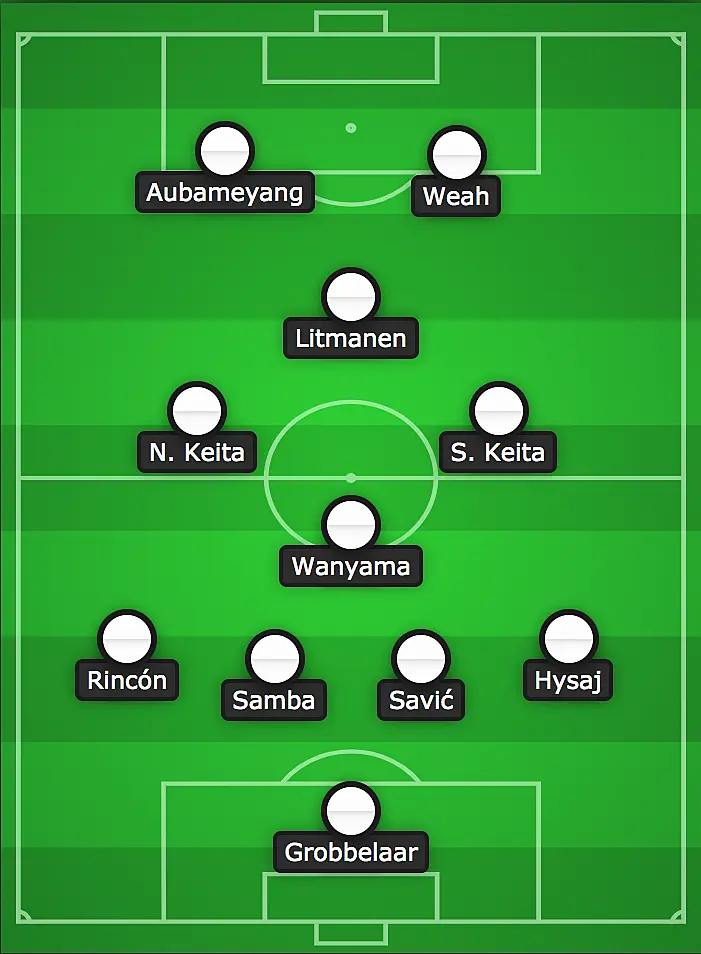 There you have it, certainly not an easy team.
Can you do better?