Eoin McCall's excellent piece on the life of Patrick O'Connell.
Born in the Northside of Dublin, in the shadows of Croke Park in 1887, it was almost prophetic that Patrick O'Connell would make his mark on the world of sport. After playing for various junior clubs in Dublin in the early 1900's, O'Connell moved north to play for Belfast Celtic, whether this was just to play for one of Ireland's biggest clubs, or more likely to marry his first wife, Ellen Treston who was already four months pregnant is a question that's really open to interpretation.
He then moved onto Hull City for £50 before hitting the big time, a transfer to Manchester United for £1000 in the summer of 1914. Having captained Ireland to the Home Nations Championship of 1914, Paddy was renowned as one of the finest defenders in the Football League, and was immediately made captain.
Unfortunately just as everything was coming up Milhouse, O'Connell's career was stopped in its tracks by war. Outbreak of the First World War meant it would be impossible to continue the frivolity of a professional football season when both the players and supporters would soon be conscripted to act as cannon fodder in the fields of northern France and Belgium.
Therefore a plan was hatched, one last big pay day before the temporary cession of professional football in England, the infamous Good Friday betting scandal in which players of Liverpool and Manchester United conspired to ensure a 2-0 victory for United, with large bets at 7/1 beginning to be placed. With the score at 2-0, United were awarded a penalty, which O'Connell stepped up to take and promptly blasted wide.
Surprisingly given that he was both club captain and the man who missed a crucial penalty to keep the game at the agreed score, O'Connell was not implicated in the scandal and was spared a lifetime ban and therefore free to carry on in football after the war.
With his playing career in England at an end, and with Ireland in the midst of its own bloody Civil War, in 1922 O'Connell who was 35 at the time left for Spain to become manager of Racing Club de Santander, leaving behind his 4 children and first wife at Newcastle train station with no father and no money. Allegedly on the journey to Spain, O'Connell was accompanied by a Scottish woman who became his 2nd wife who tragically died on the journey.
O'Connell married again to Ellen O'Callaghan, an Irish woman from Cork in Seville. Not just did his 1st and 3rd wives share the same name, but they also looked remarkably similar. He did however neglect to inform Ellen O'Callaghan, a devout Catholic about his wife and children back home in Manchester. Another reason behind Paddy keeping this to himself was that sexual freedom was one of the key divergences in the lead up to the Civil War between the left and right.
Franco and the still powerful Catholic Church were terrified that traditional family values of Right Wing, Catholic Spain were being eradicated by outside influences of liberal left and for his own bigamy to have been public knowledge would have been potential career suicide.
28th of April 1935 in the mountains of Cantabria, and Betis Balompié (now known as Real Betis) have been crowned champions of Spain for the first and only time in their history, finishing a single point clear of Real Madrid, or Madrid CF as they were known (this was in the time of the Second Republic where all mention of the deposed monarchy was frowned upon hence) after battering Racing Club de Santander 5-0 ; the timing could hardly be more perfect, slap bang in the middle of the pomp and ceremony of Sevillian festival Feria de Abril.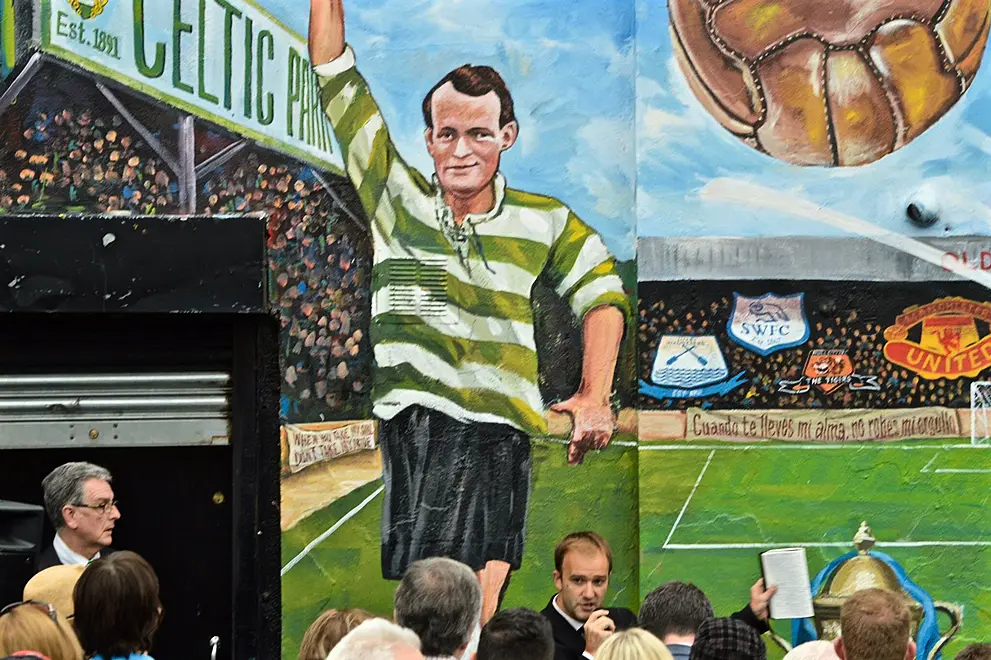 A mass celebration breaks out, events in Santander were followed all over town via a special link set up between Seville and Santander keeping the Béticos back at home up to date with every action of their finest hour, and in Seville's main bull ring, where the majority of festivities of the festival are held, a spontaneous standing ovation broke out in homage to their champions.
However the method of victory caused suspicion, Betis were in the bottom half of the league on goals scored, averaging just under 2 goals a game, yet in the final game against O'Connell's old team, they canter to their biggest win of the season. I spoke to the Guardian's Spanish football correspondent Sid Lowe about this curious result, Sid states that
There was a suggestion that O'Connell visited the Racing players on the day before and suggested to them that they didn't really need to try too hard because they had nothing to play for, but the Racing players said "no no, it turns out our president is a Madrid fan, Madrid have asked us to win so they can win the league" although according to newspaper reports after the first Betis goal went in after only 2 minutes there were fans in the crowd chanting "fix fix fix", but to be honest with you I suspect it wasn't a fix and it was just a team who absolutely needed to win the league against a team who hadn't had a good season and had nothing to play for.
After leading Betis to the title, the sharks that are the biggest clubs in Spain or to be more exact Catalonia were circling. O'Connell was named Barcelona manager and managed the club in the last La Liga season before, yet again war curtailed what should have been the beginning of the highpoint of his managerial career. The Spanish Civil War broke out in July 1936, and a month later FC Barcelona president and Catalan politician Josep Sunyol in had been killed by Francoist troop.
However, here is where the narrative has been muddied a bit, Sunyol was not, killed because because he was president of FC Barcelona, he was assassinated after mistaking a Nationalist checkpoint for a Republican checkpoint in his black Ford with Catalan flag on the wing and shouting "Viva La Republica" out of the window of his car, the Republican troops played along, inviting Sunyol and his companions, invited them into what was locally known as "la casilla de la muerte", literally the little hut of death, stripped them of their clothes and shot them in the back before dumping the bodies.
Ironically at the beginning of the war, the more pressing threat to Barça at the time was ironically from the left where anarchist trade unions were trying to collectivise the club and the stadium for the fight against Fascism. O'Connell who was on holiday in Ireland when war broke out, was told it by the board would be understood if he didn't want to return while the war was ongoing, but O'Connell did incredibly decide to return to Catalonia, displaying as Gerry Adams TD described to me as ''exceptional bravery in a time of fascism".
However whether this was out of a duty to FC Barcelona, or because Ellen O'Callaghan was about to find out about his first wife, Ellen Treston is an answer only O'Connell himself knows. Barça were in however financial meltdown and with the threat of extinction a very real possibility, an exiled Catalan business man and Barcelona fan Manuel Mas Serrano invited the club to come to Mexico and the United States to raise funds in which, despite efforts to make the tour apolitical, they were seen as the representatives of the Republican cause and supported by the crowds as if they were the home team.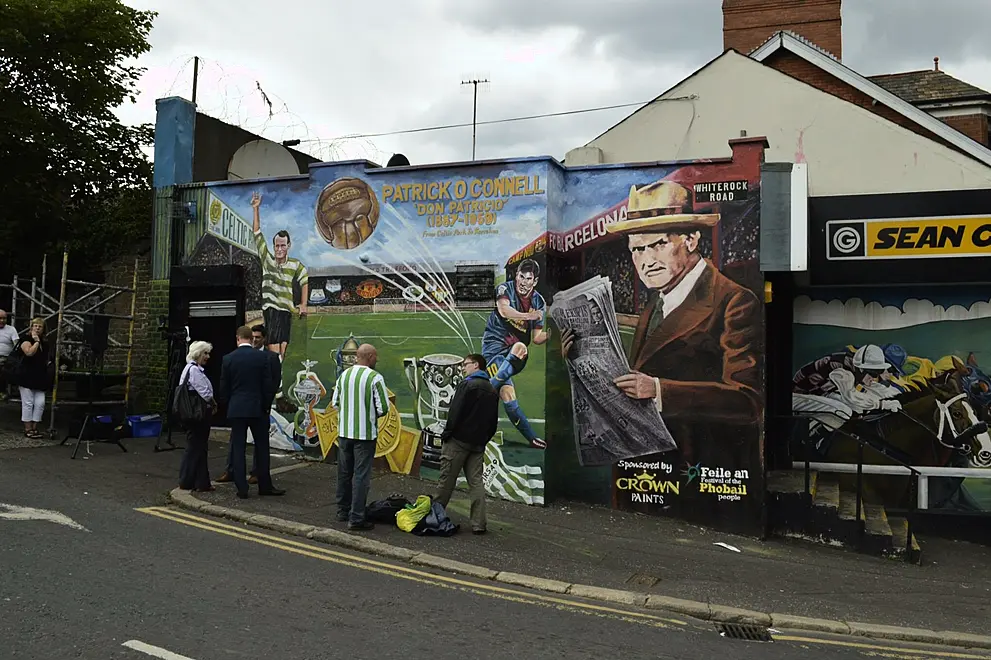 The tour fundraised around $13,000, clearing the clubs debts and allowing the club to continue, but it also made the club enemies within the Francoist regime and all players were promptly banned for 2 years. 16 players left on the tour to North America, yet only 4 returned with O'Connell. It would not be an exaggeration therefore to say that O'Connell is the most important figure in the history of Barça, more than Cruyff, more than Messi, more than Guardiola. Simply because without the Dubliner, arguably the world's biggest football club would not exist. I was therefore struck by the lack of fanfare around Patrick, especially from FC Barcelona, a club that prides itself on narratives and stories over trophies, but as Sid Lowe rightly pointed out to me "at a time where there is an assassinated president and with all the political baggage is in terms of building an identity, that is slightly more significant"
When Patrick's son Dan from his first marriage, finally tracked down his father in Seville he pretended to be a nephew so as to get information from his father who didn't ask about how his children or first were getting on , but only about Manchester United. Showing that as with all the great managers, he was obsessed with football, everything else was secondary. Soon after this meeting with his son, his marriage to Ellen O'Callaghan broke up in 1959, after she found out about his wife and children in Manchester and Patrick left Spain to live with his brother in London and unable to find work, claimed national assistance.
O'Connell was at the front of the horse drawn carriage procession to welcome the victorious Betis Balompié team back into Seville after masterminding their La Liga success in April 1935, and saved one of the most storied clubs in the world from extinction, yet he is buried in an unmarked paupers grave after dying destitute on the streets of London of pneumonia and the only mention of him on the FC Barcelona website is a 3 line biography, in which his name is spelt wrong. Regardless of his motives for returning to Barcelona, O'Connell undoubtedly displayed incredible courage as he could not have flew more in the face of Francoist beliefs, he was foreign and a bigamist, but was also in lieu of an assassinated President the symbol of Catalan nationalist pride in FC Barcelona who had led the team on what was perceived as an anti-Franco tour.
He has sadly been largely forgotten by the world, until now, thanks to the fantastic Patrick O'Connell Memorial Fund, the great man is beginning to be remembered and last summer a mural to O'Connell was unveiled in Belfast's Falls Road; and if you look directly to the right of the mural as I have done, you can see Windsor Park, where O'Connell captained Ireland to the 1914 Home Championship with a broken arm. A fitting, if overdue tribute, to an incredibly fascinating character.
Photos: Donal Tinneny