Alex Ferguson joined Linkedin today and while his CV has some flaws in it, the word from the after-dinner speaking industry and the lecture circuit is he won't have any difficulty picking up gigs.
As reported earlier, Ferguson's post-career has demonstrated the enormous advantages of being a retired giant of football management in the era of Sky Sports and football's gentrification.
Following his retirement as Liverpool manager in 1974, Bill Shankly had to be banned from the team's training ground in Melwood by his successors because he kept showing up unannounced in search of a bit of camaraderie. He was snubbed by the board of directors, who refused to admit him to their ranks.
He did a spot of punditry work and briefly hosted his own talk show on Liverpool local radio. Until well into his sixties, he played five-a-side every Friday with former Everton player Johnny Morrissey and a few others.
He never left the modest semi-detached house purchased when he became manager of Liverpool (then a second-rate, middle of the road outfit) in 1959.
After the Liverpool management instituted a 'No Shanklys' policy at Melwood, Shankly began turning up at Everton's training ground in Bellafield where he helped out with the training of junior teams.
I have been received more warmly by Everton than I have been by Liverpool.
He was often described as a 'sad figure' in later life by his former troops..
Alex Ferguson has been warmly welcomed onto the United board by the yanks currently running things. Unlike Shankly, he gets to watch matches at Old Trafford from his perch amid the shiny suits.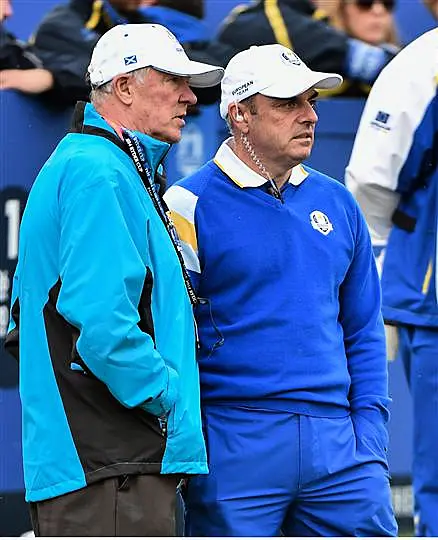 It was suggested during the summer of 2013 that he might consider helping out David Moyes by giving Old Trafford and its environs a wide berth. If he would also refrain from doing anything that attract too much attention that would be greatly appreciated by his overawed successor.
Ferguson's considered response to this seemed to be 'sod that, I've earned this shit'.
On the day his latest autobiography was released, the peerless Barney Ronay wrote 'like a post-war prime minister, his memoirs live on. Part news-story, part superheated publishing beano...'
Not only this, he was promptly appointed a global brand ambassador, a role that Liverpool, in fairness, did not have on offer for someone like Shankly in 1974.
Whether Shanks, with his Marxist leanings and his endless store of pithy left-wing soundbites, would have been able to schmooze US born industrialists is another question.
Ferguson was invited to a Ryder Cup as a consultant by European captain Paul McGinley. The Ryder Cup offers endless possibilities for these bullshit roles (starting with the captaincy itself), and someone like Fergie was always likely to be asked to do something.
Labour leaders seem to be forever consulting him on how they should deal with their cabinet. He invariably urges the leader to keep his troops in line.
Whenever he turns up in a place like the Convention Centre (or the equivalent in other European capitals) he is guaranteed a full house by those eager to hear him talk about the glory days.
And, the most grandiose role of all, he is currently a lecturer in Harvard business school. Many of his students are involved in sports in some capacity (American football, especially).
Brandon Marshall, wide receiver for the Chicago Bears and student on Fergie's management course, gave this feedback, 'I'm not a fan of soccer but I am a fan of Alex Ferguson' while Adam Zimmerman said 'There were some stunning managerial lessons that came out of that presentation.'
Last year, Ferguson told the Mirror he found retirement 'exhausting'.