The new League Of Ireland season is only going a wet week and already we have our first interweb storm brewing. The people at foot.ie have found themselves at the rough end of a cease and desist solicitors letter on behalf of Bray Wanderers, due to a number of curious posts on the popular football forum.
The majority of the letter is attached, a small section removed that included some of the alleged defamatory remarks.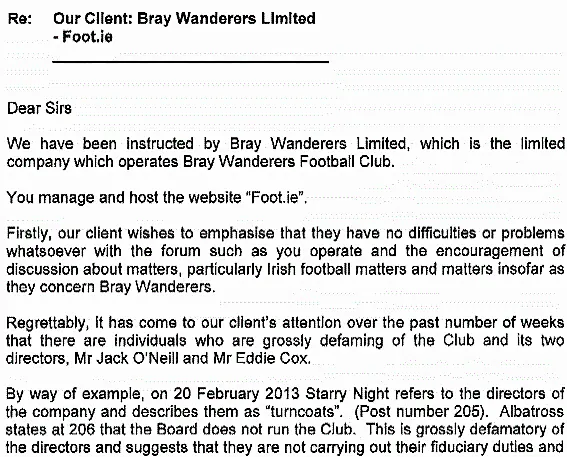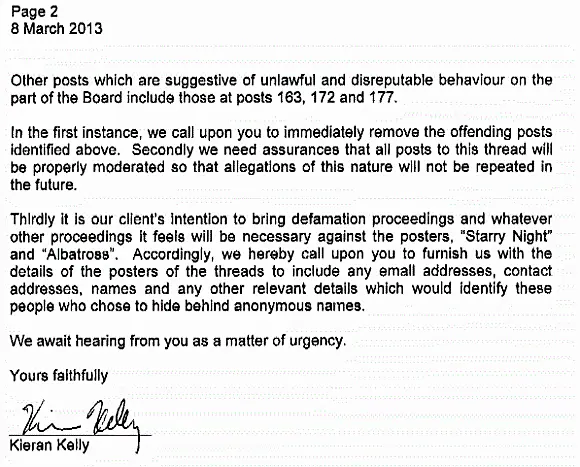 We contacted the owner of Foot.ie Adam Beecher who gave us the following statement following his decision to ban all discussion about the club on the entire forum -

"We have procedures in place for dealing with problematical comments that take no more effort than a couple of clicks, but rather than engage me to resolve the problem amicably with everyone involved, Bray Wanderers Ltd engaged a solicitor to push and bully me into deleting posts, most of which aren't far off the level of "they have smelly bum-bums". I've just finish fending off a spurious legal threat via another channel and I've had enough of it, I have a business to run and a family to mind, and that's difficult enough as it it in this environment. And while I genuinely regret excluding Bray fans in this way, the club can't have it one way and not the other. Irish football owners and managers need to either engage with people and stop fannying about with this kind of nonsense, or just f*ck off and allow some adults to get on with it."
It appears this particular battle is not yet over. Bray Wanderers meanwhile sit in 2nd place after a single game in the league season thanks to a 1 nil victory over Bohs Shels.