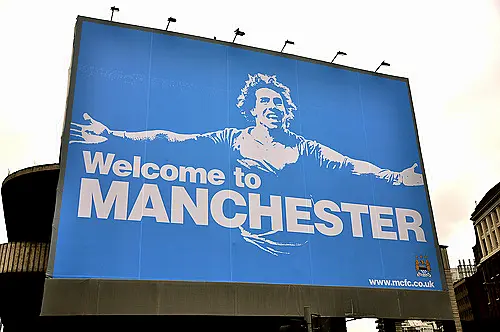 Carlos Tevez has voiced some of his opinions on the eve of this weekend's Manchester derby. Interestingly, the Daily Mail say "most of this interview is conducted in English", which is certainly a departure for Tevez.
On the infamous 'Welcome to Manchester sign":
"I never understood the intention of that poster. What was the point? Was it to welcome me to Manchester City or was it to anger Manchester United? Nobody ever told me. I'm indifferent towards it but it is important you know I had nothing to do with the poster. I'd have preferred for it not to be there. I have respect for all the clubs I used to play for. That was not showing respect, was it? I did not transfer from United to City for the controversy."
On Roberto Mancini's training regimen:
The players are not happy with this. We are at the end of a long season, we have big matches, we are tired but there are still double training sessions, morning and afternoon. Then, the next day, we train for two hours. I do not understand. But, please, he is the coach and I am the player. He is in charge. I am OK with him.
Most controversially, Tevez also says the only good music he gets in the UK is Rihanna. Dude, check out James Blake.
[youtube]http://www.youtube.com/watch?v=7vEXpbCMxc0&feature=related[/youtube]