On the face of it, signing Casemiro looks like quite the coup for Manchester United.
The Brazilian has been part of the spine of Real Madrid's team for the best part of a decade, winning five Champions Leagues and three La Ligas during that spell. He has also been a key man for Brazil, earning over 60 caps since his debut back in 2011. He has been among the premier holding midfielders in world football during that spell.
There is no doubting Casemiro's quality. What there is a doubt about, however, is just how much sense move this makes for Manchester United.
The fee is a sizeable one, reported to be an initial €60million with a further €10million in add-ons. That is quite the outlay for a 30-year old, one who is likely now on a downward trajectory in his career when you consider his age and the amount of football he has played up to this point.
The club are set to hand him a four year contract, with the option of a further season. It is twice the length of deal that Real Madrid were willing to give him. All of this is being done while handing him a wage of around £350,000 per week.
This would be less of an issue if the player himself was a better fit.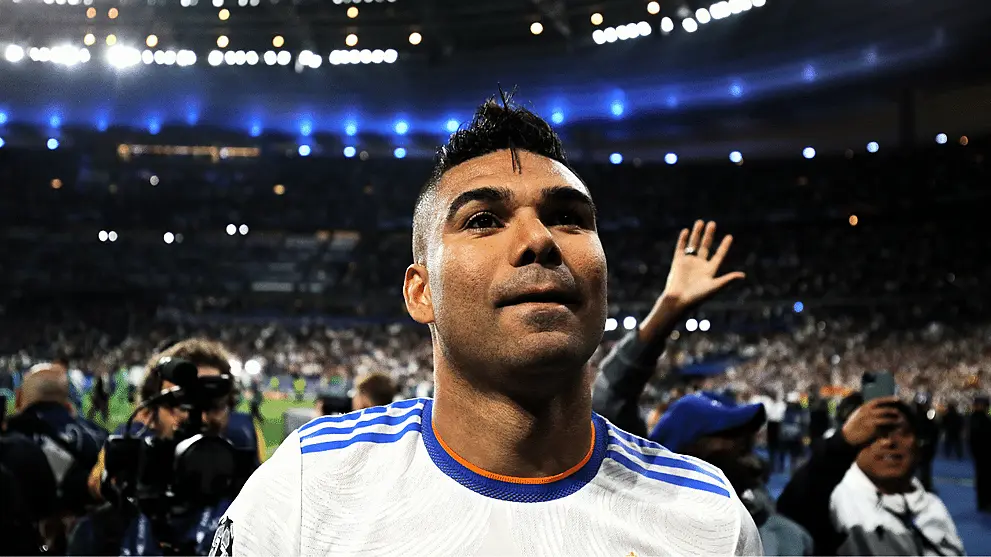 Casemiro a questionable fit for Manchester United
Casemiro has thrived in a very structured Real Madrid team, one that often defends deep in a rigid shape before hitting teams on the break. His role is patrolling just in front of the back four, breaking up opposition attacks and quickly moving the ball into forward areas.
That is an important role in a team, but it is not one that would fit smoothly with the philosophy Erik ten Hag presumably wants to bring to Old Trafford.
His Ajax teams employed a high pressing team, one that required them to ferociously close down the opposition in the final third. The whole team pushed up the pitch as a result, although it could leave those at the back exposed on occasion if the press was bypassed.
Casemiro will be asked to do far more pressing at United, while also being left with larger spaces to cover in the midfield. He is unlikely to receive the same protections he did at Real Madrid.
He is the best defensive midfielder in a system that lives on the edge of his team box and attacks as a unit at a slower pace than the one one used in the Premier League. He gets into the box, even scores goals but because the team is compact most of the time

— Guillem Balague (@GuillemBalague) August 17, 2022
While the tactical fit is a questionable one, the way in which his age fits into Manchester United's timeline is also up for debate.
It is clear that the team are quite a long way away from competing at the top of the division. A top four finish seems incredibly unlikely this season, while it is also likely to be a challenge in the 2023/24 campaign as things stand.
It could well be three years before they are anywhere close to be where they want to be as a club, by which time Casemiro will be 33-years old. He would likely need to be replaced at this stage.
There is a reason that clubs hoping to improve do not sign footballers in their 30s. They want to bring in young, hungry players with the ability to improve, ones that will also have a large sell-on value that would allow them to replenish the squad should they move them on.
Even those who are currently competing at the top of the game tend to avoid players of that age. For example, Manchester City and Liverpool have not signed an outfield player in their 30s since 2014 and 2016 respectively.
Casemiro is a coup for Manchester United, but he's also indicative of short-termism driven by self-inflicted emergency. The last outfield players aged 30+ signed by Liverpool and Manchester City were Ragnar Klavan in 2016 and Bacary Sagna in 2014. And this one is costing £60m.

— Daniel Storey (@danielstorey85) August 19, 2022
Some may compare this to the arrival of Thiago Alcantara at Liverpool, but the two are quite different. Thiago arrived Anfield a year younger, for one third of the fee, almost half the wages, and on a shorter contract in comparison to what is on the table for Casemiro. He also signed as a potential crowning player for a team already at the top of their game, not as one of the first moves in a lengthy rebuild.
The Brazilian should be the final piece in the puzzle, not the one you begin with.
Real Madrid have made a habit of moving on players at the right time, as Manchester United found out with Raphael Varane last year. They have signed a couple of excellent young midfielders in recent times and seem more than willing to let Casemiro leave. That could be telling.
In short, the signing is simply not the type of one Erik ten Hag should be endorsing.
READ ALSO: The 10 Worst Signings Of Manchester United's Banter Era
Manchester United have built their transfer strategy around signing short-term fixes, something that has come back to bite them badly. Casemiro, while an excellent player in his own right, is just the latest example.
The club were meant to move away from such a policy after the arrival of their new manager, but as their exploits in the transfer market this summer have shown, they are still making the same mistakes that they have been for the last decade.
It seems Casemiro is just the latest shiny object to catch the eye of the decision makers at the club, fit be damned.
He will likely improve the team in the short-term, but it is not the type of signing Manchester United need right now. It already looks to have the potential to add to their ever growing list of expensive mistakes in recent seasons.