Irish politics and sport have mixed many, many times, from Charlie Haughey's appearance at the side of Stephen Roche in 1987 to Bertie appearing on the Premiership.
Here are six of our favourite times, sport and Irish politics mixed.
Charlie Haughey and the teashop
In addition to everything else going on that summer, Ireland held the EU Presidency in 1990.
The unification of Germany was up for debate and Charlie Haughey was holding a press briefing for the international media, running them through the finer points of the negotiations when Tommie Gorman came bounding into the room.
"What are you doing?" Haughey asked. Gorman breathlessly informed him that the Romanians had missed a kick and demanded they stick on the TV. They turned it on just in time just in time to see O'Leary hit the net.
Newly-committed soccer fan Haughey danced a jig in the corridor of Dublin Castle for the benefit of the news crews. He would drop everything and head out to Rome for the quarter-final.
Two years earlier, the Irish Times rugby correspondent Edmund Van Esbeck bemoaned the fact that Haughey "who rarely misses an All-Ireland final at Croke Park and recently attended an Ireland-Australia compromise rules game" had never bothered showing up to a soccer or rugby match in Lansdowne Road.
At this point, it is still unknown whether Haughey ever attended an Irish rugby match (surely, he showed up to the Gordon Hamilton game in '91?). In fairness, the Irish rugby team offered little attraction to politicians wishing to bask in reflected glory during the later years of Haughey's premiership from 1987-92. So, his failure to offer much support to the rugby boys might not be attributable to his famous contempt to "D4 West Brits" and northern unionists.
After the 1-0 defeat, he arrived down to the Irish dressing room, flanked by old pal and cabinet minister Brian Lenihan (Senior).
Niall Quinn, in a story which may be apocryphal and is surely embellished, described the scene when the Taoiseach said his piece to the Irish heroes of 1990.
If Quinny's story bears any relationship to the truth, then Haughey, a big nationalist and an even bigger egotist, can't have been too pleased by the reaction of the lads with English accents.
Those of us brought up in Ireland stood there in amazement and he made a speech about the sporting sons of Ireland. It was hair-standing-on-the-back-of-neck stuff. Tony Cascarino was behind me and said loudly 'Who the f**k is that?' ruining the moment.

I thought, Oh my God, and said 'that's the Taoiseach' and Andy Townsend was beside him and said really loudly again 'Who is it, Cas?' and he said 'I don't know, Quinny said he owns a tea shop'.
We cannot confirm whether Townsend or Cascarino have brushed up on their knowledge of the Irish offices of state in the intervening years.
*Cascarino has confirmed to us that this exchange did indeed take place but that he and Townsend were messing at the time and did know who Haughey was.
Bertie and the Premiership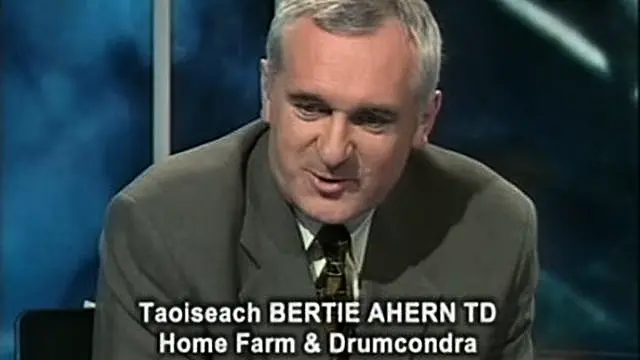 On the 12th September 2001, when the papers were largely preoccupied with matters elsewhere, there were two letters published by the Irish Times concerning the previous Saturday's edition of the 'Premiership' on RTE.
David Fagan of Talbot Street wrote angrily,
Now that Bertie sees fit to give us his expert view on English soccer, perhaps we can have his view on why local professional soccer has been in decline for 40 years... Could it be the fact that opinion formers (like himself) accord the National League no value, thus giving it an 'uncool' status while vocally supporting English clubs? Can he confirm he is more expert in the field of Irish English politics... I don't want Ireland to be invading the Malvinas because Bertie gets confused.
John Clarke of Tullamore wrote that Bertie was clearly afflicted with 'Grovelling Paddy syndrome' which was expressed in 'his ridiculous and pathetic attachment to the fortunes of a British soccer club - Manchester United'.
In the course of his analysis, Bertie expressed his admiration for Mikael Silvestre ('a great player' he argued), called Michael Owen 'Michael Owens' and referred to a mysterious Manchester United midfielder called 'Luke Chapman'.
He lamented Chelsea's inconsistency and didn't appear displeased by Liverpool's poor start to the season. He also insisted that Jimmy Floyd Hasselbank deserved to be sent off for letting back the elbow into Martin Keown's face.
Haughey's GAA days
If a protester threw a bag of flour from the viewing gallery of the Leinster House chamber onto the seated ranks of TDs below, the chances of at least one former GAA player getting their suit destroyed would be very high indeed.
And it turns out that Charlie, despite the air of otherworldly sophistication he liked to exude (chiefly to intimidate the country bumpkin TDs who voted for him), was no different in this respect.
Brought up in Donnycarney and schooled in Fairview, Haughey was a Parnells' man (they had a few Dubs in the team back then) and won a county title with them in 1945 - the same year he burned the Union Jack outside Trinity College (in fairness to Haughey, he was retaliating to a bunch of hooray henry's in Trinners burning the Irish flag on VE Day).
However, he was a fiery sort on the pitch too. The Royal Irish Academy and the Fingal Independent both recall how he was suspended from playing for an entire year - for whacking a linesman.
In the Royal Irish Academy biography of Haughey, Patrick Magee writes;
Haughey played Gaelic football for Parnell's GAA club, winning a county championship medal. His notorious temper made an early appearance when he was suspended for a year after striking a linesman.
In the earlier Haughey documentary series, his schoolmates remember him being a serious brawler on the pitch. His younger brother Jock went on to play for the Dubs in the '50s.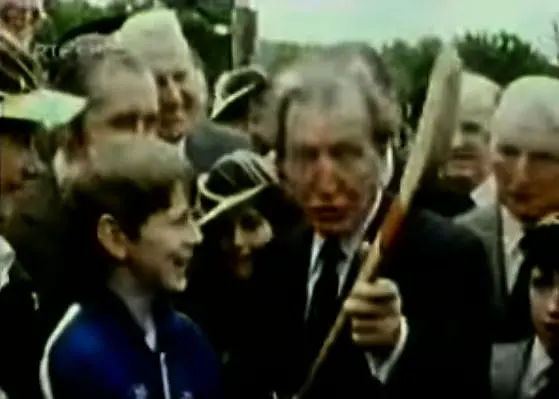 Michael Collins - No time for soccer
The only smidgen of sport in the Neil Jordan film was Collins kicking ball with the kids outside the fancy country house in which De Valera was hiding out.
Neeson's Collins proceeded to tell Dev (a true rugger man) that the IRA were short of arms and men following the assault on the Customs House (naturally a De Valera idea to which Collins was bitterly opposed) and would be lucky to hold out for another few weeks. He then went out to join the youngsters. They evinced a touch more joie de vivre than Alan Rickman.
Ball in hand, he did an impromptu Micheal O'Hehir impression when galloping about the garden, roaring 'Cork has the ball... over to Galway' (possession football wasn't in vogue back in the early 20's)
A clever kid, Collins left for London in 1906 to work for the Royal Mail, joining the Geraldine's GAA club in London. Despite being West Cork to the core, he played hurling as well as football.
According to the late Canadian historian Peter Hart, in his unsurprisingly critical biography, Mick was 'an enthusiastic if not a skilful' player' and generally a bit of a mullocker on the pitch.
Tim Pat Coogan, on the other hand, recorded that 'as he grew physically, he grew into a fine athlete, particularly in hurling and in the long jump.'
A bit of a rough-houser, Collins was an energetic participant in any on-pitch brawls that broke out.
Coogan wrote, 'though he played fair, his hair trigger temperament meant if a row developed on the field he was either its cause or its participant.'
Controversially, when it came to 'The Ban', Collins was a bit of a hawk.
Off the field when Collins was about eighteen, there was a major row over GAA members playing soccer, one of the four games proscribed by the association (the others were rugby, hockey and cricket). Collins was one of those who objected vigorously to 'garrison games' which he said was as aiding the 'peaceful penetration of Ireland.' There should be 'no soccer for Gaels.'

[Coogan]
Soccer hatred was by no means universal among Irish nationalists. Despite being a hardcore republican, an ardent anti-Treatyite and an eager supporter of Fianna Fail, Todd Andrews (that would be Ryan Tubridy's grandfather - referenced here by Gerry Adams in spiky interview with Tubs) was a big soccer fan and utterly loathed Gaelic games.
Collins joined the Irish Republican Brotherhood in 1909.
The man who swore him into the IRB was a Cork protestant by the name of Sam Maguire.
De Valera's indifferent opinions on Gaelic football
For reasons of optics, De Valera never attended a rugby match after 1913, but remained, until the end, a devotee of the game. A former player with Rockwell College, he was fullback on the team that reached the Munster Cup Final in the early twentieth century. It has been recorded that played once for Munster in 1905 and was almost selected for the national team.
Dev believed every Irishman should play rugby, asserting that the game suited the Irish psyche perfectly.
There is no football game to match rugby. If all our young men played rugby not only would we beat England and Wales, but France and the whole lot of them together.
In Ronan Fanning's book on De Valera, he writes of a 1967 meeting between Dev, the external affairs minister Frank Aiken and the new British ambassador.
Dev admitted that 'for my part, I have always preferred rugby'. The ambassador, possibly emboldened by Dev's 'confession' then enquired whether 'Gaelic football was not really a made-up sort of game, not really native'.
De Valera wasn't inclined to protest but Aiken wasn't having it. The minister retorted that 'Gaelic football is not a made up game' but 'a splendid game' and one that had been 'played a thousand years ago and more'.
A dubious statement, but one with which De Valera didn't take issue, remarking jokingly, 'I know my position - I must not argue with my Minister!!'
Behind the scenes, De Valera was a fervent critic of the GAA's ban on members playing other sports.
Garret Fitzgerald - what are these colours?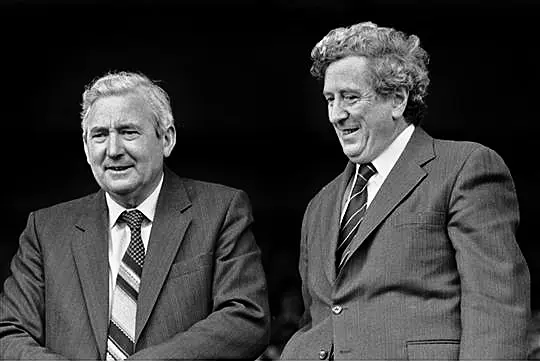 Despite living in a mansion in North Dublin, Charlie Haughey succeeded in making himself seem more a 'man of the people' than his Fine Gael adversary. This is largely thanks to the personality of his opposite number, Garret Fitzgerald.
An economist who was besotted with train timetables, it was thought that the preoccupations of the plain people were a total mystery to Garret.
He fed this perception himself during the 1982 general election campaign. Doing a spot of campaigning in Cork, a teddy bear dressed in red and white was pushed in his direction.
In the manner of the nineteenth century British civil servant asking the natives what garment they were wearing, Garret inquired as to the significance of the red and white colours. Was it a symbol of Polish solidarity, he asked?
While his aides held their heads in their hands and nearly wept, Garret was told 'they're the Cork colours, boy'. Garret had no idea he'd made a faux pas.