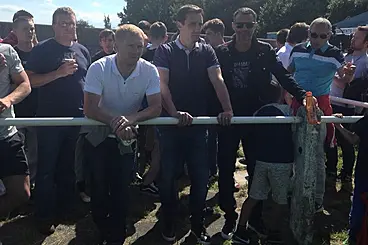 You might remember a number of months ago that the members of Man Utd's fabled 'Class of 92', minus David Beckham, bought Northern Premier League Division One side Salford City. Well it seems they're genuinely in it for the long haul.
Paul Scholes, Gary Neville and Ryan Giggs were pictured (above) taking in the club's 3-1 pre-season victory over Daisy Hill, while Scholes and Phil Neville have been taking a hands on approach during recent training sessions according to BBC.
Not only that, the club's chairperson Karen Baird has lit a fire under rumours that there could be a possibility of the former United players pulling on their boots for Salford during the season.
It would be nice if some of them did play.Maybe in some of the FA Cup rounds.
Not exactly confirmation but enough to get us intrigued at the possibility of some of Fergie's fledglings making an appearance in the early rounds of the FA Cup.
[BBC]