Yesterday Martin O'Neill was in a great mood when he used a question about Ireland's training base to have a playful pop at Roy Keane's Saipan saga, but today the FAI have confirmed that the facilities that O'Neill and Keane were impressed with last weekend will now be Ireland's basecamp for Euro 2016.
The Football Association of Ireland has confirmed to UEFA that it wishes for the Republic of Ireland team to be based in Versailles for UEFA EURO 2016.

The historic city, just outside Paris, where the treaty to end World War I was signed, is seen as the ideal location for the Ireland squad, who will play matches in Paris, Bordeaux, and Lille during the group stage of the competition.

A UEFA-approved hotel, the Trianon Palace, has been selected for the team base with training to take place at the local municipality football facility, which is home to AFC Versailles.
Versailles it is!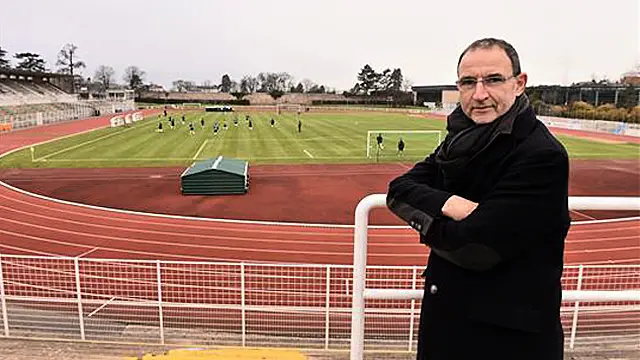 So what does this mean for the fans?
Paris will likely be the hub of fan activity.
Versailles sits just an hour's drive outside of Paris, so for the first game against Sweden in Stade De France on June 13th, it's a simple enough drive from the training base to the stadium, and then again for the return, which may see a lot of Irish fans also follow the team back to Versailles.
Sopot was the basecamp for Ireland in Euro 2012, and many fans opted to hang around the Baltic resort town in order to be close to the team. (Many will recall seeing David Forde strolling aimlessly around the place). Should that be the case again, then Versailles will host some of the more enthusiastic parties for Irish fans. That's good news for those who already have accommodation in Paris booked as it wouldn't be difficult to return.
Ireland will play their second group game against Belgium in the southeast city of Bordeaux on June 18th. After returning to Versailles, the squad will then likely have a day or two before moving on to Lille which is again a relatively straightforward journey east towards Belgium. Versailles will be the hub around both fixtures.
Then we'll have to work out where the Irish team will operate from for the last 16, quarter-finals, semi-finals, before returning to Paris to watch Robbie Keane lift the trophy on July 10th.
Versailles is a very fancy place, so it's going to be a great location for a rousing rendition of 'Shoes Off For The Boys In Green'.
We can't wait.