In a tumultuous season for Derby County, there is no doubt that one of the bright spots was the form of Festy Ebosele.
The Wexford native had made a handful of first team appearances at the club prior to this campaign, although he has really come to the fore as Wayne Rooney's side relied heavily on youth.
Ebsoele has certainly risen to the challenge.
Operating down the right flank, he was a breath of fresh air in the side during his 35 Championship appearances this season. Ebosele signed for Udinese in the spring and is in line for his first Ireland cap during the 2022 Nations League. It is a meteoric rise.
It may feel as though the 19-year-old has burst onto the scene out of nowhere, although as is always the case for these young players, a huge amount of work has gone into his reaching this point in his career.
This was a journey that started a long time ago, one that began with his local club in Enniscorthy. It was with Moyne Rangers that a young Festy Ebosele first cut his teeth in football, although club chairman Kevin Lawlor told Balls that he had big ambitions right from his earliest days in the game:
He always wanted to be a footballer. If you talked to Festy when he was very young and asked him 'what do you want to do when you grow up Feste', he would always say a footballer.
While his contributions have been limited to the wide positions as of late, that wasn't always the case.
Ebosele was a bit of all-rounder in his earlier days. His main asset was his pace, although his technical ability soon caught up. As a result, he could be played anywhere that was required. However, his goalscoring touch meant that it was difficult to take him out of the forward line.
Just how good was he in his younger days? This story tells you all you need to know.
This probably sums it up.

The last game he ever played for us was an U13 cup final. It was against Gorey Rangers, who would be one of our competitors in the south-east. They're a big club with a lot of players, we always had tough matches with them.

We played them in a cup final and Festy scored a hat-trick that day. He was unplayable, they couldn't cope with them. It was a joy to watch him playing, he was so good.

There was a reporter from the local paper, he had been covering underage games for 30 years, and he said he had never seen a player that was as good as Festy was that day. That was a great tribute to him. It was the last game he ever played for us.
As is often the case for aspiring young footballers dotted around Leinster, the next stop was Dublin.
The Dublin District Schoolboy League offers a higher level of coaching and opposition. Crucially, it also opens up the door for a potential move to England. With Ebosele having long held an ambition to make a living in the game, it seemed like the obvious step.
It didn't take long for him to shine. Lining out for St Joseph's and eventually Bray Wanderers, he quickly established himself as a standout among his peers and English interest inevitably followed.
That's not to say that it was all plain sailing. The commitment of going back and forth between Enniscorthy and Dublin was not an easy thing to make for someone who had barely reached their teenage years. Kevin Lawlor recalls there being some late nights involved for the youngsters as a result:
It was tough on him. He used to come in off the bus at night time, I met him a couple of times coming in off the bus from Dublin after being up there training. It would be late and he would have school the next day.

He went through a bit of hardship to get to where he is. It wasn't easy to go up to Dublin for training when you're in Enniscorthy, it's a good three-and-a-half hour roundtrip.
It was surely all worth it when that move to Derby County finally came about.
Ebosele joined the club as a 16-year old back in 2018, steadily working his way through their youth ranks. Given the chance to shine in their first team this past season, he has certainly grabbed the opportunity with both hands.
"This is the finish of the night!" 👏

Come for Festy Ebosele's fantastic finish, stay for the acrobatic celebration! 🤸‍♂️ pic.twitter.com/6WWA9cI8T0

— Sky Sports Football (@SkyFootball) February 8, 2022
He has been a fixture in the Irish youth setup for some time, including being a part of the squad at U19 European Championships back in 2019 despite being only 16-years old.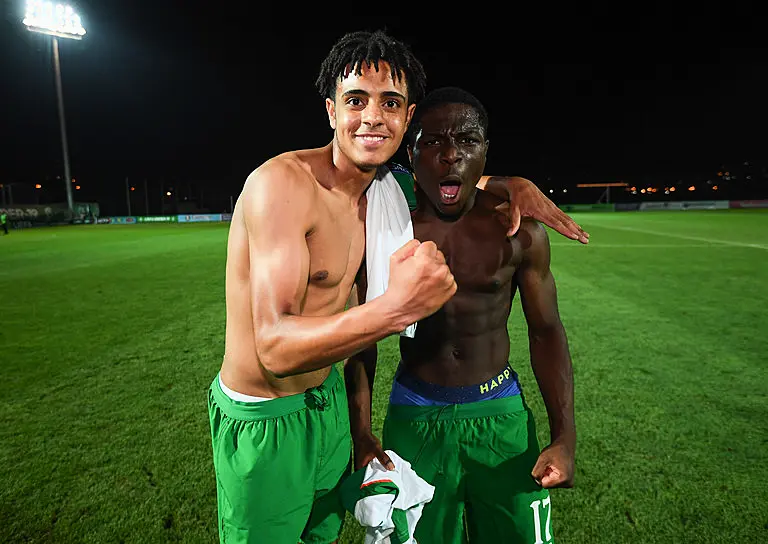 Ebosele only made his Ireland U21 bow last year, and was called into the Ireland squad last month. Should he be capped by Stephen Kenny, he would be the first Wexford man to make his debut for Ireland since Kevin Doyle all the way back in 2006.
Stephen Kenny spoke effusively about Ebosele's ability when he revealed his Ireland squad last month.
I really see him as a right winger.

He's someone who can play right wing-back. That was a factor in his selection as well. Seamus Coleman missed the game against Arsenal with a groin issue, so we have to make sure we're covered in that area.

I don't really see him as a defender but a wing-back isn't necessarily a defensive position, depending on who you're playing.

Not every game he's played has been perfect. He's still learning. His speed frightens defenders.
Udinese finished in 12th place at the end of the season. No Irish player has featured in the Italian top flight since Robbie Keane at the turn of the century.
Whenever he makes his senior debut for Ireland or Udinese, Kevin Lawlor said that Ebosele is sure to receive plenty of support in his home town.
The whole town is talking about Festy. Every time you meet somebody who is in anyway associated with football they are talking about Festy.

Everyone is delighted for the chap, because he's a really nice fella and is so down to earth.
It may have been quite the road to get to this point, but Festy Ebosele's journey is only really beginning.
It will be very exciting to see what the future holds.