To celebrate Independence Day, here are five Irish sportsmen who achieved what Westlife never could and cracked America. Although Robbie Keane's achievements at the Galaxy are certainly worthy of respect, ultimately, would you see Pat Burke dismissed as an 'unidentified fan' in a picture with Becks and Russell Brand? We don't think so.
1. Joe Lapira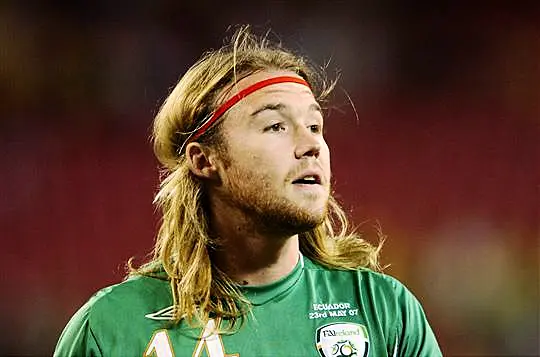 The Steve Staunton era was too painful for Ireland fans to truly appreciate the many hilarious moments over his two-year reign. Now though, its easier to look back and laugh at his bizarre decisions like the call-up of Joe Lapira to the squad for the friendlies with Ecuadaor and Bolivia. Lapira was playing college soccer at the time in the USA and was eligible through his Irish mother. Remarkably, he became the first amateur to play for Ireland national team since 1964 when he made his debut against the Ecuadorians in New Jersey.
One year on, after unsuccessful trials with Rangers and Aberdeen, the Louisiana native ended up in the Norwegian second division at Nybergsund before moving on to Indian second tier side United Sikkim. In 2011 he made a return to Norway but has since left and, although he had a trial with the Vancouver Whitecaps last February, at 26, his current whereabouts are apparently unknown.
However, on Independence Day we at Balls would not dream of mocking too much a player who recorded arguably the greatest season ever for a Notre Dame men's soccer player. As a junior in college (third year), he won the Hermann Trophy as the top male soccer player in the nation according to the National Soccer Coaches Association of America. Lapira also received national player of the year honors from Soccer America magazine and he was the leading scorer in Division 1 College soccer with 22 goals.
(H/T The Score)
David Maher / SPORTSFILE
2. Pat Burke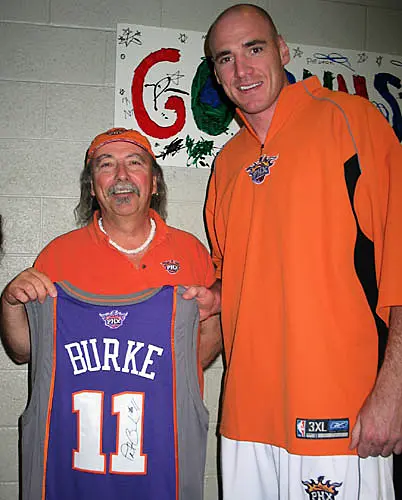 Pat Burke became the first Irish player to play in the NBA when he made his debut for the Orlando Magics in 2002. Burke was born in Dublin and lived in Tullamore before his family moved to Cleveland when he was three in 1976. When the Burkes moved to Florida in 1990, Pat developed an interest in basketball and honed his skills by playing for a local high school team. Burke adapted extremely well to his new sport and was offered a scholarship from the prestigious University of Auburn in Alabama.
Despite impressing in the South-Eastern Conference, Burke was not picked in the NBA draft when he graduated in 1997. The 6 ft 11 inch centre was offered a low-level contract by the New York Knicks but chose the greater financial reward of playing for Tau Ceramica Victoria in Spain. Burke continued his career in Europe playing in Greece for Panathinaikos A.O. where he won three Greek championships and a Euroleague, as well as for BC Maroussi before returning to Tau.
Burke finally got his break in the NBA with the Magic and appeared in 62 games in the 2002/3 season, averaging 4.3 points and 2.4 rebounds a game. He later played with Steve Nash at the Phoenix Suns and Spanish basketball giants Real Madrid in a successful and lucrative career which earned him 'roughly $7 million.' The 39-year-old, who overall won six international championships, now runs a training camp where he teaches kids the "pure basketball fundamentals" he learned overseas. Burke is also the 'star' of this Youtube video which isn't exactly of the highest quality but is worth watching to hear legendary NBA announcer Marv Albert say, 'There's no blarney in that Irishman.'
3. Shane O'Neill
The Colorado Rapids defender was born in Midleton and although his family moved to the States, spent his Summers in Cork up until the age of 18 where he trained with the youth teams at Cork City and Cobh Ramblers. O'Neill didn't lick it up off the ground as his dad, Colm, won two All-Irelands with Cork in 1989 and 1990 and his uncle is Kerry legend Maurice Fitzgerald. The 19-year-old is eligible to play for both Ireland and the USA and as he revealed in an interview with our own Frankie Lally, was approached by Noel King to play for the U-21s. O'Neill turned down the approach and recently played and scored for the US national team at the FIFA U-20 World Cup in Turkey. He didn't rule out playing for Ireland in the future so there is still an outside chance we could see the promising centre-back in a green shirt. Despite joining the MLS straight from high school, O'Neill is already establishing himself at the heart of the Rapids' "defensive backfield".
4. Michael "King" Kelly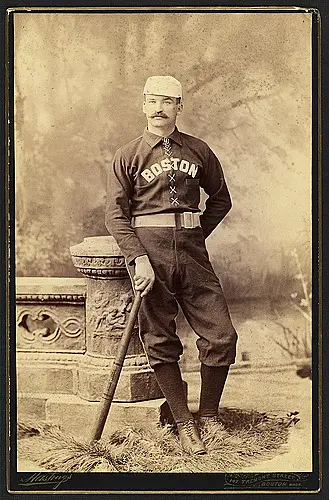 As his nickname might suggest, Kelly was one of the most famous and flamboyant sportsmen is the USA during the late nineteenth century. Born to Irish immigrant parents in New York who both passed away before his 19th birthday, he had a storied baseball career as both a player and manager. Kelly made his big league breakthrough with the Chicago White Stockings in 1879, excelling as a power-hitting offensive catcher. You might be surprised to find out that entourages were not just a modern phenomenon and as he became a star, Kelly's included a Japanese valet and bizarrely, a black monkey.
For all his success in Chicago, it was only after being sold to Boston in 1886 that Kelly received the nickname "The King", for his exploits on and off the pitch. The batting champion was a notorious drinker who, when asked if he drank during games, said "It depends on the length of the game." In Boston, he began an acting career and seemingly became less interested in his craft. In 1888, the Boston Herald described his diffidence, "At other times he plays carelessly and indifferently, puts on a spirit of independence, disobeys [his manager] on instructions at will, and does as he pleases."
His baseball career may have fizzled out somewhat but upon retirement in 1893, Kelly was acknowledged as a baseball legend and was posthumously voted into the Hall of The Fame in 1945.
(H/T Yahoo)
5. Tom Brady
Alright, alright we know this a bit of a stretch but Tom Brady Sr.'s great-grandfather was a Cavan man and his great-grandmother was from Cork. The New England Patriots Quarterback has also spoken in the past and how inspired by his visits to the old country. "We took a trip over there together and visited some of the places where my family came from," said Brady. "That was a great experience for me and obviously I am very proud of my Irish roots. I've been golfing in Ireland and Scotland as well. I've really enjoyed my time over there. Anyone who's been over to that part of the world comes away with a greater sense of history."
If a three-time Superbowl champion and two-time NFL MVP is keen to embrace his Irishness, then we are more than happy to claim him.