The new Premier League season is only one week away, and in anticipation we have taken a look at the five of the most antagonistic and divisive players the league has seen over the last 20 years.*
*Kevin Muscat's sum of only nine appearances made him ineligible.
1. Eric Cantona
The Manchester United icon is a hero to many but there was no doubting his mean streak throughout his career, which was at its most evident at Selhurst Park in 1995. His supposed arrogance, aura of self-importance and general Frenchness did him no favours, particularly when combined with the club he played for.
2. Roy Keane
Another United old boy, Keane not only divided opinion amongst Premier League fans but even within his own country. He had famous run-ins with Alan Shearer, Gareth Southgate and Patrick Vieira, but his tackle on Alf-Inge Haaland still stands out most of all. How did he described that moment in his book again...
3. Robbie Savage
Savage was more pantomime villain than scary, but he still received venomous abuse wherever he played. His reputation for diving as well as his distinctive locks helped him stand out, as did the 89 yellow cards he received in the top flight. He got his comeuppance eventually though, from Dion dublin surprisingly. Savage gets extra points on account of his questionable punditry career
4. Joey Barton
Barton can't do much right. His multiple arrests, attack on Ousmane Dabo and on-the-pitch antics were already bad enough, but then we were forced to hear his views on every matter going on Twitter, and all in a French accent. He was banished to France after getting sent off for QPR in Manchester City's title winning game, but may still make a comeback.
http://www.youtube.com/watch?v=q8T0VAJwZ3Y
5. Luis Suarez
The Uruguayan was a villain before he ever arrived in England. His handball in the final minute of extra time of the 2010 World Cup Quarter-Final with Ghana and subsequent celebrating of the missed penalty made international news, as did his biting of PSV's Otman Bakkal while playing for Ajax. In the two years since he has racially abused Patrice Evra, then refused to shake his hand, used his hand, again, to score against Mansfield, bitten Branislav Ivanovic and is attempting to force a transfer from Liverpool. Quite the productive three years. The fact the bulk of this has happened while playing for Liverpool almost makes him more of a folk hero.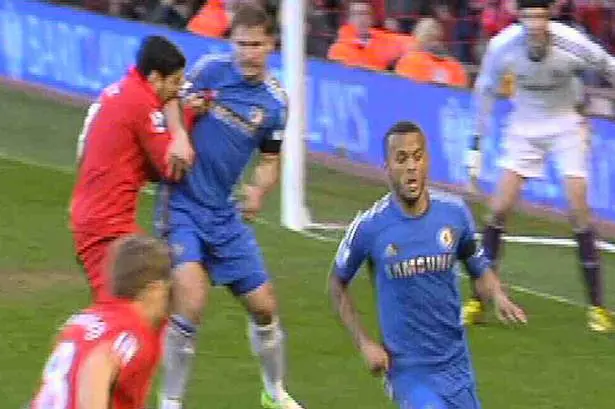 image: mirror