Paul Pogba's renaissance continued this evening at Wembley, with his stunning assist to Marcus Rashford setting up United's first goal and the only one of the game as Spurs failed to get past a peerless David De Gea.
In the Sky Sports studio, viewers were inevitably waiting for Graeme Souness' tuppence ha'penny worth on the World Cup winners' recent upturn in form, and while the Scot did praise the midfielder, there was an exasperation in his delivery, with the 65-year-old arguing that Pogba doesn't understand what his best role in the team is:
For two years I've been saying the same thing. When I look at a game of football, I look at the midfielder first and if it's a really good one, I'll go 'would I like to have played against them?' I would not like to have played against him, doing what he did in the first half, what he did in the first half against Bournemouth. I don't want him running into my box and me having to track him.
Souness stated that Pogba has 'every quality needed' be a top midfield player in the 'attacking sense', but pinpointed that he believes Pogba wrongly thinks of himself as a deep-lying midfielder akin to Andrea Pirlo at Juventus:
He has athleticism to arrive in the box late, get lots of goals that way, and get well into double figures every year, and that would be an enormous asset for United.

What he isn't, and what he's tried to be in his time at United, like he's said there; 'I've got license to go forward', he's playing in a three! He's playing on the left of a three! That gives you license to the midfielders to go the minute the ball goes down the right or the left or in the middle and get in the box.

I think he sees himself, having spent time with Pirlo in Turin, as someone who wants to sit deep and play Hollywood balls. And the reason I say that, he's capable of that, but he hasn't got a sixth sense a good defensive midfield player has, standing still on occasion, filling areas on occasion, and not being attracted to the ball on occasion.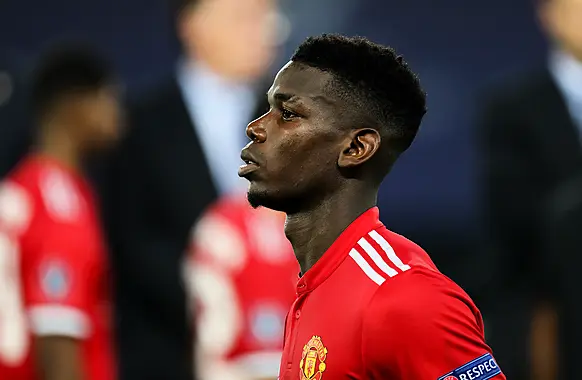 Looking back on the Bournemouth game, Souness believes we saw the best and worst of Pogba in the two halves of that match:
Going back to the Bournemouth game, in the first half he was sensational, he arrived late got a leg out a tapped the first one in, and arrived late with a header.

What did he do in the second half? He reverted to type, where he sat deep and tried to spray it and five, six times the ball went out of play. He wanted to be that type of 'Pirlo' player. And he has the potential to be one of the very best out there.
Souness went on to say that he doesn't believe that Jose Mourinho was hindering Pogba in pushing up the pitch when attacking, contending that he doesn't reckon that anyone would put 'shackles' on Pogba with the athleticism that he has.