The current trouble in which the Irish football team finds itself causes Ian Wright some woe.
"I've worked with Martin for many, many years for ITV. We have so much fun," Wright told Balls at a Cadbury Premier League event on Sunday.
Wright also worked with Roy Keane during the summer on ITV's World Cup coverage. The row which the two had following England's semi-final defeat to Croatia was a topic which Wright did not want touched. That and Brexit.
"Seeing people that you know and like so much and seeing them in a different light to what you've always seen them in - and then you see the pressure that they're under - it's quite uncomfortable for me because you know what they're really like.
"All you want is for them to do well, you want it to work out well for them.
"They're big guys, they know what's going on, they know the pressure that they're under. It's a hard, hard job - it's tough.
"He's somebody [Martin O'Neill] that deals with it very well because he's very honest, not just with everybody, but with himself; him and Roy Keane, they're very honest with themselves.
"They know that the pool of players which they have to choose from is very small. We've seen it, we've seen it happen with Scotland, we've seen it happen with Ireland. Even England, the pool of players we have to choose from is not great but we have a better quality of player."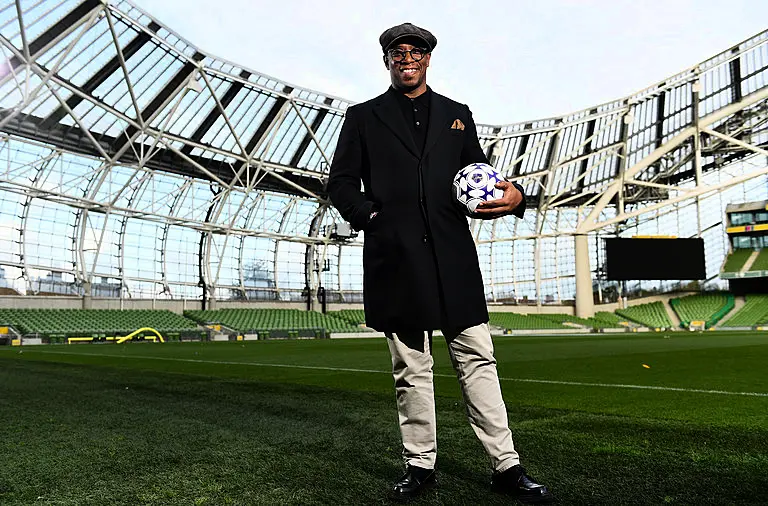 The former Arsenal man watched Ireland's recent games against Denmark and Wales and saw a team with problems.
The Nations League, whatever people say about it, you're playing against teams where you should be doing well, they're on a par [with you]. That's what everybody has in the Nations League. It's shown up that there's a lot of work to be done somewhere.

At the moment, the Republic is in the doldrums. Wales had no Gareth Bale, no Aaron Ramsey and you lost. There were a couple of youngsters playing for Wales and it doesn't bode well for you guys.
Though, he believes those are problems which O'Neill and Keane can fix.
"At the same time, things go round and you're hoping that things will turn around for him. It's not going to be for a lack of trying from people like Roy Keane and Martin O'Neill, they will be doing their very best to put it right.
"If you're going to tell me that Martin O'Neill and Roy Keane should be getting more out of them, I'd have to question that. They're two people that I wouldn't like to be in a dressing room or a squad of players with and not be pulling my weight."
Former Premier League player Ian Wright was in Dublin today to attend an exclusive event hosted by Cadbury, 'Official Snack Partner' to the Premier League. Hosted in the Aviva Stadium in Dublin, Ian was joined by Tesco competition winners from all over the country as they enjoyed a meet and greet with the football legend. The 2018/19 season marks the second year of Cadbury's three-year partnership.
Photo by Sam Barnes/Sportsfile