Gary Connaughton reporting from the Aviva Stadium
On a night that promised much, Ireland failed to deliver.
For over 12 months, the Stephen Kenny era seemed to divide the Ireland fans. Most felt he needed to be given time to make his impact on the team, while others felt the consistent lack of results was simply unacceptable.
Earlier this week, it seemed those two camps were united for the first time. The performance in Portugal won this team plenty of plaudits and rightly so. The team pressed well, defended brilliantly, and were excellent on the ball.
It seemed the tide had turned, with this evening's game against Azerbaijan a test of that.
Of course, the fact that the showing in Faro came just before the return of fans to the Aviva Stadium meant we were all set up for a fantastic occasion.
Early on, it seemed like it would be just that. The atmosphere was absolutely electric before kick-off, which is something Ireland seemed to feed off.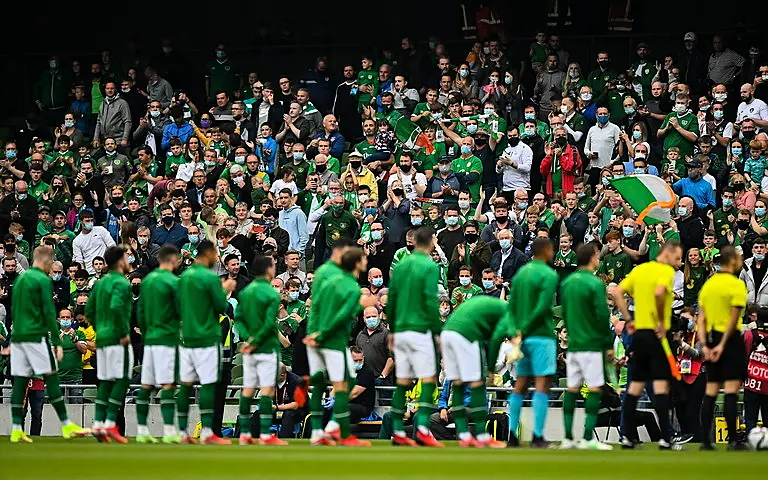 The tempo was high, they were creating chances, and the fans were absolutely loving it. Unfortunately, this didn't last too long.
By the end, the cheers that greeted the team onto the pitch before the game had turned to boos.
Ireland's pace of play dropped dramatically after an initial fast start. They allowed Azerbaijan to pass the ball around at the back unchallenged, completely sucking the life out of the game as a result.
Perhaps even more alarming, they also failed to close down when Azerbaijan moved further up the pitch. They consistently allowed the visitors to shoot from distance and you would have thought that a couple of saves pulled off by Bazunu would have been enough of a warning to tighten up in this regard.
It wasn't. They allowed Azerbaijan one more shot from distance before the interval and this time there was nothing the 19-year old goalkeeper could do about it.
We've never seen a man be given this much time at the edge of the box before. #IRLAZE pic.twitter.com/nbynLDxLXq

— Balls.ie (@ballsdotie) September 4, 2021
All of a sudden, panic stations.
Ireland did pick up the pace significantly in the second half, but this didn't really result in many clearcut scoring opportunities. Their only method of attack seemed to be whipping hopeful crosses into the box and hoping someone was waiting at the end of it. That was rarely the case.
Of course, Shane Duffy would manage to turn one of them home. Thus, an embarrassing evening for Ireland was made slightly less so.
It is difficult to pick any positives from this game, but you could perhaps manage a few. Gavin Bazunu once again was excellent, while Callum Robinson added some much needed imagination after his introduction. Josh Cullen also continued to excel in midfield. That's about it.
Questions will be asked of Stephen Kenny after this game and rightly so. There were a number of tactical decisions that should be queried.
Why change Matt Doherty and Seamus Coleman from the roles they did so well in in Portugal? Why allow Azerbaijan to have the ball unchallenged for such long periods, in the process not taking advantage of the backing of the fanatical home crowd? Why not start Conor Hourihane or Jamie McGrath, two players who could have helped Ireland keep the ball in a much more convincing fashion?
We are certainly not calling for his head, it is far too early for such judgements. What is clear is that each of these bumps along the road become more significant as advance further into the Kenny era.
If anything, the Portugal performance makes today all the more frustrating. That was a glimpse at what this could be. Unfortunately, today was probably a more accurate depiction of what they currently are.
We have a long road ahead of us. It remains to be seen what is at the end of it.