Mick McCarthy will head into Ireland's Euro 2020 play-off against Slovakia with some big decisions to make. While the defence is fairly settled, and forward options reasonably limited, the centre of midfield is very much in flux.
It was a problem area throughout the campaign, and with our players having varying fortunes at club level, some changes could be afoot.
There will likely be six places in the squad up for grabs (the number McCarthy has included on the. last two occasions), and 12 players vying for them. Here's how we rate each of their chances.
Ireland's Central Midfield Options
James McCarthy - Crystal Palace
McCarthy has experienced a serious renaissance in recent weeks. Having been out of the Crystal Palace team for most of the season, he has become an important player under Roy Hodgson. Starting in a holding midfield role, the Ireland international has played the full 90 minutes in seven of their last eight fixtures.
The vast majority of those have been very impressive outings. He has certainly won over the Crystal Palace fans, who view McCarthy as the ideal midfield enforcer.
A word for James McCarthy today. It was EASILY his best performance in a Palace shirt. Won bundles in the middle of the park. I love the aggy little bastard.

— HLTCO (@HLTCO) January 18, 2020
Couple this with his ability to pass the ball and control the tempo in midfield and you would think that Mick McCarthy would have to consider drafting him into the team for the Slovakia game.
Prospects for Slovakia game: Should be a guaranteed starter, but it is unclear if Mick McCarthy will see it that way.
Jeff Hendrick - Burnley
Hendrick has been a consistent starter for Burnley, but not in a position in which he is likely to feature for Ireland. He has operated almost exclusively on the right of midfield, where his tireless style is valuable for a Burnley team that values a player that put in the hard yards.
Hendrick has played reasonably well in spite of the fact he is not a natural wide player. He has started 16 of Burnley's last 18 league games, missing one due to suspension.
While his two goals and one assist are not eye-catching numbers, we certainly can't turn our noses up at a player who is consistently performing to a decent level in the Premier League.
Prospects for Slovakia game: Is almost certain to start, and probably rightly so despite his patchy form at international level.
Conor Hourihane - Aston Villa
Hourihane hasn't kicked on in the way we would have hoped since Aston Villa's promotion to the Premier League. He has no doubt contributed at times, but not with any sort of consistency.
We are reliably informed by the Aston Villa fan in the office that Hourihane rarely makes all that much impact in games when he starts, but seems to perform well when given an opportunity off the bench. The fact that he has only started two or more consecutive league games on a couple of occasions would seem to back this up.
The Corkman seemed to fall out of favour somewhat towards the end of the campaign, suggesting a role off the bench could be a possibility in March.
Prospects for Slovakia game: A certainty for the squad and possible starter, but seems more likely to come off the bench at this point.
Harry Arter - Fulham (on loan from Bournemouth)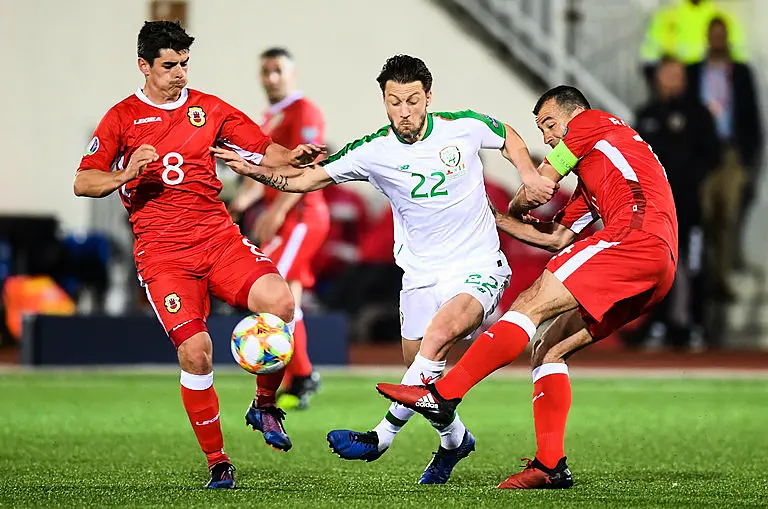 Harry Arter is a player who never managed to establish himself in the Ireland squad, despite playing quite well in the English top flight for a few seasons on the trot. Now back in the Championship, he had a strong start to the season at Fulham.
A shinbone injury derailed that, however, with the midfielder missing three months of action. He has featured in Fulham's last three games, but is likely well down the pecking order at the moment.
Prospects for Slovakia game: Unlikely to make the squad, barring some massive performances in the next few weeks.
Jason Knight - Derby County
In and out of the Derby squad over the first half of the campaign, Knight has established himself as a key player recently. Over the past month he has started all eight of Derby County's league games. That run has featured three goals and a couple of man-of-the-match honours.
Jason Knight🌟 #dcfc pic.twitter.com/JTEMDLfwGc

— Jack Beighton (@JackBeighton) January 21, 2020
Having just put pen to paper on a new five-year contract, Knight is a major prospect for Ireland moving forward. The Slovakia game could come too soon for the 18-year old, but there are few better Irish midfielders on current form.
Prospects for Slovakia game: More likely to be with the U21s, but could be a bolter for the senior squad.
Jayson Molumby - Millwall (on loan from Brighton)
Jayson Molumby has been one of the major reasons for Millwall's surge up the Championship table under Gary Rowett. Only once since October 26th has he failed to play the full 90 minutes in the league, and that was due to injury.
Molumby is everything the Ireland midfield lacks. He is assured on the ball, can go by a man on the dribble, and certainly doesn't shirk a tackle. His form is becoming difficult to ignore.
Prospects for Slovakia game: Should be a certainty for the squad (and possible starter), but is probably a 50/50 shot under McCarthy.
Shaun Williams - Millwall
Williams has also been part of that run for Millwall, although he has not played as consistently as Molumby. He has yet to feature under Mick McCarthy, and with the two-cap international having turned 33-years old last October, you would think it unlikely he forces his way in for the game in March.
Prospects for Slovakia game: Unlikely to make the squad.
Alan Browne - Preston North End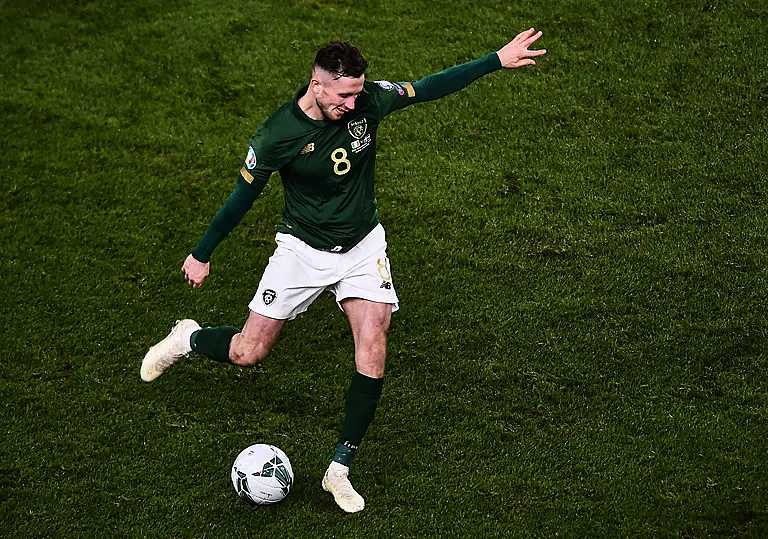 Browne was given a chance to impress towards the end of the Euro 2020 qualifying group, with mixed results. It is difficult to judge him based on those games, especially when he was forced to play on the right wing at times.
Still, his club form has only improved since then. The 24-year old has captained Preston on a number of occasions, splitting time between and attacking midfield and a deeper role. He has yet to rediscover the goal scoring form he displayed early last season but is performing well.
Prospects for Slovakia game: A near certainty for the squad & likely starter based on current form.
Josh Cullen - Charlton Athletic (on loan from West Ham)
Cullen was hugely impressive in his two friendly appearances for Ireland and had been in similarly good form at club level. A torn ankle ligament at the end of November halted his progress at Charlton, with the 23-year old only making his return to action last night.
If he can pick up where he left off, you would imagine Cullen will be in the squad for the game in Bratislava.
Prospects for Slovakia game: Likely to make the squad.
Conor Coventry - Lincoln City (on loan from West Ham)
Coventry has just started his first foray into senior football, joining League One's Lincoln City on loan from West Ham. He has played two games to date, and while the 19-year old has impressed for the Irish U21s, you would imagine it's very unlikely he is considered an option for March.
Prospects for Slovakia game: Unlikely to make the squad
Glenn Whelan - Fleetwood Town
Whelan is without doubt the most difficult case to evaluate. The 36-year old has been a favourite since Mick McCarthy's return, playing all of the most important games throughout the campaign. He has also performed well in most of them, even making a case as Ireland's best player on a couple of occasions.
And yet, his place in the team should look far from certain. The form of James McCarthy may negate the need for Whelan in the team, with the Crystal Palace man capable of performing a similar role to a higher level.
The fact that McCarthy is playing for a mid-table Premier League team, while Whelan does the same in League One, should count against him. However, the Ireland manager has shown he can disregard such things when it suits him.
Prospects for Slovakia game: A near certainty to be in the squad. James McCarthy should start ahead of him, but we reckon Mick will likely have other ideas.
Jack Byrne - Shamrock Rovers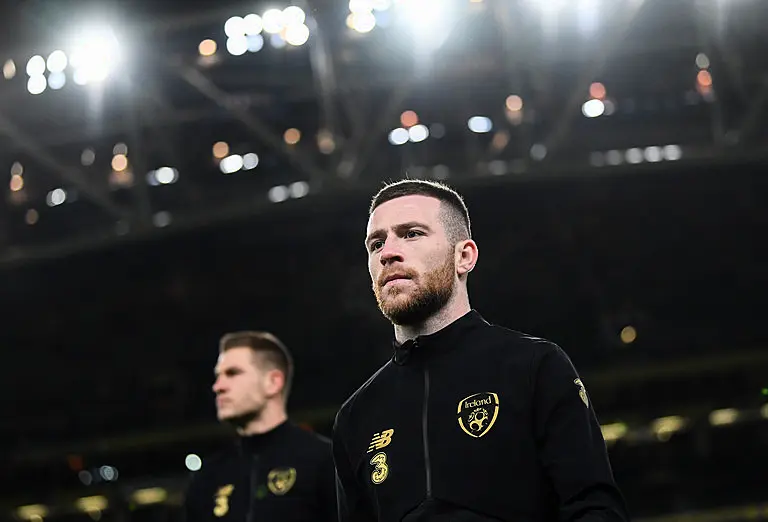 Byrne's prospects are difficult to evaluate due to the fact that he hasn't played a game at club level since November 3rd. That could count against him, with the Shamrock Rovers man likely to have only one month of competitive football in the locker heading into the international break.
Right now, he looks borderline.
Prospects for Slovakia game: If we were to guess now, we think he just misses out.
Squad Prediction
McCarthy has picked six central midfielders in each of his last two squads, so you imagine he would do something similar on this occasion.
Jeff Hendrick, Conor Hourihane, Alan Browne, and Glenn Whelan look like certainties to be included at the minute. The same should be said of James McCarthy, and we imagine the Ireland manager will agree.
That leaves Jayson Molumby, Josh Cullen, and Jack Byrne battling it out for the final spot.
Cullen seems in prime position at the minute, providing he can prove his fitness in the coming weeks. If Whelan struggles in League One it could open up another spot, while all of the above is assuming full fitness for everyone involved, something that is no guarantee.
It will certainly be an interesting situation to keep an eye on in the coming weeks.