And so ends the strangest of years. 2020 will live on in infamy for the rest of our lives. So much has happened in the last 12 months, and yet, at times it felt as though nothing was happening at all.
Our annual look back on our articles on Balls.ie reveals a year filled with frustration, anger, and disappointment, but also one full of joy and inspiration.
Over the course of the week, we are sharing some of our favourite pieces from the maddest of years to relive some of what you may have forgotten or missed in 2020.
You can read more of our favourite pieces here.
********
When Ballina Stephenites returned to Mayo as All-Ireland club football champions in 2005, David Brady sighted Jack Charlton amid the party.
"On the night of homecoming, there's Big Jack outside his house waving a flag," the former Mayo and Ballina footballer tweeted on Saturday afternoon, a few hours after the former Ireland manager's death was announced.
That Brady had spotted Charlton was no surprise. A tall figure - one of Ireland's most famous sporting faces - he stood out. The World Cup winner had bought a house in the town's Moy Heights estate 14 years earlier.
Fishing was one of Charlton's great loves. The River Moy and Lough Conn were his Mayo mistresses. Three years previous to buying the house - six weeks after Ireland's exit from Euro 88 - he'd taken part in a Bord Fáilte promotional film for fishing in the area.
Ballina win the Club All Ire in 2005 and on the night of homecoming there's big Jack outside his house waving a flag ..So loved in Ballina that even the Salmon came up to say hello to him RIP Jack

— David Brady (@D9BMayo) July 11, 2020
Judd Ruane, a friend of Charlton's from Ballina, recalls the first time he met the World Cup winner. Ruane ran a bar then known as the Riverboat Inn.
"We met up but it was in the wintertime when the fishing was closed," Ruane told MidWest Radio.
"He says, 'Oi, what about the sea trout? I keep hearing about them but I don't see them'. Tongue-in-cheek, I said, 'Well, you haven't fished with the expert yet, have you?' I told him when he came back in the summer that we'd arrange a day.
"The day came [and we went out on the boat]. I told him to cast in and what to do. First cast, he's in a fish. Second, cast he's in a fish. Seven casts in he turns around, 'Bloody 'ell, sevens casts, seven fish and the expert hasn't wet a line'.
"Up to that point, I was a little bit nervous and apprehensive of him but once that happened, it cooled everything for me. I said, 'You know what you'll do?' I handed him the net [and told him], 'You land your own fish and I can fish'.
"That morning, he said we'd to be back in time to take [his wife] Pat for tea. The fishing got poor during the day but in the evening it came on again.
"I says, 'OK, last cast' to get back for the time we'd agreed. Of course, he put a deaf ear to it. I started the engine and he said, 'Oi, where are you going?' I said, 'You said you wanted to be back in time to bring Pat out for something to eat'. He said, 'Don't worry about that. I'll tell her you ran up on a sandbank'."
Ballina feels the loss of Jack Charlton
I don't think there's a Ballina child of a certain age range who doesn't have a Jack Charlton autograph from when he was fishing in the Ridge Pool. Mine was a baseball cap. Think I still have it. Always friendly and patient, even though we probably scared away all the salmon. RIP

— Ray Foley (@rayfoleyshow) July 11, 2020
Was lucky to meet Jack a few times in my mums home town of Ballina. Lovely man, Asked me about my tackle once, not my football one but my fishing one, it was all chat about fishing, he loved fishing the River Moy
His passing Feels like A chapter of our youth has closed #RIPJack

— Eamonn O' Hara (@EamonnOHara8) July 11, 2020
My neighbours and I used to sit on the banks of the river Moy to watch Jack Charlton fishing.

I can't imagine a less thrilling spectator sport but it was the highlight of our summers in Ballina. #RIPJack

— Laura Durcan (@Rheum2improve) July 11, 2020
My personally signed Big Jack picture from when I was a kid & met him in Ballina, Co Mayo. He spent lots of time there & my Nana Mamie once had a 'waltz' with the man himself, something she was very proud of until her dying day. Today has brought up loads of emotions #BigJack pic.twitter.com/gpPj2IVr4F

— Stephen Walsh (@bohemianstephen) July 11, 2020
The west of Ireland and its (usual) seclusion was always one of Charlton's first thoughts after, and sometimes during, a hectic management period. In his pre-match team-talk before Ireland faced Italy in the 1990 World Cup quarter-final, there was a mention for the River Moy.
"I had joked to the lads, 'Don't go winning this game today. I'm due on the Ridge Pool in Ballina on Monday and I aim to be there'," Charlton said in his 1997 autobiography, written by Peter Byrne.
"The Ridge Pool is one of the most coveted fishing waters anywhere, and two days' fishing there is not to be missed. And if there was a silver lining to being knocked out of the World Cup, it was that I was able to keep my appointment in Ballina."
After Schillaci side-footed to the Ireland net and the Dublin homecoming was over, Charlton headed west with Dennis Woodhead, an old friend who'd been the commercial manager at Sheffield Wednesday.
"I have a rule," Charlton said in his authorised biography by Colin Young.
I only drink Guinness in Ireland. I've tried it back home and it doesn't taste the same. It doesn't feel the same. If I go to John's pub on the beach at Blyth, I'll have a John Smith's.

There's a pub, Furey's I think, just over the bridge at Sligo, which is about an hour from the house we bought in Ballina. I was desperate for a pint. We decided to call in.

As we got to the front door a fella in his 60s came out. Grey hair, ponytail; he looked merry. He clocks me.

'Ah, Jack,' he says. 'It's so good of you to come to me retirement do. Thanks for coming. Now... can I get you a pint?'
That pub's owner later cornered Charlton to thank him for the "small fortune" he'd made during the three weeks of Italia 90 mania and gifted the then 55-year-old the biggest bottle of brandy he'd ever seen.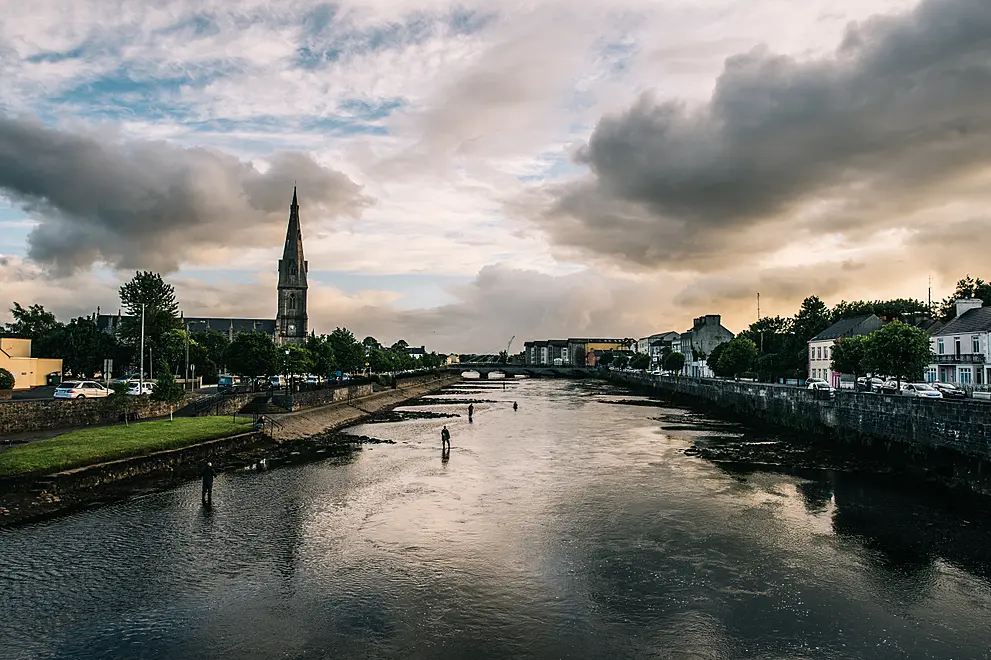 Fishermen on the River Moy. Picture credit: Shutterstock.com
Charlton had planned for a respite from the World Cup hoopla but he didn't get it immediately.
"After the pressures and the hype of the World Cup, fishing in the west of Ireland was a merciful relief," he said in his 1997 book.
"When you want to get away from it all, to get a few moments to unravel your thoughts, there's nothing to compare with being stood in the middle of a river with only fish on your mind. And I'm there, with only a gillie for company, when he starts shouting at me. But I can't for the life of me make out a word he's saying. Eventually, he points back up to a little bridge - and there must be a hundred or more people stood there watching me in the river!
"In the middle of them, there's this red-faced policeman, ready to have kittens. There are so many people standing on the bridge that the traffic can't get through. He wants me out of there - quick. Now what did I say about the solitude of rivers?"
Fishing was not Charlton's only engagement with Ballina. The Irish Independent reported in June 1995 that he was set to take on Bertie Ahern in a potato picking race during that summer's Salmon Festival.
There's Mary O'Rourke and Jack picking potatoes at the Festival, but no sign of Bertie. (Western People, July '95). pic.twitter.com/JMfVhDgI5r

— Aonghus Ó Maicín (@AonghusOMaicin) July 12, 2020
"We were doing a fundraiser for Irish Guide Dogs [For The Blind] and Jack offered to help out," Ballina man Terry McCole recalled on MidWest Radio.
One of Charlton's roles was to start a race involving guide dogs and their owners. When someone handed him a flag to start the race, he could only laugh. He also had to race a pig and a goose named after one of his great critics (You can watch footage of that race around the 2:15 mark in the video at the bottom of the page).
"When he heard there was a pig called Dunphy the first year, he says, 'Definitely, I'll take part in that'," McCole continued.
"He said not to forget him the following year. He really enjoyed it.
"The following year, we had a goose called Dunphy. He ran against the great [Mayo footballer] Joe Corcoran and a lot of celebrities - we had a political race. We laughed so much and made a lot of money through Jack.
"He never really knew my name. He called me 'The Pig Man'. I was going up to a match with my young fella - Ireland were playing Denmark - and he spotted me coming in the gate. He roared to me, got us through security and got us to meet the Irish team. He was so thoughtful and helpful."
Mayo councillor Mark Duffy proposed on Saturday that the footbridge on the River Moy, one which overlooks the Ridge Pool, should be named after Charlton.
The adventures of Charlton's Ireland team brought happiness to a country which badly needed it. Wouldn't it be fitting for him to be remembered at a spot in Ireland which gave him so much joy?
Featured photos: Sportsfile/Video: Ballina Salmon Festival