Many people are probably tired of hearing about this subject, but the international pasts of both Jack Grealish and Declan Rice have been a topic of discussion once against after comments made by both players ahead of their appearance for England at Euro 2020.
Both players' backgrounds are well established at this point. They lined for the Republic of Ireland at various levels, before eventually deciding that they would rather represent England on the international stage.
They were well within their rights to do so under FIFA laws, although the decisions were understandably not all that well received in this part of the world.
Of course, while both situations were similar, there were also key differences. Looking at Jack Grealish, it's clear that he decided to pursue a future with England at a much earlier juncture in his career.
Speaking to the media yesterday, he said that he came to a point where he decided to he felt more of an affinity to the nation of his birth:
As I got older, I started playing obviously at Villa, in the first-team, I broke through.

And there was a time when I thought: 'obviously I am English, my parents were born in England, I was obviously born in England, so I feel English'.

So yes, I obviously changed to England and since then I never looked back. I've enjoyed every moment that I've had here.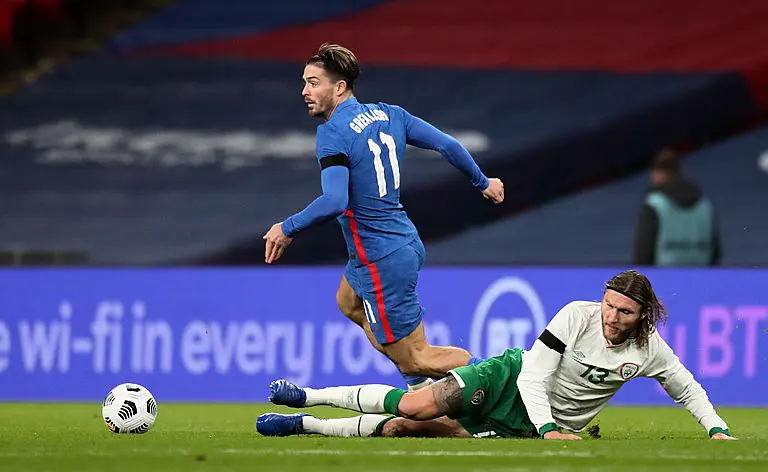 Grealish spent time with both the English and Irish camps when he was younger, although he was capped up to U21 level with Ireland.
It is now over six years since the Birmingham native called turned down a call-up to Martin O'Neill's senior squad. At this time, he was nowhere near receiving any consideration for England and there was no guarantee it would be forthcoming.
In this sense, it could almost be said that Grealish passed up a better opportunity with Ireland at that time in order to pursue a future with England. He made a huge leap of faith, one that took a number of years to pay off.
The Declan Rice situation is an altogether different one.
The West Ham midfielder made three appearances for Ireland at senior level, even going as far as to rubbish claims he would ever consider switching to England. When asked about his international future after a game against the USA in April of 2018, he said any speculation he could abandon Ireland as a 'load of crap'.
Of course, this was before he got a better offer from Gareth Southgate. Speaking to the media yesterday, he said he knew he would commit to England while watching them at the 2018 World Cup a matter of weeks after that USA game.
Yeah, it was done then.

We spoke about it so much but obviously growing up watching England in tournaments as well... you just feel the proper buzz, the effects and the desire of the country for the players to do well.

I remember watching the Panama game, the Tunisia game, Sweden game. It was incredible.

The singing before the game, the national anthem. Just being a part of it. I was a fan for that tournament so to be part of this tournament is unbelievable.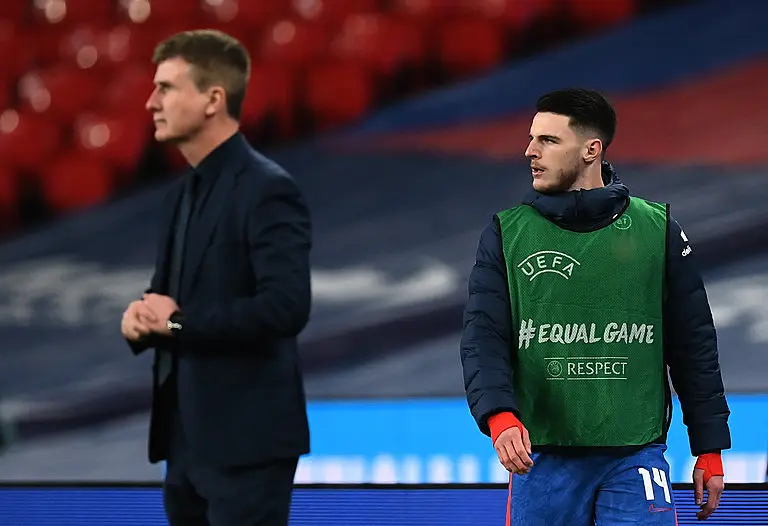 These comments have not gone down well in Ireland, especially when you consider that he did not announce his decision to declare for England until February of 2019. That is almost nine months after he had made his mind up, spending the intervening time stringing along both Martin O'Neill and Mick McCarthy.
That's the difference between these two scenarios.
Grealish made a big decision early in his career, one that had absolutely no guarantee of paying off. While you may disagree with him, you have to respect him for following the path he wanted to regardless of how difficult it may have been.
On the other hand, Rice just took the better offer once it came along.
The two situations are not the same and that's why many people do not hold any hard feelings towards Grealish. In contrast, it's unlikely his England teammate will be receiving a warm welcome if he plays in front of a Dublin crowd.