Jack Wilshere has had another one of 'those' Jack Wilshere moments, but frankly, this is taking the piss a small bit.
For starters, please bear in mind the supremely talented 24-year-old midfielder has been at Arsenal since he was 9, and has been playing Premier League football since 2008.
Then look at this, following Arsenal's 1-1 draw with Crystal Palace on Sunday evening: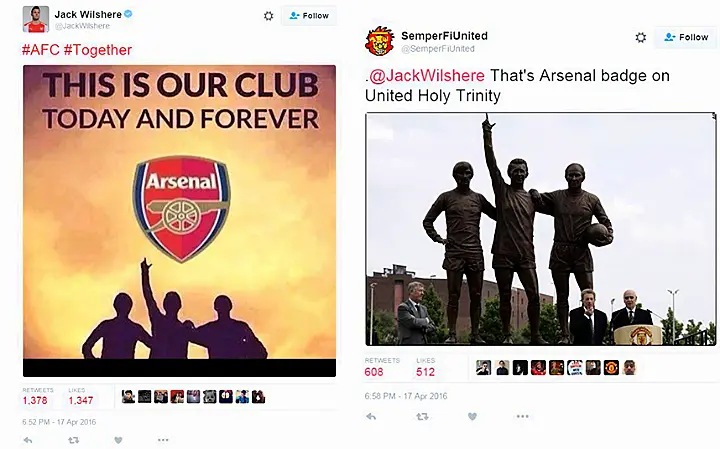 Yes, that is the famous statue of George Best, Denis Law, and Bobby Charlton outside Old Trafford. With an Arsenal crest on top of it for seemingly no reason whatsoever - unless of course Law is pointing at it going, "what the fuck is that doing there?"
Just think to yourself how many times Wilshere would have seen that statue on various Sky Sports promos or even on his way to play against Manchester United at Old Trafford. Perhaps more pertinently, just try and imagine how many times he would never have seen it near the Emirates Stadium or Highbury - or anywhere at all affiliated with Arsenal.
Wilshere both tweeted the photograph and shared it on Instagram, but both posts have since been deleted.
In ways you'd almost feel bad for him - everyone makes Twitter boo-boos, ourselves included - but I mean, sweet Jesus, who did he think the statues could possibly have been if he hadn't seen them before? You can't just tweet pictures of random statues and hope they're in some way associated with the message you're trying to convey - especially if you're a footballer.
While you're here, Arsenal fans, the good news is you can't use social media while you're on the pitch, and Wilshere returns to the Arsenal first team set-up next week where he can hopefully do his talking with his feet.