The news that 2012 All Ireland winning Donegal manager Jim McGuiness was set to join former Bayer Leverkusen manager Roger Schmidt as assistant coach at Chinese Super League team Beijing Guoan took a lot of people by surprise when it was announced at the end of June, but if nothing else it gives us a link to a CSL club to follow for the rest of the season.
And clearly McGuinness is doing a good job, as his first game with the club resulted in a 2-0 win over league leaders Guangzhou Evergrande on Saturday morning.
We can't say what impact the Donegal man has had for sure, but we'll just assume he has completely turned the mentality of the club around and is solely responsible for this impressive victory.
It didn't take long for us to see McGuinness in his new role as he popped up during the celebrations as Guoan opened the scoring inside one-minute.
Good man Jimmy.
It's probably not going to feel anything other than surreal anytime we see him in his new working environment for a little while.
It's fitting that not only does the Beijing Guoan kit resemble something that Celtic would have worn on an away trip during his time on the coaching staff at the Glasgow club, but when the camera panned to the supporters in the stadium, we realised that they have actually just plastered the club's logo on what is a Donegal flag.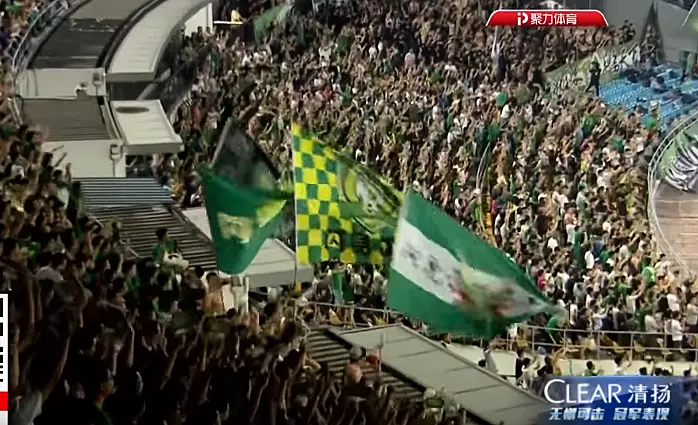 Again, we can only assume they have ordered thousands of cowboy hats and headbands to go along with that flag, which will have been a massive boost for the people selling them in Ballybofey.
Beijing Guoan are currently sitting in 7th place in the Chinese Super League, but expect that to change now that they've got Jim.