Gary Connaughton reporting from Tallaght Stadium
When the pressure came on Ireland tonight, their character was telling.
Finland opened their World Cup qualifier meeting as the far superior side, launching attack after attack in Tallaght. It would have been easy for the home side to fold, but they went in a rather different direction.
As the game went, they grew stronger. In the end, they were fully deserving of their 1-0 victory. They secured a World Cup play-off place in the process.
After the heartbreak of the previous campaign, this was the night that Vera Pauw's side truly arrived.
Katie McCabe reacts to Ireland securing World Cup play-off
Ireland certainly deserved second spot in this group. They deserved the six points against Finland over the two games, while they also put it up to one of the very best teams in world football in Sweden.
Their job is far from done, but they will be hugely satisfied with how far they have come. Speaking to the media after the game, captain Katie McCabe summed up what it meant to the group.
I'm in disbelief, to be honest. I can and I can't believe we've done it...

I think I fell to the floor. I don't even know what I did. It was just a relief.

I've been working so hard for this since I came in six years ago. There are people who have been here 12 years, longer than me. It's such a moment even for past players that were watching us in the crowd. It is another step, but we will enjoy the moment because we have never done it before...

D'you know what, we've given ourselves a chance to get there. We're in the play-off now, I don't know who we'll draw but we've given ourselves the best chance possible. For me, yes play-off, but I'm thinking Slovakia on Tuesday night.

We'll recover tonight and tomorrow, dissect the game, see where we can improve and look to finish this campaign on a high.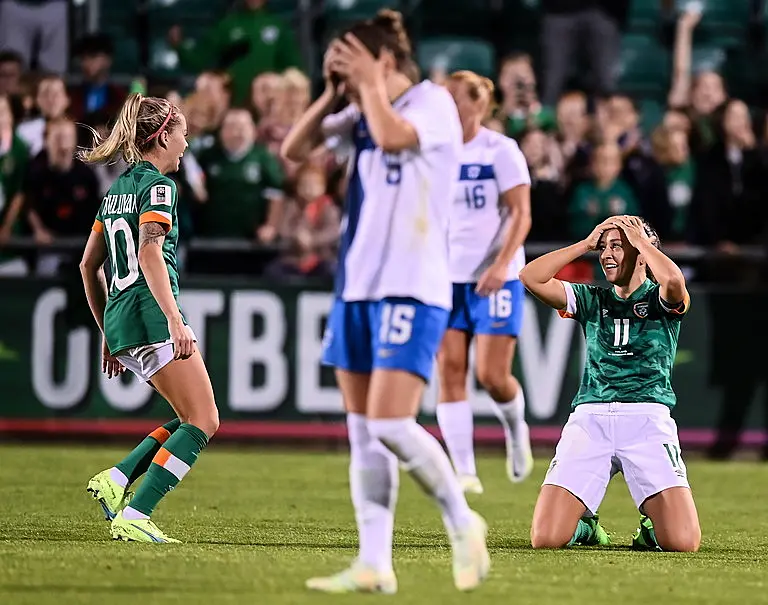 This game was played in front of a record crowd for an Ireland Women's game, with 6,952 packed into Tallaght Stadium. It certainly showed on the night, with those in attendance producing a stunning atmosphere throughout. The scenes at the final whistle spoke volumes.
As this team continues to grow in popularity, it seems inevitable that they will eventually play in the Aviva Stadium. Some even suggested doing so for this fixture, something Katie McCabe was against.
She said that the Tallaght crowd is something this teams needs to harness in order to maximise their chances of success. However, she also revealed she has spoken to Arsenal teammate Beth Mead about the possibility of playing a friendly against England in the Lansdowne Road venue in the near future.
That's what I want - before we go talking about Avivas and everything else, I want to pack out Tallaght Stadium game after game.

You can see the atmosphere it creates, it's unbelievable. You've got the fans on top of the players, really cheering us on. You can see it the last four minutes, the board goes up and they just erupt and give you that extra bit of strength and energy to keep going.

You forget about your cramp or whatever, you just keep running for them. That's what I love about Tallaght Stadium and that's why it's our home...

I've already tried to speak to Beth Mead about that and arrange a friendly for November. She loved it, so we need to make it happen. It would be a dream to play at the Aviva.

We know Tallaght Stadium inside and out. It has been our home for the last six and a half years since I have been here. So I don't know why we would want to familiarise ourselves with something else on such a big occasion.

I don't mind playing in the Aviva in a showcase game against the USA, England or whoever it might be. But to change venues in the middle of a qualifying campaign is a no for me.
Ireland will now quickly switch their focus towards the game in Slovakia on Tuesday night, where a victory will be needed in order to have chance of being seeded for the play-offs.
They will certainly enter that game on a high, with next month's decisive games just around the corner. The entire squad will be hoping to make further history on that occasion.