Incredibly, today marks the 16th anniversary of George Best's death. Probably the greatest footballer to ever come from this island, he was a Manchester United legend, as part of the "Holy Trinity" of Best, Law, and Chartlon. The Belfast man won European Player of the Year in 1968 and was United's top goalscorer for five consecutive seasons.
Best was also one of the first celebrity footballers, which tragically contributed to his downfall. He famously said "If you'd given me the choice of going out and beating four men and smashing a goal in from thirty yards against Liverpool or going to bed with Miss World, it would have been a difficult choice. Luckily, I had both."
His extravagant lifestyle was an unfortunate catalyst for his subsequent alcoholism and Best quit Manchester United when he was just 27. He was coaxed into a return after and had spells at numerous clubs before officially retiring at 37.
In his short time at United though, Best became probably the club's most famous and celebrated player and is a name still synonymous with Old Trafford.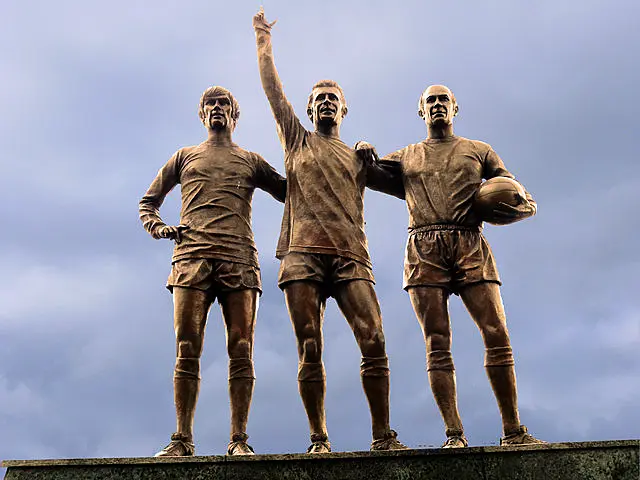 Journalist Jonathan Wilson has documented Manchester United's history in a fascinating book called the "The Anatomy of Manchester United: A History in Ten Matches". In it, he has chosen ten pivotal games that made the club what it is today.
Best naturally features prominently, and in the book, Wilson tells an extraordinary tale that perfectly sums up the madness that surrounded George Best in those incredible days.
In 1969, he had persuaded a Danish newspaper to track down an admirer for whom he'd signed an autograph, Eva Haraldsted. Within eight days they were engaged. Within ninety-one, they'd split up. She sued for breach of promise and while the case was going to trial, Best became involved in a fracas in a nightclub with her new boyfriend, the boyfriend's brother and a friend. Pat Crerand stepped in to support him and a fight broke out.
Best did get married twice to two former models, but that wasn't until much later with his first wedding in 1978, nine years after this incident. This story takes a bizarre twist when Crerand, also a former Manchester United player and now MUTV commentator, sought legal representation.
Crerand, having been accused of assault, was represented by George Carman, who would later defend the Liberal leader Jeremy Thorpe on a charge of conspiracy to murder and then become famous as an expert in libel law. Best seduced Carman's then-wife as the lawyer lay drunk on the sofa downstairs. Two years later, Carman appeared on Best's behalf in another case and the affair was resumed. Carman found out and approached a local gangster, asking him to break Best's legs in retribution. The gangster, though, was a United fan and not merely refused but threatened violence to Carman if anything should befall Best.
Incredible. The affair did ruin Carman's marriage, as his son revealed in his book in 2011.
Best went on to avoid grievous bodily harm from a gangster and enjoy a career that would see him later become one of the first players inducted into the English Football Hall of Fame.
Jonathan Wilson's book 'The Anatomy of Manchester United' is available to purchase.