When Hull City announced the signing of Liverpool's Lazar Markovic on loan until the end of the season, I, like many, many others, did not consider it the type of signing that could turn the club's fortunes around.
And yet, upon hearing the final whistle at The Emirates on Saturday afternoon, I realised that of all the players I had just watched, the most impressive was the Serbian who has already been written off as a flop signing by Liverpool.
Now, I'm not trying to argue that Markovic is the man to kick Liverpool's bid for a title up a gear, he's still got a long way to go, but against Arsenal this weekend he showed exactly why the Anfield club took the decision to sign him in the first place.
He was everywhere. Beating players, threading through dangerous passes, testing Petr Cech.. Markovic, along with fellow Hull newbie Kamil Grosicki, has transformed how Hull are playing.
Up until Christmas the Hull City plan was seemingly to park the bus for 90 minutes and hope a chance falls to Abel Hernandez, but now with a dynamic and pacey front three, they can cause genuine problems for teams on the counter, and their surprising and impressive turn in form is a testament to the excellent job that Marco Silva has done. Hang your head in shame, Paul Merson.
Silva knew of Markovic's ability having seen what he could do in the Portuguese league, where one season was enough to convince Liverpool to buy him, but fans in England had not yet seen his best until Saturday afternoon. Even some Liverpool fans were stunned to see what they saw.
Who's this lazar markovic chap for hull? Can't be the same we saw for Liverpool! Looks a different player! He's roasted arsenal all game ??

— Drew (@horkstar) February 12, 2017
How good was @LMarkec50 yesterday though! Top player finally showing his quality against a good club too

— Nathan Fisher (@Nfisher2502) February 12, 2017
I would be really happy if Marco Silva could help Lazar Markovic regain his confidence and make him perform #LFC

— Abhinav Katkam (@LFC_Joker) February 12, 2017
Looks like @LMarkec50 had a great game for Hull yesterday. Hope you're watching #Klopp

— Leigh Striped Sight (@stripedleigh) February 12, 2017
But aside from Liverpool fans being really happy with what they saw when they watched him, nobody has praised him at all.
I tuned into Match Of The Day on Saturday night, expecting a player spotlight on him as it was clear to me that he was the standout performer, just like they had done when Harry Maguire turned heads against Chelsea a few weeks ago, but instead they showed clips of Alex Oxlade-Chamberlain running long distances with the ball before the attacks fizzled out into nothing.
It was bizarre. 'The Ox' had a good game, and is someone who deserves more of a chance in that Arsenal team for what it's worth, but the clips were telling, and it seemed strange that Markovic skinning defenders and having the home fans on edge all game was completely brushed over. Maybe it always has to be an English player? (Two Paul Merson digs would be too much, wouldn't it?)
Instead, they showed all of Hull's dangerous attacking play into a compilation entitled 'Dangerous Tigers', all of which featured Markovic, and yet they didn'nt mention him once.
That is baffling because Markovic was everywhere, as reflected by his touch-map [via HullDailyMail.co.uk]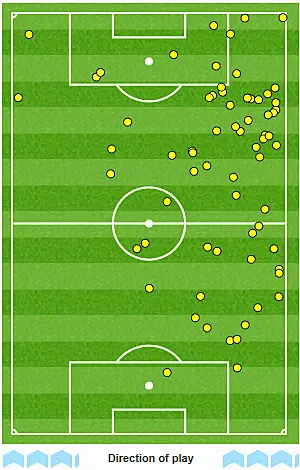 He should have had an assist to his name too. With the score at 1-0 he picked up the ball at the half-way line and flicked his way past Alex Iwobi with ease, charged into open space before making Lorent Koscielny look very average to get into a position to whip a cross in, and then he flashed a tantalising ball across goal where Oumar Niasse would have been if he hadn't inexplicably halted his run seconds too early.
Again, this is not to say that Lazar Markovic is a world beater, or that he will return to Liverpool and make an impact, but I just think that with so much time for analysis in modern football coverage, it's odd that nobody has stood up and said that he was class on Saturday. Because he was. In fact, he's played well in every appearance he has made for Hull so far.
There is a noticeable tendency to write-off players that arrive in England for decent money and don't hit the ground running as flops, and I believe that Markovic is a victim of that. It makes a big difference when a manager has confidence in you, and Marco Silva certainly appears to have that in the Serbian.
Expect more of the same from Markovic in the coming weeks, and don't be surprised to hear a few more Liverpool fans claiming that he deserves another chance.