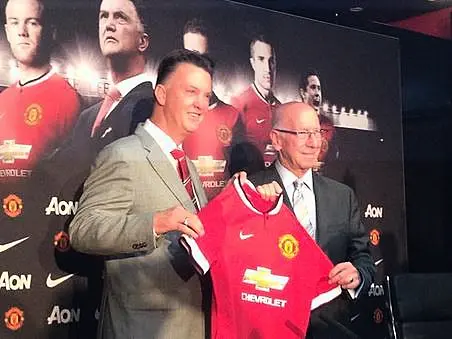 Louis Van Gaal has just completed his first press conference as Manchester United manager. Here are some of his quotes.
I will give my utmost best. I cannot give predictions because you never know. It's the biggest club in the world (although he added later on) In sport you are never the biggest club because every season you have to prove.
On Class of 92 input
Nicky Butt is already assisting us. Paul Scholes, we shall find a role for him, also for Phil Neville I believe. That's what we believe but it has to also be possible. But we have to also adapt to the qualities of these persons. It is not an easy job. We have to speak about that with them and that's why we have to wait and see.
On his personality
I'm always the same person. When I was 39 when I began as a head coach of Ajax until now the personality has not changed, the same personality. But autocratic and strong personality is not the same word and more or less lots of people are thinking it is the same word. I have a strong philosophy, every year I have trained it is confirming this philosophy. Sir Alex also has a strong philosophy... I think he has a very good philosophy.
On expectations
I think I can do (fulfil expectation) but because of the greatness of the club its much more difficult than at another club. This club is also guided in a commercial way and we have to fulfil that also, and that is not always possible to fulfil the commercial expectations and the football expectations. So that is my big challenge, I think after two days.
On youth v experience
It is very important that we have experienced players but not only in age, not only in football experience but also as a human being because my philosophy is not only the football player but in total.
On any plans for future signings
In the first three weeks I want to see what the players can do under my philosophy. Then maybe I will buy others.
He also confirmed that Michael Carrick would be injured for a while and said there would be no 'imminent signings.' He wants to give the current squad a chance to see if they can fit into his philosophy. Here's a flavour of what twitter is saying about the press conference.
Van Gaal: "I've worked at the number one clubs in Spain, the Netherlands and Germany. Now I'm at Manchester United - number one in England."

— Manchester United (@ManUtd) July 17, 2014
Louis van Gaal confirmed that midfielder Michael Carrick is injured and will be out for "a long time." #MUFC — Devils of United (@DevilsOfUnited) July 17, 2014
Louis van Gaal on Manchester United "This is the biggest club. But last season it wasn't. They finished seventh." — FM104 (@FM104) July 17, 2014
Van Gaal on the captaincy: "All the players are candidates. It's an important role. I need time." — Rob Dawson (@RobDawsonMEN) July 17, 2014
#LouisVanGaal says he is a democrat with an empathetic personality. And a strong personality pic.twitter.com/Vn4yXP5kZ4

— John Sutton (@johnsuttonvidz) July 17, 2014
Van Gaal - right off the bat, and not happily - raising issue of MUFC's commercial motivations and hunger for sponsors was fascinating. — Jonathan Northcroft (@JNorthcroft) July 17, 2014
Van Gaal wants to assess his squad before making more signings. Says he approved Shaw & Herrera who were already on #mufc shopping list

— James Robson (@JamesRobsonMEN) July 17, 2014