In the twenty-first century, we have our regular lives and then we have our online lives: in which we use social media to curate, create and project a different life for ourselves. For some people - those who essentially live online - both of these separate lives have pretty much welded together to become one. For most of us, however, the person who takes a photo of their lunch is very different to the person who eats it.
For Liverpool's Mamadou Sakho, the line is increasingly blurred, as he can't get in the Liverpool team any longer while at the same time ramping up his social activity.
The defender is a fan's favourite: mixing occasionally brilliant defending with his slapstick shtick; a man who jerks and contorts like a distress signal made human. His community work and the fact he's hit on Liverpudlians as feeling entirely separate to the rest of England (declaring post-Dortmund that this is for the 'Liverpool country') have made him a cult figure at Anfield, best distilled in his song:
He's big, he's Scouse, he's gonna paint your house.
These images of Mamadou Sakho painting a house are stunning http://t.co/uivk7YoxMY pic.twitter.com/RkoUHx3sbu

— justin block (@JBlock49) February 13, 2015
Unfortunately for Sakho, he hasn't played for Liverpool since April, with an astonishing accumulation of misfortune: spurious drugs ban, Achilles injury and, most recently, a falling-out with Jurgen Klopp.
On the club's pre-season tour of the States, Sakho proved himself to be a content machine, interrupting Jurgen Klopp's press conference at Alcatraz when the club handed him a Go Pro to go off and make some #content. Sakho's failure to stay focused on the tour ultimately cost him: Klopp sent him home having turned up late to a team meeting. The Go Proing fed into a further perception of Sakho not keeping concentration on the job at hand, regardless of whether it is true or not.
Since then, Sakho has not played for the club, and was told he should go out on loan to regain match fitness, something he refused to do.
Now, in a further act of Content Creation, Sakho has taken to Snapchat to explain his situation to the fans. Here are the picture, posted at 3am: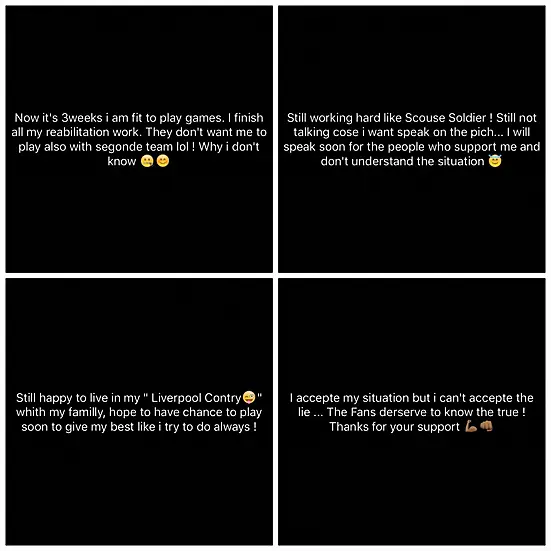 We're not sure whether Kloppo has his players on Snapchat - or indeed if Klopp uses Snapchat, but it's safe to assume he doesn't, as the club's commercial department would have found a way of using it - but when he hears about this, it's likely Sakho's chances of making the first-team will diminish further.
Those who had hoped to see Sakho play for Liverpool again may be waiting for a very long time yet.