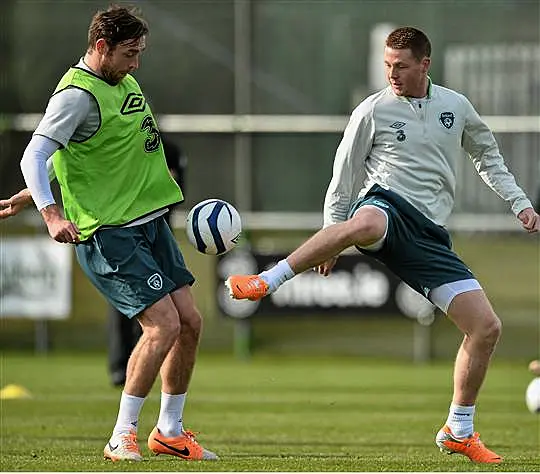 United fans look to be set for further disappointment in the German transfer market as their most recent target; Thomas Muller, looks likely to spurn any offer from Van Gaal's side - according to The Guardian.
Muller, who is under contract with Bayern until 2017, seems to be content with life at the Allianz Arena where he is a regular starter: Employed as a sort of attacking midfielder/forward, Muller enjoyed yet another successful season in 2013/14, finishing as top scorer in the German Cup with 8 goals in 5 appearances. Pep Guardiola and Bayern un-surprisingly are unwilling to sell.
Muller has played under Van Gaal before: When at Bayern, The Dutchman gave Muller a string of 1st team opportunities - a platform he used to spring himself into the 2010 World Cup squad. No doubt Van Gaal will have attempted to take advantage of their association in trying to lure him to Manchester.
There could be some joy closer to home: Sky have reported that James McCarthy is now a top transfer target for United who may try to attempt a swap - bringing McCarthy to Old Trafford and sending Tom Cleverley in the opposite direction.
The Republic of Ireland international only moved to Goodison Park on deadline day on September 2 last year when he followed Roberto Martinez from Wigan. Martinez is apparently a fan of Tom Cleverley, who hasn't made his mark at Old Trafford since breaking into the first team, but could maybe re-invent himself at Goodison Park - although that looks unlikely based on current form.
Everton will not want to part ways with James Mc Carthy, who enjoyed a great league season, that was pretty much the polar opposite of Cleverley's. The Toffee's are looking to open talks with the 23-year-old over a new deal, but news that United could be ready to make a move, may throw a Cleverley-shaped spanner in the works.
Van Gaal has also back-tracked on the clubs pursuit of Cesc Fábregas, who is no longer a target. Similarly, reports have suggested that Toni Kroos, Müller's Bayern team-mate, will not be coming to Old Trafford either.
Kroos had originally been targeted by David Moyes who was impressed by the German's defensive displays in the Champion's League. Moyes' views were echoed by Paul Scholes who believes that Kroos should be a 'priority' for United.
[Sky Sports]