Former England and Tottenham footballer Paul Gascoigne has responded to a sexual assault charge which came to light this morning.
A spokesperson for British Transport Police revealed that Gascoigne was reprimanded in relation to an alleged sexual assault of a woman on a train to Durham on August 20th:
A man is due to appear in court next month charged in connection with the sexual assault of a woman on board a train from York to Durham.

Paul Gascoigne, of Amy Street, Leicester, was charged via postal requisition with one count of sexual assault by touching, contrary to section 3 of the Sexual Offences Act 2003.

The charge relates to an incident on board a train on 20 August this year.
Gascoigne has since come out and defended himself in a series of scattershot tweets:
Hi as you know I've been charged with a sexual assault from 4 months ago plus the police who charged me asked me for selfies & an autograph?

Why if I did wrong ok I'm sticking up for myself my manager SHANE said say nothing leave it to the lawyers no I'm my own lawyer I did f*** all wrong.
This tweet was deleted along with another where Gascoigne gave his version of events that the incident with the woman surrounded someone on the train calling her a 'fat cow', which spurred the former footballer to console her.
Gascoigne went on to make some more rambling tweets in his defence, stating that he was 'hurting' from the charge:
Report says I was in Durham ha no they came to my place in Newcastle&said they want a chat to help my case yeh right got questioned? Asked do I need a lawyer, then asked for a selfie&do I miss football it's ok i suppose there only doing there job but deep inside I'm hurting.

My niece&nephew who were hospitalised because they were called fat at school &refused2eat,I was called fat it's ok I'm just sad about it as I respect all women I've a MAM2sisters2nieces a daughter so why assault x just so pleased that everyone I know they no it not true.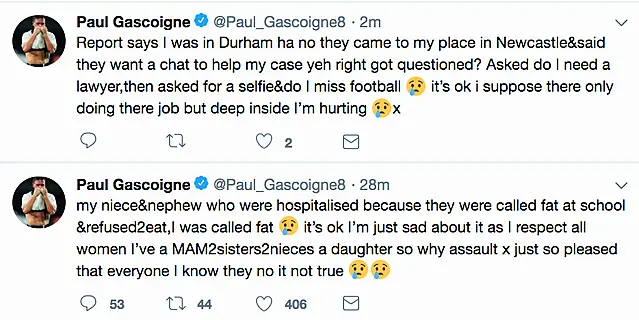 In his final two tweets the 51-year-old again denied the charge:
Ok I'm crying my eyes out las twee I will f****** guarantee YOU'S I DO NOT ACCUSE ABUSE OR USE WOMEN IVE SOOOO MUSH RESPECT FOR WOMEN AND MYSELF X BIG HUGS FROM GAZZA OH INFACT I BETTER NOT SAY THAT.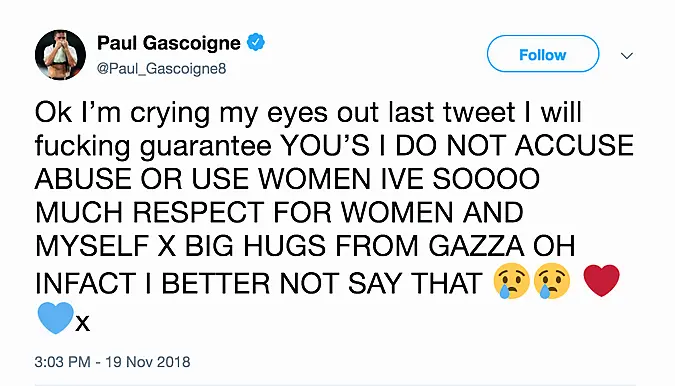 Ok I promise2delete my tweets but just1last tweet then I'll delete WHAT DO I DO WHEN A WOMEN WANTS A SELFIE&A KISS ON MY CHEEK? Do I say oh that's a sexual assault if so I'd be in court4the rest of my life x FFS IM GETTING accused Y FOR CARING4some1 that got called a fat cow.