Every week with the Premier League Crisis Table we overreact to the plight of the teams populating the league.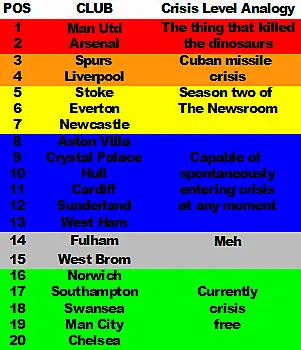 The new Premier League season is but a day away and Man Utd and Arsenal top our pre-season crisis table as they continue to stumble around the transfer market with the success of two drunk men in a nightclub throwing misguided advances at numerous attractive females.
David Moyes is akin to someone who just got himself a nice new job in a bank and is desperate to prove himself to his new colleagues by taking home most attractive woman he can find. Times are getting tough though and he must be really annoyed with how his new friends continuously go on about the prolific nature of the man who previously had his job.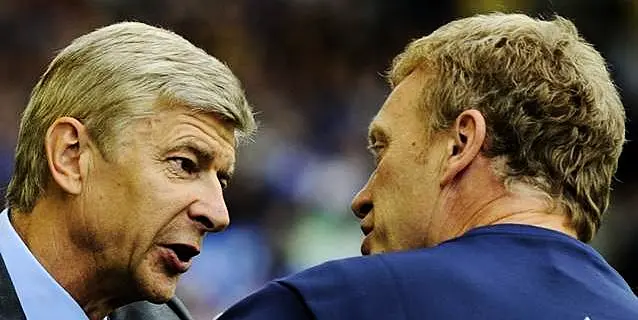 While Arsenal, oh Arsenal, have spent less money this summer than I've spent on my lunch today (tuna salad from Spar). They've turned up at the nightclub in their band new shirt and jeans ready to splash the cash and impress everyone but then as they go to pay for the first round, realise that they've forgotten their Laser card. And now they've got an injury crisis on top of all that.
Spurs are in danger of losing their talismanic, world-beating, can't operate without him, key man Gareth Bale. The Welshman is now apparently 'blanking' AVB, surely a major blow to Spurs in terms of being able to retain his services and it's also one less compliment that Andre gets about suit and beard. Along with this they've spent a lot of money, all on players with NO PREMIER LEAGUE EXPERIENCE. Paulinho, Chadli, Soldado, Capoue, sure the names sound good but can they cut it at the Premier League's new 'cold Tuesday night at the Britannia', 'a cold Tuesday night at Upton Park'?
Liverpool's frosty relationship with Luis Suarez continues though it looks as if he's about to beg forgiveness from Brendan Rodgers like Gollum begging forgiveness from Frodo. At the centre of their defence this year could be a man who pretty much left Arsenal in a mobility scooter, Kolo Toure, a move that can only end badly.
It looks like Stoke have completely lost the identity that kept them in the Premier League under Tony Pulis. As we mentioned earlier, they've lost the position as the Premier League's watermark for whether or not a player can cut it in the league. Also, they're signing players from Barcelona for god's sake, their goals against numbers are sure to shoot up, what with them now having full backs who'll try to 'play' their way out of trouble. Would somebody please think of poor Andy Wilkinson?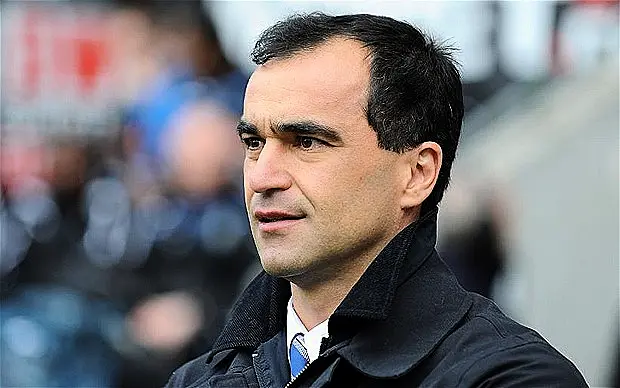 The only way is down for Everton as Roberto Martinez continues the Wiganisation of the club. He's already signed Arouna Kone, Antolin Alcaraz and Joel Robles. Surely it can't be too long until Seamus Coleman is deemed surplus to requirements and is replaced by Emerson Boyce. Is it too late for Everton to cut their losses and return to the tried and tested dour Scot at the helm? What's Alex McLeish doing these days anyway?
At the other end of the table everything is looking rosy at Man City and Chelsea. City now have a manager who can speak really good English which will no doubt help in his attempts to communicate with all the Spaniards, French and South American players at the club. They've spent bucket loads of cash again which absolutely, 100%, no doubt guarantees success (Alvaro Negredo is definitely going to finish every goal like this).
Chelsea are the least in crisis club in the Premier League going into tomorrow's opening games. Their saviour has returned to rip them from the clutches of the unmitigated, trophy-winning, Champions League qualification attaining catastrophe that was Rafa Benitez. There's more chance of the Dublin sky turning pink than the return of Jose to Chelsea being a disaster.