Another week down, another week of total meltdown for some, and redemption for others.
Here are this weeks standings in the Premier League crisis table, taking into account how each club is currently feeling after an eventful week of Premier League action.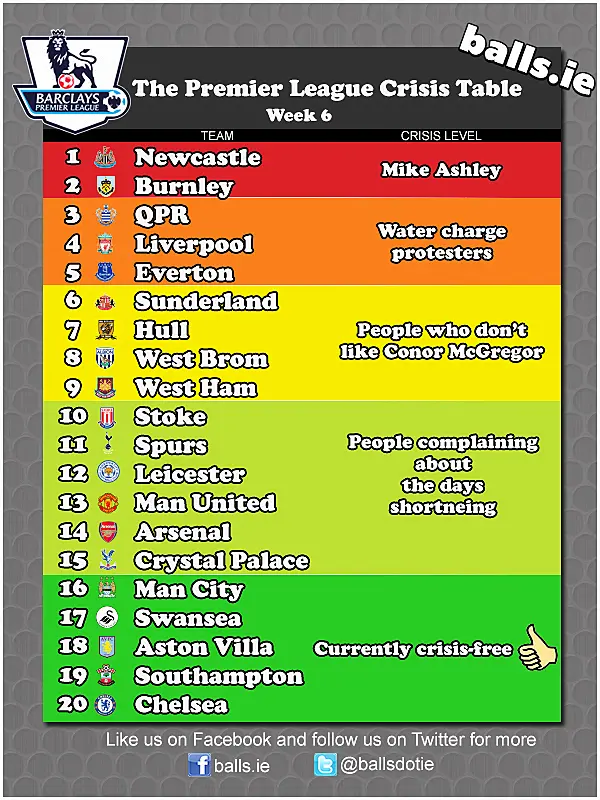 Newcastle's troubles are well known. The fans want the manager out, the manager looks like he's given up all hope, and the owner, well the owner is Mike Ashley. Burnley are also deep in it, after a slow start to the season they went and got battered 4-0 by West Brom, who themselves had a slow start to the season. It doesn't look good.
Liverpool remain on the verge of a full blown crisis after they conceded a last minute equaliser straight out of Phil Jagielka's dreams, and lost further ground on their Champions League spot rivals. Everton too are having a tough time of it as the performances have not lived up to last season, both clubs need to turn it around, and quick.
Sunderland, Hull, West Ham, and West Brom, are about where they would have expected to be at this stage of the season, but all will feel they can kick on and do better.
Man United fell back out of the crisis zone after a win at home to West Ham, but are without Wayne Rooney for the month of October after an idiotic red-card, their position in the green zones is certainly not stable. Spurs and Arsenal will no doubt wish they had more points on the board, but can't complain too much about their league position. Leicester may have lost to Crystal Palace, but are still having a good time of it in the top tier.
Chelsea are very comfortable at top spot, and Southampton are in dreamland, along with Villa and Swansea who are still enjoying their lofty positions in the league table, and City are starting to get back in stride after a blip.