We're celebrating Cork Week at Balls.ie this week, revelling in and regaling tales of old from the storied history of Cork sport.
As part of Cork Week, we've asked you to vote for the 'Mount Rushmore' of Cork sporting icons, beginning with football of the non-Gaelic variety.
With just six candidates to choose from in our poll, we felt compelled to bring in five more highly-regarded names and compose a footballing XI made purely of Corkonians.
Please note that the Rebel county's propensity for producing stylish central midfielders has forced us to field a narrow 4-2-3-1 formation, with no wingers per se but rather three 'attacking midfielders'.
Goalkeeper: Colin Doyle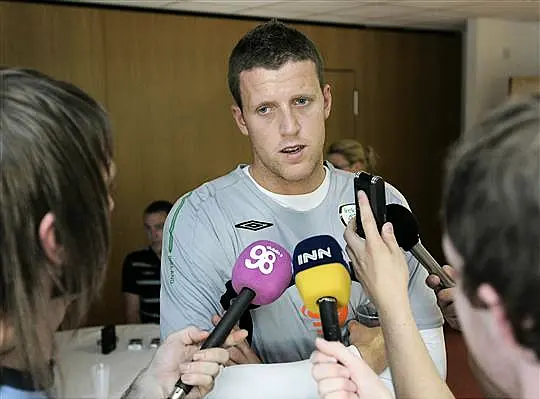 The Douglas man edges out Cork City legend Mike Divine on the basis that he managed to forge a solid career for himself in England, and remains on the fringes of Martin O'Neill's Ireland setup.
Having made waves at Douglas Hall AFC, Doyle became a perennial backup following his much-heralded move to Birmngham in 2003. He made 63 total appearances for the midlands club and embarked on a number of loan deals before moving to Blackpool last season, where he played 35 times. A move to League One Bradford followed Blackpool's relegation to the division below in the summer - the deal cost Bradford just £1, with Doyle's contract dictating that he could depart on a free in the case of relegation, but FA rules technically forbidding such a departure.
Doyle is now a mainstay in Stuart McCall's squad; he's played 19 times for the Bantams already this campaign, earning himself an international recall in November after seven years removed from the Irish setup.
Left-back: Noel Cantwell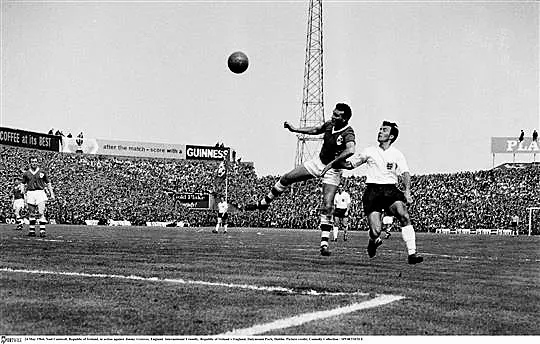 A proud Pres man, Noel Euchuria Cornelius Cantwell joined West Ham from Cork Athletic in 1952, starring at left-full for the Hammers for eight seasons and captaining them to promotion in 1957/58 before travelling north to join Manchester United side two years into their recovery from the Munich Air Disaster, in 1960.
He signed for a fullback's record fee of £29,500, winning the 1965 and 1967 league titles along with the 1963 FA Cup- the final for which he was named captain by Matt Busby.
Cantwell made 36 appearances for Ireland, scoring a massive tally of 15 goals - although he was occasionally deployed as a centre forward and also scored five penalties.
One of the finest fullbacks of his era, one of Cantwell's career highlights would arrive when he captained Ireland against England at Wembley. He also made five appearances for the Ireland cricket team in the '50s.
Centre-back: Damien Delaney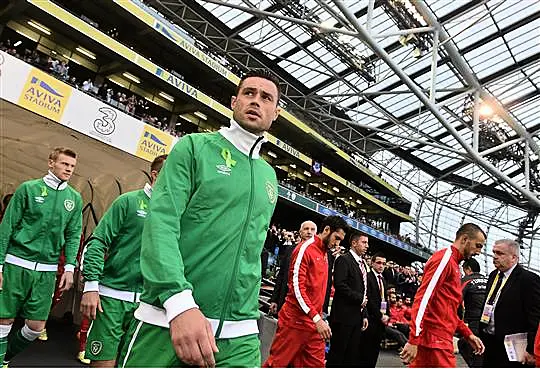 Like Denis Irwin, a graduate of Coláiste Chríost Rí secondary school in Turner's Cross and, like Irwin, a former Cork minor - but in football. Delaney hit 2-2 in the Rebels' Munster Minor final against Kerry, starring in Cork's run to the semi-finals.
He too committed to the 'the soccer' after school, however, spending two years at Cork City beginning in 1998. The Douglas defender was named Hull City's Player Of The Year in 2003/2004, also winning the club's Goal Of The Season for that campaign. Adding to his 'cult hero' status at Hull, he scored the final ever goal at the club's old ground, Boothferry Park, prior to their move to what is now the KCOM Stadium.
Delaney's best football, however, has arrived in the midst of his thirties; he left Championship Ipswich by mutual consent in 2012, joining Crystal Palace on what was then a temporary deal until the following January. From 2013, however, his Palace career has gone from strength to strength, and he's currently 11 games into his fourth Premier League season, and a key figure both on and off the field for Alan Pardew's side.
Centre-back: Charlie Hurley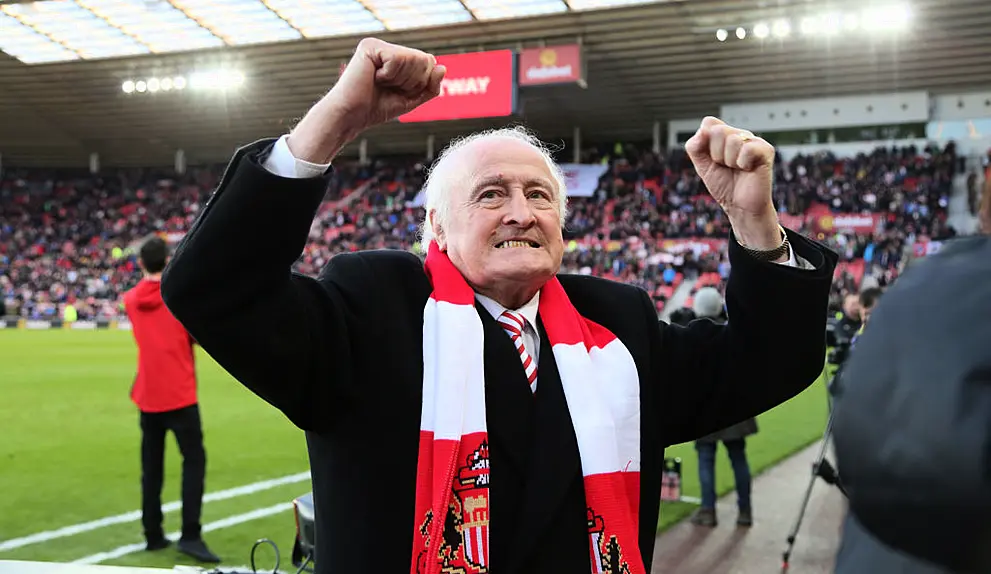 'The King' was named Sunderland's Player of the Century during their centenary year in 1979.
Born in Cork in 1936, Hurley moved to Essex with his family at just seven months old. He later survived the Blitz, with many football fans in Cork maintaining to this day that he did it to send a message to future English strikers, as much as anything. He would go on to foil the Germans once more when selected for a composite London side - England's first ever entrant to European competition - who beat Frankfurt 3-2 at Wembley in the 1955 Inter-City Fairs Cup. The Daily Mail's headline following the landmark victory read, 'HURLEY HOLDS THE GERMANS'.
Indeed, the Mail's love affair of Hurley would continue; two years later, he made his Ireland debut against England in a 1-1 draw at Dalymount Park. Just 11 days previously, England had triumphed over a Hurley-less Ireland by a scoreline of 5-1, with Man United striker Tommy Taylor bagging a hat-trick. Hurley was adjudged to have dominated Taylor in the return fixture, aged just 20. The Mail wrote of his performance:
...it was the Irish who produced the new great world-class footballer in centre half Charlie Hurley. Half the clubs in the First Division will soon be knocking on Millwall's door offering £25,000 for him.
Sure enough, just four months later, Hurley joined Sunderland where he went on to make 402 appearances across 12 seasons, scoring 23 goals for the Mackems.
Right-back: Denis Irwin
A champion chess player in his youth, the Togher man supposedly marked future Ireland teammate Niall Quinn in the 1983 All-Ireland Minor semi final; as tall a tale as it sounds, Irwin and Quinn did indeed both start the game for Cork and Dublin respectively.
That same year he arrived at Leeds, but he would go on to become a legend across the Pennines two decades later. By the time he departed Manchester United, he had won seven Premier League titles, three FA Cups, a league cup, a Champions League and a Cup Winner's Cup.
Alex Ferguson once said of Irwin that, of all the players he'd managed at Old Trafford, Irwin was the only guaranteed fixture in a hypothetical, all-time Fergie XI.
He scored 33 goals in 529 appearances for United, and four in 56 games for Ireland.
Left attacking midfielder: Patsy Freyne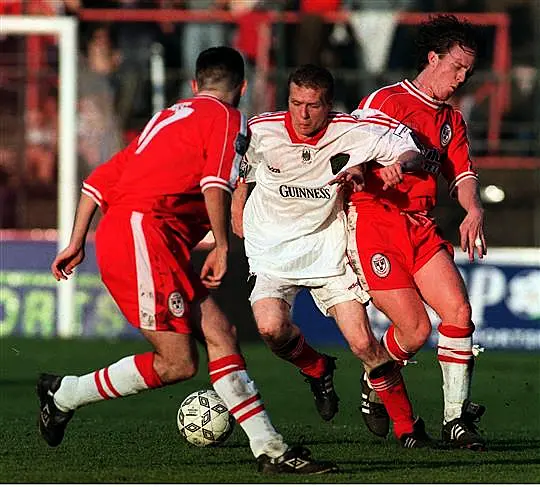 You might describe Freyne as the Juan Román Riquelme of Cork football, except to our knowledge Riquelme never smoked cigarettes at half-time down the Bombonera.
Perhaps the most outrageously gifted footballer never to come out of Cork, Freyne remains a Cork City icon following a storied career and notorious midfield partnership with Dave Barry in the early '90s.
Barry would later tempt his old friend out of retirement after a brief spell at Cobh and three years away from League of Ireland football - this during a meeting while Freyne was lording Everton's midfield in the Munster Senior League.
His return to league football saw him win Player of the Month in November of 1996, before netting a 90th minute winner to break Finn hearts in Ballybofey the following month. It was as if he'd never left, and once more sparked questions as to what he might have achieved were he not so fond of nights on the razz in his heyday.
Nonetheless, the midfield magician won a rake of honours with City in the '90s, including league and FAI Cup triumphs on either side of his three-year sabbatical.
Centre mid: Roy Keane
Keane requires no synopsis, really, and so instead we leave with an extract of his scarcely-seen 2014 talk at UCC, when RTÉ's Tony O'Donoghue asked Keane to clarify if the rumours were true that he once signed for Cork City as well as his actual former club, Cobh Ramblers:
I think I signed for them upstairs in Le Chateau. I wasn't drinking at the time, don't worry! Nah, I signed for Cork City - obviously Cobh and Cork City at the time were dangling the carrot for me.

I was leaving Rockmount to go on the FÁS course. Two players from each League of Ireland team could go on the FÁS course up in Dublin. I signed for Cork City and I'm not sure they could guarantee [a place in the FÁS course] to me, to be honest with ya. And Cobh got in touch and said they could.

I literally signed for Cobh two days later, maybe even a day later. They sent up the forms and they got it to Dublin quicker. But I got charged! The FAI charged me. That was probably the start of things to come...

They charged me, which... rightly so, because you're not supposed to sign for two clubs. They fined me 100 pound - Cobh paid it to be fair to them.
Centre mid: David Meyler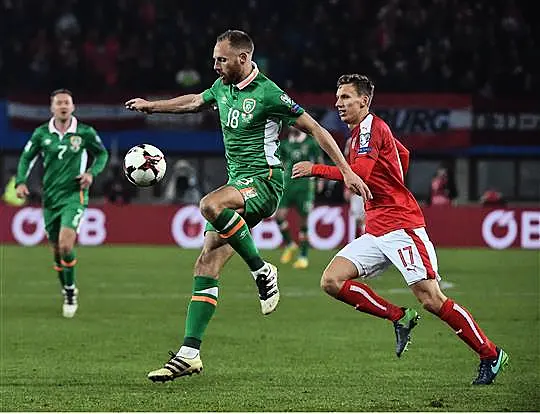 Despite attending CBC - the Cork school which has produced Ireland rugby internationals such as Donal Lenihan, Noel Murphy, Donnacha O'Callaghan and Tomás O'Leary - Meyler graduated from Stevie Hogan's famed 'Academy' on Sydney Hill with the round ball at his feet.
He joined Cork City from Cobh Ramblers' underage setup (having starred as a schoolboy at boyhood club Corinthians) in 2008. He impressed for City's u-21s before being snapped up by Roy Keane at Sunderland that same year - along with Roy O'Donovan - having never made a senior appearance for City.
The 27-year-old scored Hull's fifth goal during their 5-3 defeat of Sheffield United in the 2014 FA Cup final, also starting the 2015 final vs Arsenal.
He's now an 18-cap international for Ireland, with his finest performance to date in a green jersey arriving just three weeks ago as Martin O'Neill's side beat Austria in Vienna.
Central attacking midfielder: Stephen Ireland
The renegade Cobh man remains as much a mystery to the people of Cork as he does the rest of Ireland, much like his hometown.
Born into a Cobh Ramblers family, Ireland had a number of trials in England before Man City looked beyond his Osgood-Schlatter disease in 2001. He won Man of the Match on his Premier League debut against Everton in 2005, and after four fruitful seasons, was named Manchester City's Senior Player of the Year for his stylish performances throughout the 2008–09 season. As a result, secured a new five-year contract, which was set to keep him at the club until 2014.
Just seven months later, he was totally out of favour under new City boss Roberto Mancini, and was eventually sold for £8m and, well, James Milner, which speaks to his perceived value at the time.
Sandwiched between this acrimonious departure from City, of course, was a brief international career which saw Ireland net four times in his only six appearances for Ireland, including Ireland's first ever goal at Croke Park - a winner versus Wales.
It seems incredible to think Ireland is still just 30 years old, with his career having failed to reignite under old boss Mark Hughes at Stoke. He suffered a broken leg in May on the back of a season which saw him earn a grand total of zero Premier League starts.
Right attacking midfielder: Dave Barry
A long-reigning Cork City midfield maestro as well as a right-half forward in the Cork team which won Senior All-Irelands in 1989 and 1990, 'Davey boy' remains an institution on Leeside.
Barry made his League of Ireland debut during Cork City's first ever game back in 1984, going on to win a league title and numerous domestic cups, as well as scoring a famous goal against Bayern Munich during a 1-1 UEFA Cup draw in 1991. Sweet revenge, then, on Stefan Effenburg, whom earlier described City's talisman Barry as looking like his grandfather. His goal at Galatasaray a couple of seasons later is somewhat less heralded; indeed, Barry himself claimed to Balls.ie in an upcoming interview that he didn't even score it.
He went on to manage City to their second ever FAI Cup success in 1998, just five years after winning the league as a player.
He's widely regarded as one of the most gifted and successful sportspeople ever to emerge from Cork, and is adored countrywide, as is seen when he's showered with confetti every time he enters Tallaght Stadium.
Striker: John Caulfield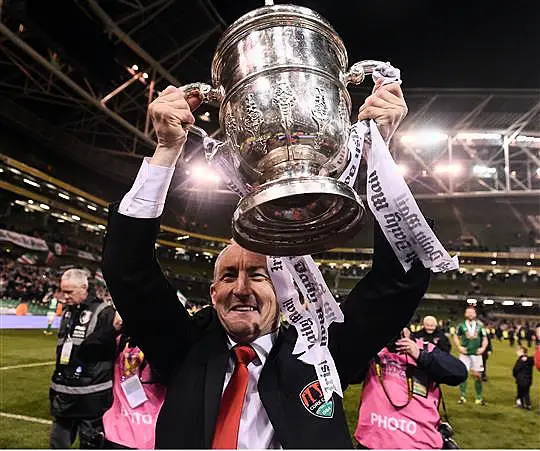 Cork City's joint all-time record scorer gets the nod over his strike partner and equal, Pat Morley, on the basis that he never fecked off to Shels.
The scorer of City's first ever hat-trick was indeed born in the Bronx and raised in Roscommon - who he represented as a minor - before relocating to west Cork with his family at an early age. It remains unclear as to whether Cork claimed Caulfield or Caulfield claimed Cork, but man and City have enjoyed a hugely fruitful three decades or so since his permanent venture south.
Caulfield was the club's top scorer in both 1991/1992 and 1994/1995, winning a League of Ireland title in between as he and Morley struck up one of the most feared strike partnerships in LOI history, with Dave Barry and Patsy Freyne supplying both from midfield.
Now an FAI Cup champion as a manager, Caulfield also made a record 455 appearances for Cork City throughout his playing career, winning a league, cup and three league cups in a 15-year career.
Honourable mentions
Mick Devine, Declan Daly, Alan Bennett, Liam Miller, Joe Gamble, Colin Healy, George O'Callaghan, John O'Flynn, Pat Morley.