So, emm, it's pretty clear from his girlfriend's tweets but in case you don't get it, Samir Nasri wasn't named in France's World Cup squad today.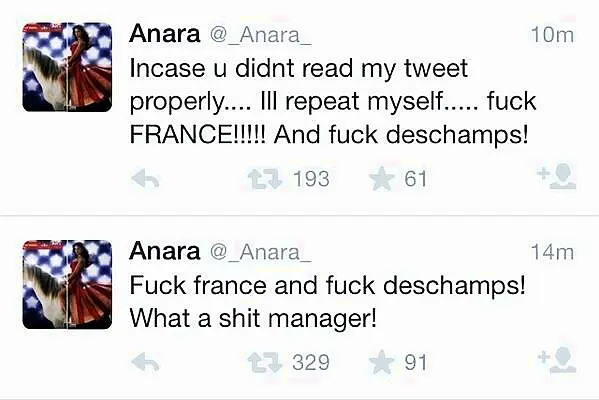 I'm trying to think 'what could happen in my life to evoke such an expletive ridden reaction from me?' ... Oh wait, I've got it ... For fuck sake Anara! It's 'should have,' not fucking 'should of'!
Nasri had already predicted he wouldn't make the squad. Before the announcement he said:
Sadly it's not going to happen, but that's fine. I am just happy I won the league and a cup this year. If that is not enough, it is not enough.

I missed a World Cup in 2010 and I am still alive and stronger than ever. I am going to watch it on TV while I am on holiday and I will be fine.
Should he have been included?