Ireland's penalty shoot-out loss to Slovakia continues to sting, but much of the post-match conversation has been dominated by events that took place away from the pitch.
Aaron Connolly and Adam Idah were forced to miss the match after they were deemed by the HSE to be close contacts of an FAI staff member who tested positive for Covid-19 after arriving in Bratislava.
The two players were sitting within two metres of the non-footballing staff member on the flight over for the game, enough to require them to isolate under Irish health guidelines. While the FAI appealed this ruling, they were ultimately unsuccessful.
Questions have been asked about how two players were placed in this situation, with the FAI and team officials likely to have been aware of this rule before getting on the flight.
However, it appears that Connolly and Idah may not have been sitting in their allocated seats, something that ultimately caused the issue.
Stephen Kenny held his pre-match conference for the Wales game earlier today when this issue was raised. When asked if the close contact with the staff member was due to the two players sitting in the incorrect seats on the plane, Kenny confirmed he believed that this was the case:
That seems to be the case, that does seem to be the case. I wouldn't have been aware of that because I was at the front of the plane...

It's something that we just have to contend with. I think without doubt that everyone can learn (from it). It's an unfortunate situation and one that we have to live with.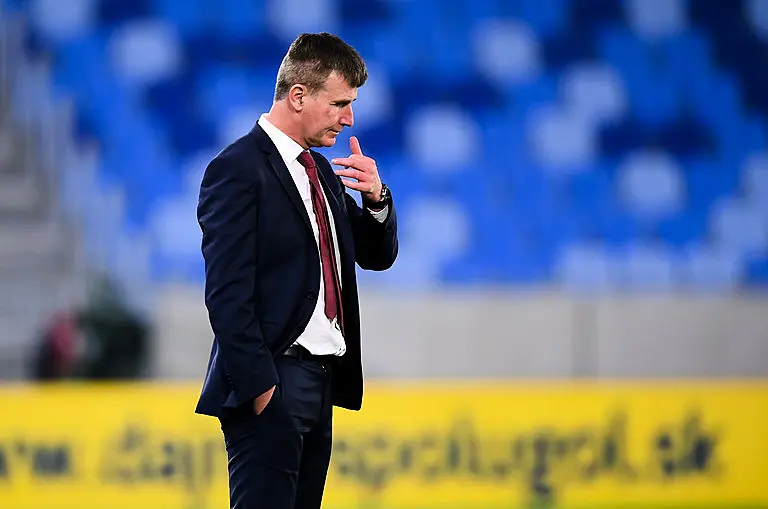 You can imagine that was a bitter pill to swallow for the players involved.
The Ireland manager confirmed that Connolly would have started the game were he available, while Idah also could have played a part off the bench.
In terms of lessons learned, it is likely the squad will be taking more precautions relating to rules such as these going forward. Kenny admitted that he felt sorry for the players, and that Ireland's more stringent rules on social distancing had ultimately made the difference in this case.
I really feel for the two players. They've come through from U15s with Ireland all the way up to U21s...

They can still play for the U21s and they're playing a match to get their team to the European Championships and it's derailed the afternoon of it.

Publicly they're named and all that goes with that, they're perfectly fine. Under UK law they're fine to continue playing, with distances and so forth.

It's obviously different medical rules in Ireland over distances. That's something that's hard to believe really, it's hard to believe.

It's something that we're just going to have to accept.

Ireland put in a spirited performance in Slovakia despite the difficult circumstances, one that featured many of the traits that have been sorely lacking from Irish teams in recent years.
They were good on the ball and creative in the final third, crafting a number of opportunities. It is something to build on going forward, starting with the game against Wales.
Kenny admitted that he was hugely proud of the performance his players put in.
I do think that the performance itself was exceptional regardless, although I would be looking to improve on it again in several aspects. I'm really devastated for the players because they deserved to go through on the night.

To go to Slovakia away from home and play as well as they, have so much possession and show a degree of creativity in the manner that they did. I'm devastated because that we all know the opportunity that existed.

To lose on the margins like that is just something that everyone will have to accept, but I cannot fault the players. They were really, really brilliant, really brilliant.