It's rare here at Balls HQ (albeit a virtual one at the minute), that we don't come to some sort of consensus when discussing matters surrounding the Ireland team. There are often a couple of disagreements, but they are usually easily ironed out.
When attempting to pick an Ireland team to take on Slovakia next week, it quickly became apparent that there would no agreement on this occasion.
That perhaps sums up the issues facing Stephen Kenny ahead of the trip to Bratislava. The fixtures against Bulgaria and Finland last month offered some signs of long-term encouragement, but it may have raised more questions than answers ahead of this particular fixture.
It is clear what Stephen Kenny is trying to do with this team, but it's also unlikely that his players will be able to carry out his game plan to a satisfactory level for this fixture.
We have the feeling that he won't compromise his vision in any sense, even for this one-off vital fixture. However, it does present some potential headaches.
Here's some of the problems Kenny will be considering, as well as some of the prevailing opinions amongst Balls staff members.
The Formation
While Stephen Kenny has said numerous times that he is not wedded to any one formation for this Ireland team, it is clear that he favours a 4-3-3 system.
It's not difficult to understand why. This is a system used by most of the top teams in world football, offering a nice balance between attacking threat, defensive solidity, and numbers in midfield. It is highly unlikely Kenny will change this for the Slovakia game, especially when you consider the minimal time he will have with the players ahead of that fixture.
That hasn't removed the presence of a potential three-man defence in this conversation.
Some variation of a 3-5-2 system would seem to suit Ireland, for a number of different reasons. Firstly, a huge number of our players thrive in similar formations at club level. Matt Doherty, John Egan, Enda Stevens, David McGoldrick, Aaron Connolly, Shane Duffy, and Seamus Coleman have played in teams that have used that system over the last 12 months or so.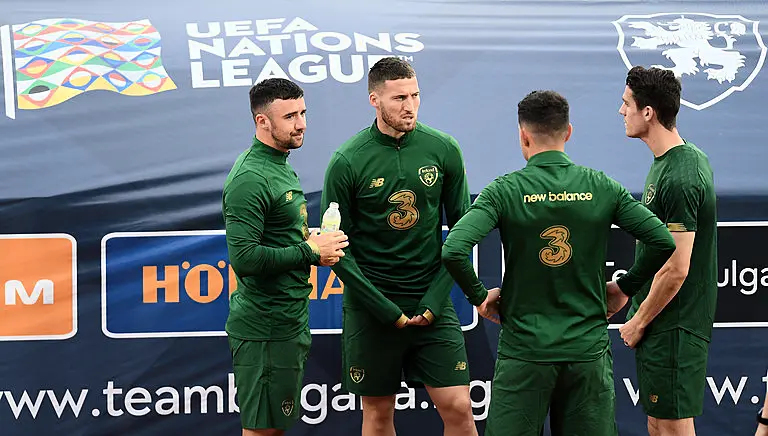 It would free Doherty and Stevens to play in the positions they have thrived at at club level. It could allow the inclusion of both Doherty and Coleman, with the Everton player playing on the right side of a three-man defence on a few occasions under Carlo Ancelotti.
It also negates our lack of in-form wingers, with the wingbacks doing the heavy lifting out wide, and Aaron Connolly moving to a more central position.
A number of members of the Balls team see this as an obvious solution, although acknowledging that such a change is unlikely against Slovakia.
Right Back
Assuming Stephen Kenny persists with 4-3-3, you would imagine it means a return of the Doherty versus Coleman debate.
The two players have been locked in a battle for that position for the best part of two years, one Doherty finally seemed to win after last month's games. However, this also coincided with a return to form for Coleman.
There is an argument to recall the Donegal man in Bratislava, especially in a one-off game. Such an idea seems to have plenty of momentum behind it. Of the six Balls staff members to cast their opinion, five said they would start Coleman against Slovakia. That is a major shift in opinion from where we were only six weeks ago.
It remains to be seen if Kenny will be swayed. It is clear that he saw Doherty as first choice, with the Spurs defender playing the full 90 minutes against both Bulgaria and Finland. He also seems more suited to fulfilling that role in a Kenny team, with the Ireland manager wanting his fullbacks to push high up the pitch and frequently get beyond the wingers.
Doherty's form over the last couple of years has shown he does that better than most players in the Premier League. Should that be forgotten a few games into a new season?
Striking the balance in defence
This was perhaps the main issue during the games last month. There were always going to be teething problems with the introduction of a new system that asked the defenders to do much more, but there were a number of recurring problems.
Ireland consistently got caught in behind, with Egan and Duffy left exposed by the higher fullbacks. This left much larger gaps in the defence, ones they struggled to fill.
Duffy especially seemed to be struggling. He was exposed in a way that he never really had been in Ireland team, something that mirrored his struggles at Brighton last season. Some of this could be put down to pre-season rustiness, but it is obvious that Duffy will have to adapt to what is now being asked of him.
Nobody is suggesting he be taken out of the team, especially when you consider all he has contributed to Ireland in recent years. It will be worth keeping an eye on if he can cope better in these games.

The Midfield Question
Stephen Kenny started six different midfielders in the games against Bulgaria and Finland. All of those players are in the squad once again, as are Alan Browne and Jack Byrne, meaning there are no shortage of options.
We imagine James McCarthy will start in the holding role, something that all of the Balls team could agree on. Most of us also felt that Conor Hourihane should start, especially when you consider the attacking prowess he has shown at club level in recent times.
The remaining spot in the midfield is very much up for grabs. Jeff Hendrick would seem to be the favourite, but he faces some stiff competition.
Jayson Molumby was very impressive during his Ireland debut, following that up with another strong performance for Brighton last night.
Jayson Molumby ('99) vs Manchester United - EFL Cup:

• 81 minutes played
• 58 touches
• 46 accurate passes - 98% pass accuracy
• 3/3 long passes completed
• 2 chances created
• 1 successful dribble
• 1 foul won

🇮🇪 #BHAFC pic.twitter.com/WBZKByfU4g

— Albion Analytics (@AlbionAnalytics) September 30, 2020
All about Molumby https://t.co/Dqr311IbG4

— Balls.ie (@ballsdotie) September 30, 2020
Then you have Jack Byrne.
The Shamrock Rovers man was not included in Kenny's first squad, but his form in recent weeks has been phenomenal. It's clear that offers something in the Ireland squad that nobody else can.
There is a real argument to start him in Slovakia, especially when you consider the lack of creativity in midfield last month. You could see him playing a key role in the starting XI, but we imagine Kenny will favour the solidity of other options to start.
However, Byrne also seems like the perfect player to introduce in the second half if the game is still in the balance.
Quiz Maker - powered by Riddle
The Right Wing
This is perhaps the least certain position in Ireland's team. Callum O'Dowda started both of the games last month, but failed to really impress in either. Couple that with the fact that injury has kept him out of action ever since, and it seems doubtful he will start in Slovakia.
We know the Ireland manager likes to have his players drift in from the wing, meaning a left footer here would be ideal. Robbie Brady and James McClean both fit that description, but neither feel like the correct fit in a Kenny team.
Jeff Hendrick has played almost exclusively on the right at club level over the last couple of years, meaning he is another option.
We think he will go with Callum Robinson, who is just hitting form at the perfect time. He is not left-footed, but he does have the habit to attack from central areas whenever possible. He is also perfect capable of using his weaker foot in attacking areas, something Chelsea found out at the weekend.
𝗦𝗵𝗮𝗿𝗽 𝘀𝗵𝗼𝗼𝘁𝗶𝗻𝗴 ft. CR7 🔥🔥@CallumRobinson7 | #WBA pic.twitter.com/k3gEUyAxkB

— West Bromwich Albion (@WBA) September 27, 2020
It will be interesting who Kenny goes with.