Luis Suarez was always destined to take centre stage on his return to Liverpool and so it proved as he clashed with several opponents during the Champions League second leg clash.
The Barcelona striker took centre stage early in the game, first clashing with Fabinho before later exchanging words with Andy Robertson.
Fabinho 🆚 Luis Suarez

A battle well worth keeping an eye on 👀 pic.twitter.com/p42k35UY6x

— Football on BT Sport (@btsportfootball) May 7, 2019
"F*** off Suarez" rings out as he wins another free kick.

— Neil Jones (@neiljonesgoal) May 7, 2019
Robertson was removed at half-time after limping heavily throughout the first half. He was also involved in a clash with Suarez in which the Uruguayan seemed to make contact with his leg.
The Liverpool full-back was already limping before the incident and Suarez did make his way over as he received treatment.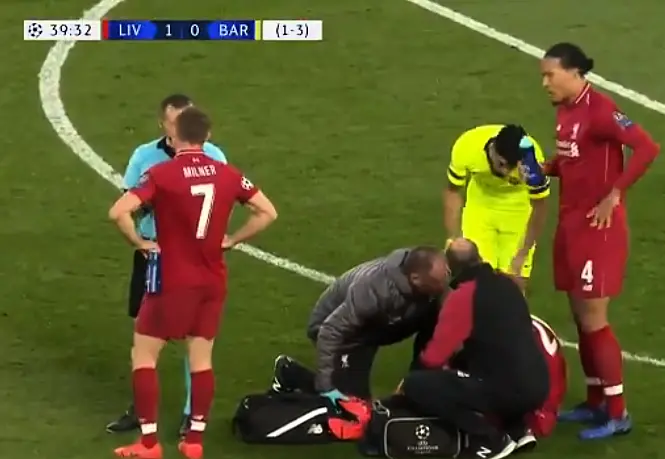 Speaking on RTE Sport, Liam Brady was critical of the altercation.
He's a wind-up merchant. In a game like this, you can not afford to lose your rag. Fabinho has lost it. This is an interesting one for me, it looks like Suarez kicked out deliberately there at Robinson. We've seen him bite like a horse, we've seen him kick now like a horse.
Here's that moment #Suarez kicked #Robertson in the ding-ding. Pretty sure that first kick was intentional as well. VAR completely snoring on that one.#Liverpool #FCBarcelona #LIVBAR #LFCBarca pic.twitter.com/b8834W0zwC

— MobileWins (@mobilewins) May 7, 2019
Speaking on BT Sport, Former Liverpool player Robbie Fowler was also unimpressed.
"This one is typical of Suarez," said Fowler. "He kicks out not once but twice."