Despite them being a staple of newspapers' daily transfer gossip, every football fan knows that player part exchange deals like this morning's blockbuster rarely happen. But here is a look back at one swap deal that was actually concluded and had huge ramifications for both sides.
Ashley Cole's acrimonious transfer to Chelsea was allowed to go through despite being completed an hour and a half after the deadline for the transfer window had finished. Thus ended a two-year transfer saga that all began when Arsenal issued a revised contract offer of £55,000-a week instead of the previously proposed £60,000, which left the England left-back 'trembling with anger' as he nearly crashed his car. Cole's search for more lucrative pastures led to him to a not very secret tapping-up meeting with Chelsea chief-executive Peter Kenyon and manager José Mourinho in a hotel in January 2005. After the meeting was discovered and reported on, Cole was fined £100,000 pounds by the FA and even though he signed a one-year extension with Arsenal, a once happy marriage looked to be heading for divorce.
When Cole eventually moved to Stamford Bridge, the fee of £5 Million pounds plus William Gallas didn't seem like the heist it does now. The Frenchman had formed an outstanding centre-half partnership with John Terry before the arrival of Ricardo Carvalho and had been impressive playing out of position as a full-back in both of Mourinho's title-winning teams.Looking back, Chelsea's claim that Gallas threatened to score an own goal if he was selected for their first game of the season against Manchester City might have been a red flag. After impressing in his first two seasons in North London and being handed the captaincy, Gallas and Arsenal's fortunes all seemed to turn on that fateful game against Birmingham in February of 2008.
Eduardo da Silva never getting back to the form he showed before his injury wasn't the only heavy price Arsene Wenger's side paid that day. James McFadden's late equaliser from a penalty that should never have been given prompted a bizarre mental breakdown after the final whistle from Gallas, as he sat down on the pitch by himself for a full two minutes before Arsene Wenger persuaded him to leave the field. This one incident wasn't the main reason for the Gunners subsequent slump in form which saw them pick up only 19 points from their last 11 matches but it did show a lack of leadership when his young team desperately needed it. Having led Manchester United by 3 points at the top of the league before the trip to St.Andrews, Arsenal finished a disappointing third behind eventual champions United and Chelsea.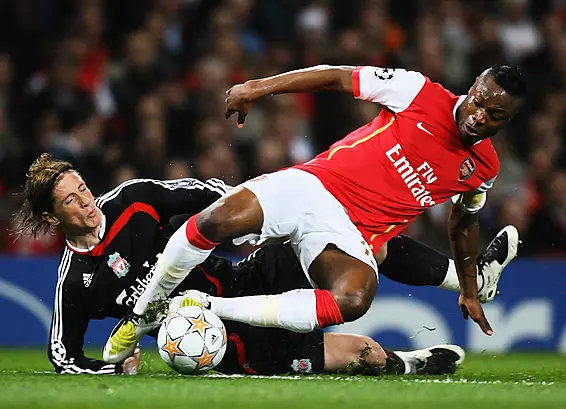 Nine months later Gallas was stripped of the captaincy by Arsene Wenger after publicly criticising his own teammates. The former Marseille star subsequently never really recaptured the form that made him one of the best centre-backs in England and his Arsenal career fizzled out as he left on a free transfer to join great rivals Tottenham in 2010.
There is no doubt now that Chelsea got the better end of the deal as after a overcoming some early difficulties, Ashley Cole has been one of Chelsea's most consistent performers over the last seven years and has won a league, four FA Cups, a league cup, a Champion's League and a UEFA Cup with the Blues. Even while his physical abilities have declined as of late, his defensive prowess, including a ridiculous number of goal-line clearances, have still enabled him to remain as of the top left-backs on the game. However, Cole has never quite been forgiven by the English public for his public show of greed all those years ago.
That added to his obnoxious at times on-pitch demeanour and of course, being exposed for cheating on his ex-wife Cheryl, has left the 32-year old never quite being fully appreciated for his abilities on the pitch. His pantomime villain status was taken a ridiculous new level in 2010 when in a poll of 3,000 women, Cole was named Britain's most hated man, a couple of steps above Abu Hamza, an Islamic fundamentalist found guilty of six charges of soliciting to murder.