The stats will say that Leo Messi missed a penalty, and that Luis Suarez bagged his hat-trick in the 82nd minute of Barcelona's 6-1 thumping of Celta Vigo, but everyone who saw it knows that they witnessed something really special.
Was it the first time we've ever seen the 'assist-penalty' attempted? No, Johann Cruyff pulled if off for Ajax way back when, although he got the goal:
And Thierry Henry and Robert Pires combined to mess it up completely:
But tonight Messi executed the move to perfection in setting up Luis Suarez: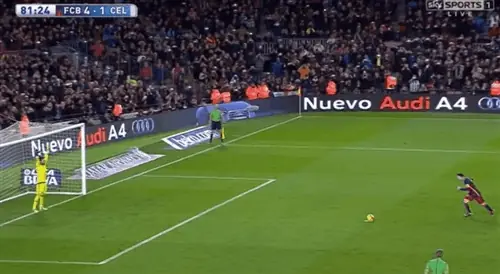 The internet went berzerk.
Twitter absolutely erupted after that moment of absolute cheek, and leading the charge were Messi's fellow pros who had to tell the world that they were watching:
Barca ?

— Harry Arter (@HarryArter2) February 14, 2016
Messi. Suarez. You. Are. Ridiculous!

— Gary Lineker (@GaryLineker) February 14, 2016
Barça ??⚽️?

— Marc Muniesa (@muniesa92) February 14, 2016
Please someone stop this its a joke that pass touch and finish is stupid ?? I give up its not fair they are to good ???

— Clinton Morrison (@morrisonclinton) February 14, 2016
I don't think I've ever seen football played so well. #Barca

— michael owen (@themichaelowen) February 14, 2016
Messi??

— Rio Ferdinand (@rioferdy5) February 14, 2016
Messi ?? what have I just seen #Barca #messi

— Andrew Cole (@vancole9) February 14, 2016
Last min decision to go Barcelona so my son could watch the game and after what we just witnessed I'm now super dad ? front 3 are a joke ?

— Troy Deeney (@T_Deeney) February 14, 2016
Messi, Neymar, Suarez taking absolute liberties tonight. Love it just like the one bell vets yesterday

— Jimmy Bullard (@jimmybullard) February 14, 2016
Messi is just a pleasure to watch. The best.

— DavidMeyler (@DavidMeyler7) February 14, 2016
Barca ?⚽️

— Shaun MacDonald (@ShaunMac20) February 14, 2016
I am DONE! Best attacking trio EVER ??⚽️

— Elliott Bennett (@Ebenno88) February 14, 2016
And Troy Deeney saw it live. Magical stuff.