[dailymotion]http://www.dailymotion.com/video/xo5qnb_van-persie-vs-carlos-cuellar_animals[/dailymotion]
Did Van Persie know Cuellar was there? He certainly had a look at the Aston Villa defender before delivering the elbow. Aston Villa Manager, Alex McLeish certainly believes the Arsenal man meant to inflict pain.
"It was a clear elbow. Would I like the FA to look at it? Yes,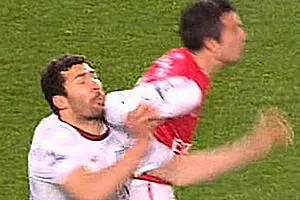 On the Evidence the Arsenal Captain, might be getting a call from the FA soon.