Has there ever been a crazier thirteen hours in Irish sport? James McClean, Ultan Dillane and Conor McGregor all achieved hero status. Did you miss any of it? Not to worry, Balls have put together our timeline from a hectic 24 hours.
15:50 - Ireland team named
BREAKING: The Ireland team to face Austria has been named with Harry Arter making his first competitive appearance! #COYBIG #AUSvIRE pic.twitter.com/yCr8iSNfQy

— FAIreland ⚽️🇮🇪 (@FAIreland) November 12, 2016
A strong Irish team including Harry Arter and Wes Hoolahan is named: the Ireland team the media and the fans all wanted. Eamon Dunphy will have nothing to complain about. We can dream of an attacking performance away from home.
17:48 - Halftime whistle in Vienna, nil all.
Remember all of those hopes for an attacking game? Yeah, they're dead now. Pundits and fans alike are a little annoyed, as Austria are there for the taking. Jon Walters captures the nations mood.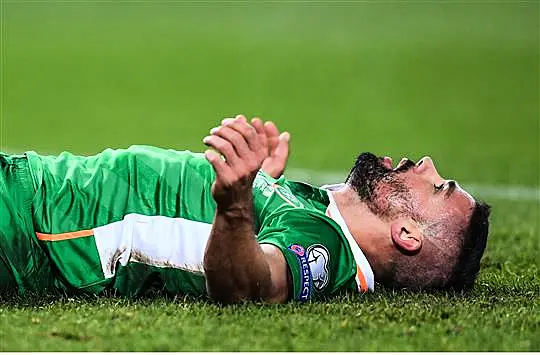 18:05 - James McClean scores!!!
Footballing ecstasy, as Ireland go from one end of the pitch to the other in about ten seconds. Meyler to Hoolahan to McClean and BOOM.

But was it too soon?
18.43 We might do this, but why McGeady?
Ireland: Put on Daryl Horgan
M'ON: I think I'll put on Aiden McGeady.

— Balls.ie (@ballsdotie) November 12, 2016
18:51 - The Janko Miss
Ireland have been hanging on for dear life. With seconds left on the clock, the ball falls to Mark Janko six yards out. Hearts sink. He has to score. He nods wide instead. Irish fans breathe again and celebrate seconds later at the full time whistle.

18:52 - Ireland win! We have done the impossible and beat a decent team away from home
It's over!! What a win in Vienna as James McClean's 48th minute strike puts Ireland top of the group! #COYBIG pic.twitter.com/J10YqJ4PVH

— FAIreland ⚽️🇮🇪 (@FAIreland) November 12, 2016
19:01 - Seamus Coleman speaks
Seamus Colmena is bolloxed. But that doesn't stop him giving a post match interview which encapsulates how ever fan feels.
"We're really proud of our fans" - the skipper is delighted with a great evening's work #RTEsoccer https://t.co/FKQ87JdD6E

— RTÉ Soccer (@RTEsoccer) November 12, 2016
19:21 - First Ireland try
After a quick 10 minutes of rest, we're straight into the rugby and it doesn't take long for Ireland to score . Keith Earls touches down in the corner after just six minutes

19:55 - Tiernan O'Halloran scores a delicious try
This game isn't going as smoothly as expected, but Connacht combines to change that. Finlay Bealham offloads to Tiernan O'Halloran and the fullback grabs his first try for Ireland.
20:58 - Tiernan O'Halloran scores a delicious second try
An hour passes and now Ireland are in control. O'Halloran grabs his second try of the game with time running out. The build up is fantastic.

21:02 - Dave Kilcoyne nearly hurdles a guy
The clock is in red but that doesn't stop Dave Kilcoyne from considering a change of sport to the 110m hurdles. His leap helps set up James Tracy to touch down and get Ireland past the 50 point mark.

21:05: Canada defeated with a frenetic closing 15 minutes, 8 players capped, can the 2023 World Cup start today?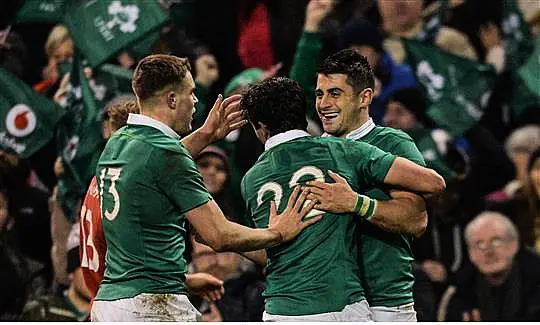 21:15 - Flip over to Wales-Serbia, Wales lead 1-0
21:30 - Mitro equalises!
Mitro's on fire 🔥🔥🔥

— Dimitrije Marković (@DidiMarkovic) November 12, 2016
WATCH: Gareth Bale hits the post. Serbia punish Wales moments later. Mitrovic scores. SS1: https://t.co/ynODp4lfQN https://t.co/wcyk3QXwcg

— Sky Sports Premier League (@SkySportsPL) November 12, 2016
9:45 -Top of the group of lads, top of the group!

22:00-5.30 Hazy dreams/hallucinations of Roy Keane barking orders in Russia and Ireland demolishing the All Blacks next Saturday.
5.30 - Wake up
The phone/clock goes off and the TV's/laptops/totally legal streams are fired up ... or you rustle yourself back to consciousness at your McGregor Party for the headliners at UFC 205.
5.45 - Crazy Round 4 of Woodley/Thompson
Anyone still with bleary eyes is quickly woken by an incredible end to round four of the Woodley-Wonderboy fight. After a few huge hits, Woodley goes in for the kill with a guillotine, only for Thompson to escape in an incredible sequence.

6.18: The Ringwalk
It's time. The wait is over as the familiar sound of Sinead O'Connor hits Madison Square Garden, and Conor McGregor makes his walk to the ring.

6.24 - The First Knockdown
About a minute into the fight and we get the first sign. Alvarez hits the floor for the first of three times in the first round after a huge left hand from McGregor.

6.30- The Knockout
Lights out for Alvarez and history made in the UFC. McGregor rocks him with a combination and makes history.

7:44am - We're Not Here To Take Part.
The Irish takeover of New York City is complete.
Irish take over! @TheNotoriousMMA fans celebrate history outside @TheGarden! 🇮🇪🇮🇪🇮🇪 #UFC205 #UFCNYC https://t.co/mGxCr6qXdi

— UFC on BT Sport (@btsportufc) November 13, 2016
Either party through the morning or stumble to sleep.