Gary Connaughton reporting from Tallaght Stadium
At the start of this qualifying campaign, Ireland finishing the top two of their group was seen as somewhat of a long-shot.
It was presumed that Sweden would win the group with ease, with that team among the finest in world football in recent years. In Finland, you also had a team that had qualified for four of the last five European Championships, including the most recent edition.
Ireland would have been seen as outsiders for a play-off place. You certainly wouldn't have predicted that they would ensure runner-up status with a fixture to spare.
That is exactly what has happened.
Their massively impressive victory over Finland last night ensured that will be in the draw for the play-offs next month, the first time Ireland have reached that stage of World Cup qualification.
Vera Pauw proud of the team after securing World Cup play-off
Vera Pauw has had a massive impact since her appointment as Ireland boss. She had the team on the brink of Euro qualification in the last campaign, only for a late collapse to rob them of the chance to play in the finals in England.
This time around, there have been no such mistakes.
Speaking to the media after the game, she described her feelings in the closing stages of the contest and summed just how much Ireland have achieved by reaching this stage of the qualification process.
I couldn't believe. I was watching the ref, going 'come on ref, come on ref'.. every minute went so slow. We were under pressure but they didn't create many chances but every ball could fall because they were physically strong.

They were pushing but I think after we could make a change and the players trusted the change, from that moment we could play an equal game...

We have a play-off spot and still have a game to go. Who would have said that? We were dreaming about it. It's very special...

How many children were there? At least 2,000? It was a nearly full stadium.

I saw a few seats empty so a few did not show up, which was a shame because there were so many other girls who wanted to come. But who would have thought this after the draw? We believed in it. We out-believed it.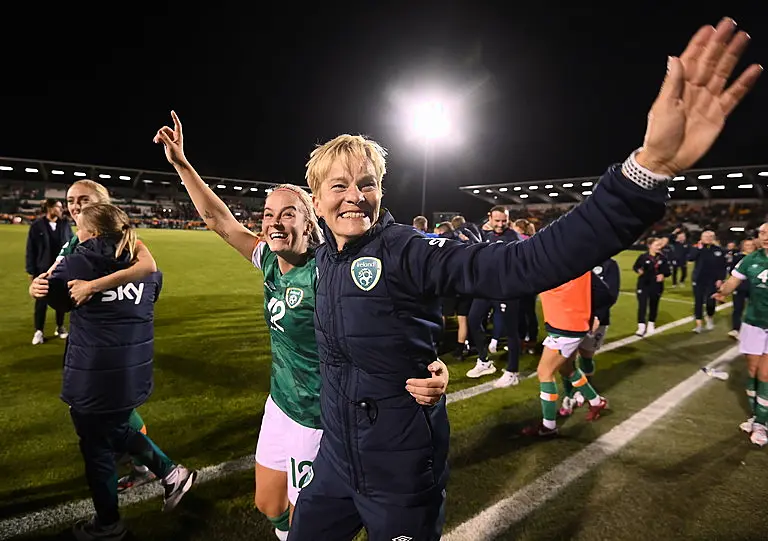 The play-offs will take place next month, although the route Ireland will take has yet to be determined.
A win in Slovakia on Tuesday evening could be enough to ensure they are seeded and will receive a buy in the first round in the play-offs.
All of this will become clearer in the days ahead as games in the various groups are played. Regardless of what is to play for, Pauw says that her team will be striving for another quality performance in Senec next week.
We said to each other 'we celebrate here, but we don't party in the hotel'...

We are going [to Slovakia] to win.

With the emotions, it will be very difficult to play the same type of game, but we are going to try it. It could maybe bring us closer.

We will know tomorrow after all the results are in, then we are going to calculate if it's the case that if we win we will have a better position. Then we will make a plan and go again...

If there is a chance to get to the best three, we will fully go for it.
Whether seedings are at stake or not, the game in Slovakia will provide another opportunity to build momentum ahead of the play-offs.
Here's hoping for another big performance to top off what has been a remarkable performance in this group.